Meet The Baltimore State's Attorney Who Filed Charges Against Cops In Freddie Gray's Case
Marilyn Mosby, the country's youngest chief prosecutor, is heading a case that has sparked nationwide protests and riots in her fourth month on the job. On Friday, Mosby announced criminal charges for six officers in Freddie Gray's death.
Baltimore State's Attorney Marilyn Mosby announced sweeping criminal charges against six police officers in the death of Freddie Gray on Friday.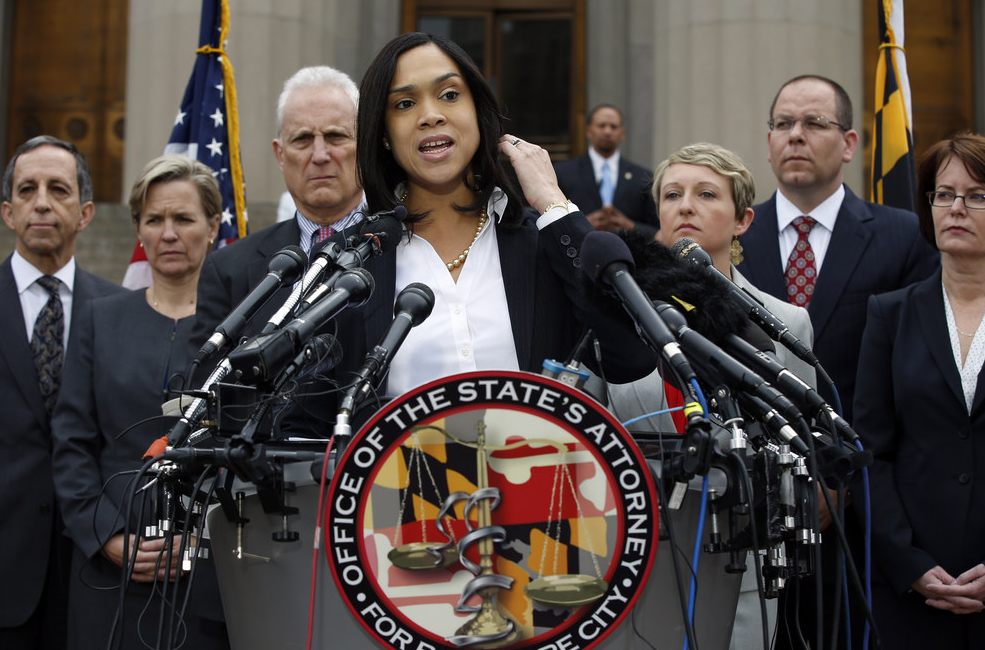 On Thursday, Baltimore police handed over to Mosby the confidential details of how the 25-year-old Gray died after sustaining a fatal injury in police custody, tasking her with the momentous decision of whether to criminally charge the officers in a case that has sparked riots in Baltimore and protests across the country.
In a press conference on Friday, Mosby said that Gray's death was ruled a homicide and that officers denied Gray medical assistance despite his requests and "deteriorating medical condition."
At 35, Mosby became the nation's youngest top prosecutor in any major U.S. city when she was elected to office this January.
Mosby, who said a lot of people thought she was "too young, too inexperienced" to run for state's attorney, defeated the incumbent, Gregg L. Bernstein. She began her career as a legal department intern for an insurance company in 2001 where she was hired as lead counsel in 2011.
Mosby comes from five generations of police officers; her grandfather was one of the first African-American cops in Massachusetts.
Her passion for criminal justice stemmed from a personal, tragic incident when she was 14 years old. In a 2013 radio interview on Let's Talk Business, Mosby said that her 17-year-old cousin, whom she was very close to, was killed in front of her house after he was mistaken for a drug dealer.
"If it wasn't for the testimony of a witness, who actually observed the killer fleeing, he testified in court, cooperated with the police, my cousin's killer would have gotten away," Mosby said. "For me that was my first introduction at a very early age to the criminal justice system."
She said that she was inspired to become a prosecutor after realizing "there was a lot of inequities in the criminal justice system that needs to be reformed."
Mosby, a mother of two young girls, is married to Baltimore city councilman Nick Mosby, who has been vocal about the riots and the country's criminal justice system.
Councilman Mosby, who was present at some of the protests after Gray's death, told Fox News that the rioters were expressing "decades-old anger and frustration for a system that's failed them."
The two were "college sweethearts" who met at Tuskegee University and had common aspirations of being public servants, Mosby said in a interview with Baltimore magazine. "He's my rock, my foundation."
After being elected to office in January, reports suggested that the councilman was helping Mosby run her office when she reportedly targeted prosecutors who supported her opponent in the race, the Baltimore City Paper reported.
Both she and her husband have denied the accusations. She had previously said, "There is no conflict of interest. I am beholden to the constituents who elected me. I'm not beholden to City Council, so there's never any conflict or should be any appearance of a conflict of interest between my husband being a public servant and myself being a public servant."
"We can't allow individuals in the police to usurp their authority and to go above the people," Mosby said in January.
Referring to body cameras on police, she told Baltimore magazine, "They're (police officers) in place to protect and serve, and if they abuse that authority what it does is it exacerbates the distrust within the criminal justice system and then we end up where we are today."
Mosby has always been vocal about the "barriers of distrust" between the community and law enforcement in Baltimore, more evident now than ever, she said recently.
"It's the political climate all across the country. So what I've been doing, essentially, is seeing how other prosecutors are dealing with this distrust that is innate in Baltimore City," she said.
"That distrust for the criminal justice system has been affecting our streets every single day, preventing us from getting the really bad guys off the streets," Mosby said last September during her campaign.
"Her actions really told us who she is today," Sonia Kumar, a staff attorney at the American Civil Liberties Union of Maryland, told the New York Times after Mosby announced criminal charges against officers involved in Gray's death.
"For years and years, victims of police violence in our city, overwhelmingly black people, have sought justice for their loved ones to no avail," Kumar said. "This is an historic moment."