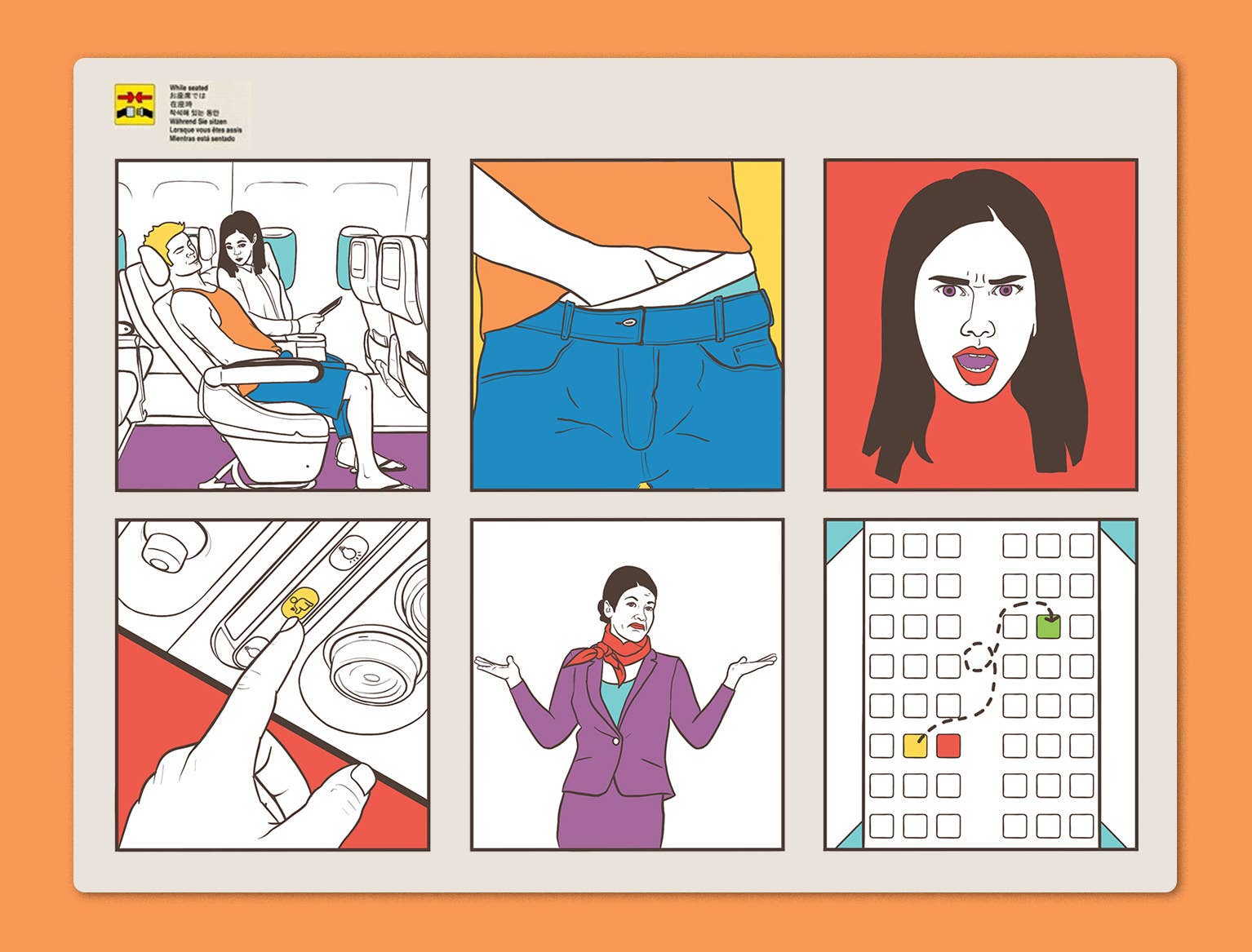 Mikaela Dixon was sitting in the middle seat on a United flight from Orange County to Chicago on Aug. 11 when she realized the stranger next to her was masturbating.
Dixon, 21, told BuzzFeed News that while her boyfriend, Jared Ijams, was asleep in the window seat, the man in the aisle seat — he looked in his fifties, wearing an orange tank top and blue shorts — was "rubbing himself" through his pocket, "making noises and breathing heavily."
At one point, the man put his hands down his pants.
Dixon woke up Ijams to make sure she wasn't seeing things. "It's absolutely what you think it is," he told her. It went on for the final 1.5 hours of the five-hour flight.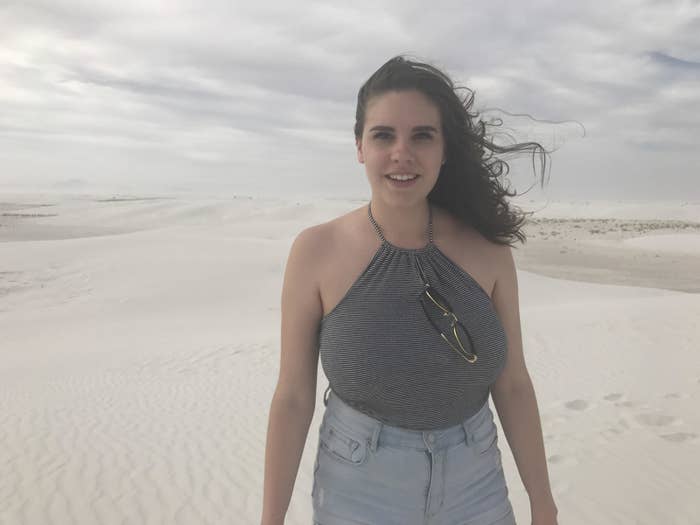 "I just shook silently in my seat for hours. I just had the worst panic attack of my life," Dixon later tweeted. "That was traumatic as fuck." She added later that there were "young children right across the aisle" who could have been exposed to his "perversion."
Dixon said she "froze" and didn't feel comfortable confronting the man while the plane was in the air, so she complained to the flight attendant as the plane was taxiing on the runway at Chicago's O'Hare Airport.
The flight attendant moved her to another row and, she said, told her that the crew had contacted law enforcement officials to meet the man at the gate.
But the airline never called law enforcement. The alleged masturbator was escorted out of the terminal by United's own security personnel — and then released.
United first told BuzzFeed News that it contacted Chicago police. Then a spokesperson later said that its flight crew and gate agent had decided not to do so. The airline is now reviewing why that never happened.
"I just had the worst panic attack of my life."
Dixon said United gave her $75 for her trouble.
No single agency keeps track of how often people are reported for masturbating on planes, which is a federal crime that falls under the FBI's jurisdiction. But Sara Nelson, the president of the Association of Flight Attendants, told BuzzFeed News it's almost always men, it's usually on night flights when the lights are low, and people try to be "discreet" and do it under a blanket.
For someone sitting next to a masturbator, it could be panic-inducing, could make them feel they're being sexually assaulted, or could lead to a sexual assault — on top of just being plain creepy and gross. And there are few ways to escape.
Dixon is one of several women over the past 10 years who have accused various airlines of failing to protect them from masturbating men. In some cases, women said that the airline failed to notify law enforcement. In others, women said the flight crew mishandled the complaint by "joking" about it, not reseating them, or not confronting the alleged offender.
There is often a lengthy and bureaucratic path to reporting the behavior — and it could be scuttled at any point by someone who might think it's just not that big of a deal, Nelson said.
The FBI believes sexual crimes on flights are "underreported," Kevin Rowson, an agency spokesperson, told BuzzFeed News, and law enforcement officials at some of the country's busiest airports agreed.
In 2014, 38 cases of in-flight sexual assault were reported to the FBI. That number increased to 63 in 2017. There's no further breakdown for the type of sexual assault.
The FBI points out that sex offenders on flights take advantage of the fact that some victims might not report an incident because they are embarrassed or don't want to cause a scene.

Most flight attendants, Nelson said, have either seen someone masturbating or have been told about it over the course of their career. "It's not an epidemic," Nelson said. "But it's not unheard of either." And a law enforcement official in Chicago said that reports of in-flight masturbation have rarely been reported this year at O'Hare, one of the nation's busiest airports.
A 2017 survey found that 1 out of 5 flight attendants had received a report of passenger-on-passenger sexual assault during a flight. The findings showed that law enforcement was contacted or met the plane less than half of the time.
The FBI urges passengers to report an incident immediately to the flight crew and to ask the crew to record the alleged perpetrator's identity and report it to law enforcement.
In Dixon's case, she said that the man had been watching Real Time With Bill Maher on his laptop, then started masturbating during an "Asian action movie."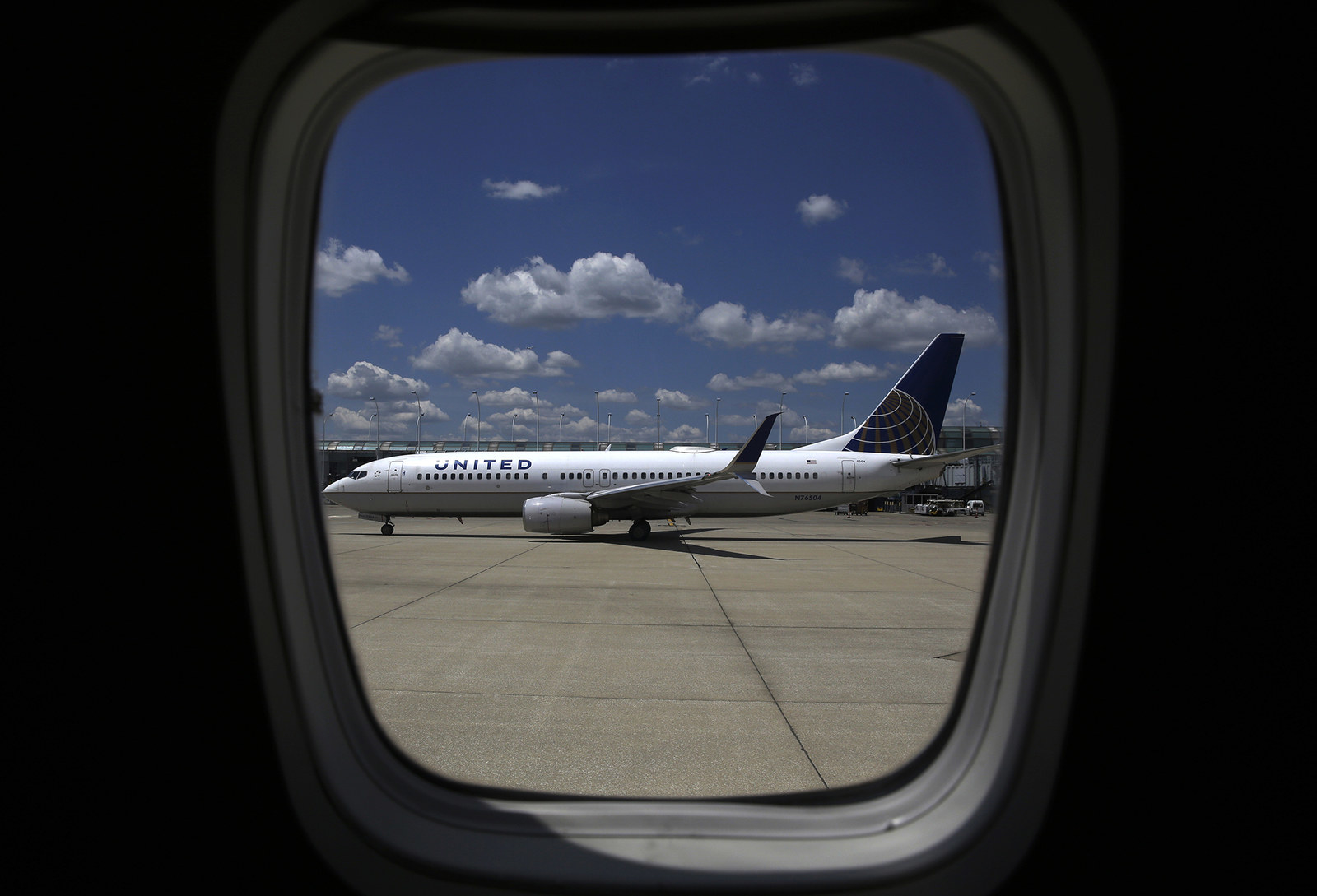 Once the flight landed, the man went to the bathroom. Dixon called a flight attendant over and complained. "She was super sympathetic and nice," Dixon said. Dixon was moved to another row with two women.
As Dixon gave the flight crew more information, the man got back to his seat and overheard her.
"He was freaking out," Dixon said, adding that he was complaining about the flight taking so long and about missing his connecting flight. He tried to rush off the plane but another male passenger — who knew what had happened — blocked him.
The flight crew told Dixon that they had contacted Chicago police, who would detain the man at the gate once he got off the plane. She said they told her to stay back in the Jetway "because they didn't want me to have to see him again."
But she later learned from other passengers that the man wasn't detained, and Chicago police weren't at the gate. The other passengers told her United's own security released the man after asking him a few questions.
Dixon called Chicago police a few hours later; it was the first they'd heard of it. Dixon confronted United staff, who suggested they wanted to resolve the matter "in-house" and didn't want to get law enforcement involved.
"They were desperately trying to keep it internal," Dixon said, adding that the United supervisor appeared "frustrated" with Dixon's attempts to make a case out of the incident. She said United told her that unless she decided to press charges they could not tell her what would happen to the man.
Officer Michael Carroll told BuzzFeed News that the Chicago Police Department received a 911 call from a citizen — not from United — after the flight landed. He said the man had already left when an officer arrived at the scene.
The police officer directed Dixon to file a report with the FBI. An FBI spokesperson could "neither confirm nor deny any matter the FBI may be investigating."
"This man committed a crime. They should have called the cops."
Dixon said she's disturbed that United "can get away with letting this man go free."
"Obviously a man masturbating isn't [United's] fault," Dixon said. "But I'm upset that they lied about involving law enforcement. This man committed a crime. They should have called the cops."
United said in a prepared statement that "the safety and well-being of our customers is our top priority. Our customer was immediately moved to a different seat when the flight attendants were made aware of the issue and the aircraft was met by our security personnel. We are investigating the matter to learn more about what happened. Although United Airlines, as a company, cannot press charges on our customers' behalf, we will provide as much assistance as possible to law enforcement authorities should they investigate this matter further."
When passengers report an on-flight incident that involves possible criminal behavior, most airlines have a policy of contacting law enforcement, Nelson said.
Most follow a similar protocol. The flight attendant informs the cabin manager, who informs the flight deck, where the pilot determines whether or not to involve law enforcement. If the captain chooses to do so, they radio the airport gate agent, who notifies either local or federal authorities to meet the alleged perpetrator at the gate.
Those policies, Nelson noted, are often subject to the judgments of anyone, including the flight crew, along the reporting line.
The airline industry was steeped in a sexist past and until the #MeToo movement, Nelson said, sexual harassment and assault were not openly discussed. "If you're letting [airline crews] fall back to their personal biases, you've got a problem," she said.
This isn't United's first brush with the issue.
Another United passenger recently accused the airline's flight attendants of joking about a man who allegedly masturbated next to her on a June 4 flight from London to Chicago.
Genevieve Pascolla, a 26-year-old photographer, said that after she alerted flight attendants about the man's actions, she was given another seat, but that the United crew began making jokes, asking her "What perfume are you wearing?" and telling her that the man had "had a bit of wine."
"They were excusing his disgusting behavior," Pascolla — who recorded the alleged act — told BuzzFeed News in July. "I understand you can't control the situation, but you can control how you handle it."
United spokesperson Maddie King told BuzzFeed News at the time that "inappropriate and offensive conduct like this" was exceedingly rare on the company's aircraft. In accordance with protocol, Pascolla was moved to a different seat and "law enforcement officials were summoned in advance to meet the perpetrator when the plane pulled into the gate."

United's gate agent notified Customs and Border Protection officials at O'Hare. Pascolla and another woman who complained declined to press charges, so CBP released him after revoking his Global Entry status.
In July, a Colorado woman, Anne Dowling, accused United in a civil lawsuit of failing to protect her after she complained that a male passenger sexually assaulted her while masturbating in the seat next to her in 2016. Dowling is seeking more than $75,000 in damages from United and the male passenger and said she suffered from post-traumatic stress disorder.
Dowling was asleep on the flight from Hong Kong to Denver via San Francisco when, she said in the lawsuit, the drunk passenger began "rubbing her vagina through her clothes" while "rapidly masturbating" under his blanket.
Dowling said that when she asked a flight attendant to move her because of the alleged assault, the attendant told her there were no open seats and then suggested that Dowling should talk to the man instead. Dowling spoke to a United cabin manager who moved her to another seat.
She initially told the crew that the pilot didn't need to contact law enforcement, according to criminal court documents, but then later did report the incident to United, the San Francisco Police Department, and the FBI. The man faced federal charges and was acquitted in 2017.
Robert Stepans, Dowling's lawyer in her ongoing civil lawsuit, told BuzzFeed News that airlines need to ensure "that other passengers are not being served too much alcohol and sexually assaulting us." United declined to comment on the ongoing legal matter.
United was also sued for allegedly failing to protect a high school student from a passenger who exposed his penis and masturbated in the seat across from her, and for allegedly failing to report her complaint to law enforcement.
In 2012, then-17-year-old Monica Amestoy was on a flight to Los Angeles, returning alone from a high school debate tournament in New York. The man concealed himself from other passengers with an airline blanket, but Amestoy's legal complaint said she could clearly see him.
After Amestoy reported him to a United flight attendant, the lawsuit alleged, the attendant and other crew members didn't relocate her or confront the man.
The lawsuit also alleged that United did not report the incident to law enforcement. Amestoy's father later contacted authorities, and the person was criminally charged and pleaded guilty, Amestoy's complaint said.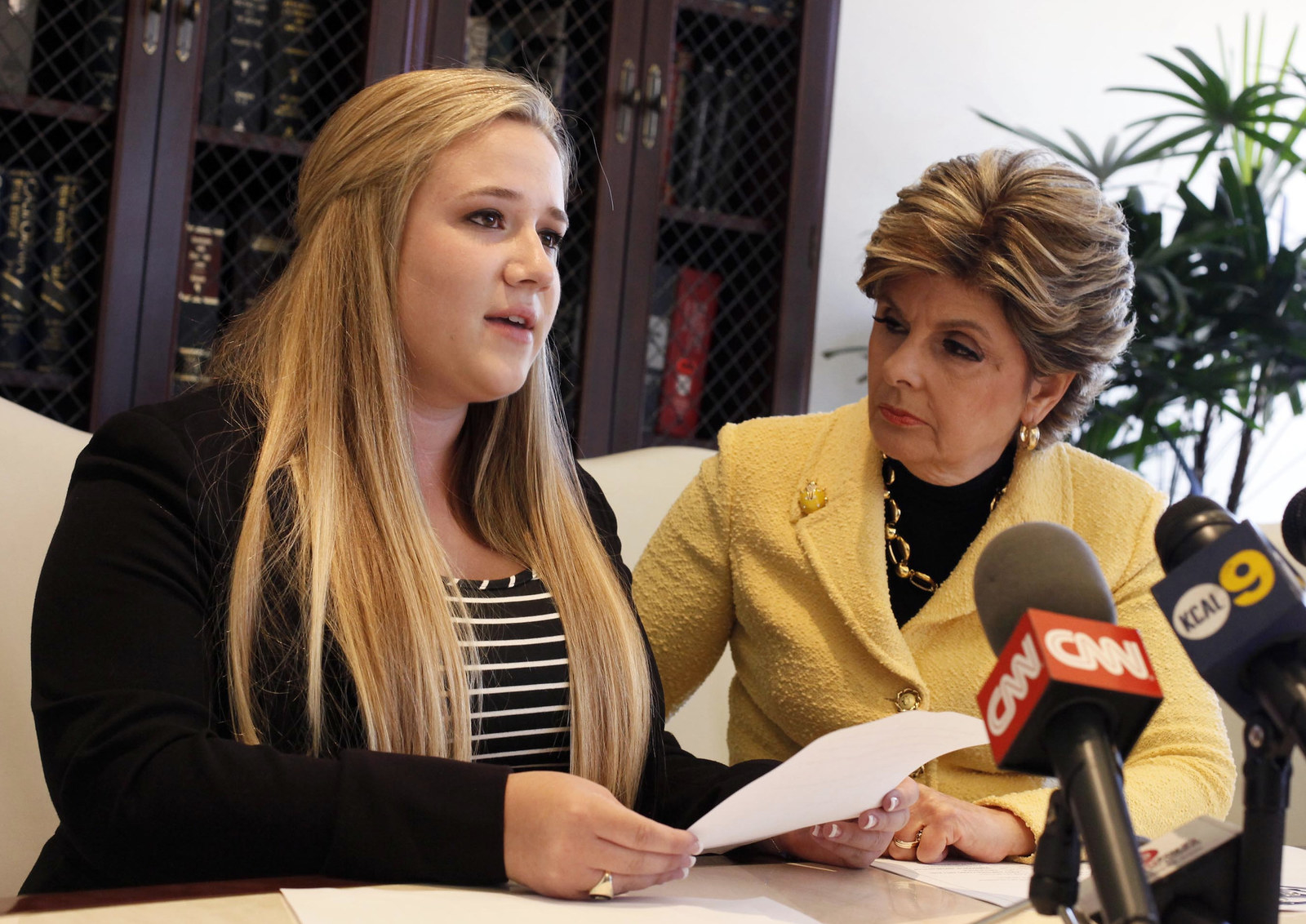 In 2015, Amestoy and United agreed to a settlement. United declined to comment.
Amestoy's lawyer, Gloria Allred, said in a statement at the time that she wanted United "to make sure that those who engage in sexual misconduct on their airline are reported to law enforcement before the offender leaves the plane."
In an overall statement about the allegations in this article, United's spokesperson Charles Hobart said, "The safety of our customers and colleagues is our top priority. Sexual harassment, inappropriate behavior, intimidation or predation have absolutely no place anywhere in our society — including, and especially, in our industry and on our aircraft."
In 2017, United "strengthened its training" for flight attendants to "recognize, address and respond to instances of sexual harassment on board our aircraft" and the airline continues to "adapt and enhance this training."
"We recognize the need to continue the discussion among all of our work groups to further ensure that our policies reflect our values and safeguard those traveling with us," the statement said.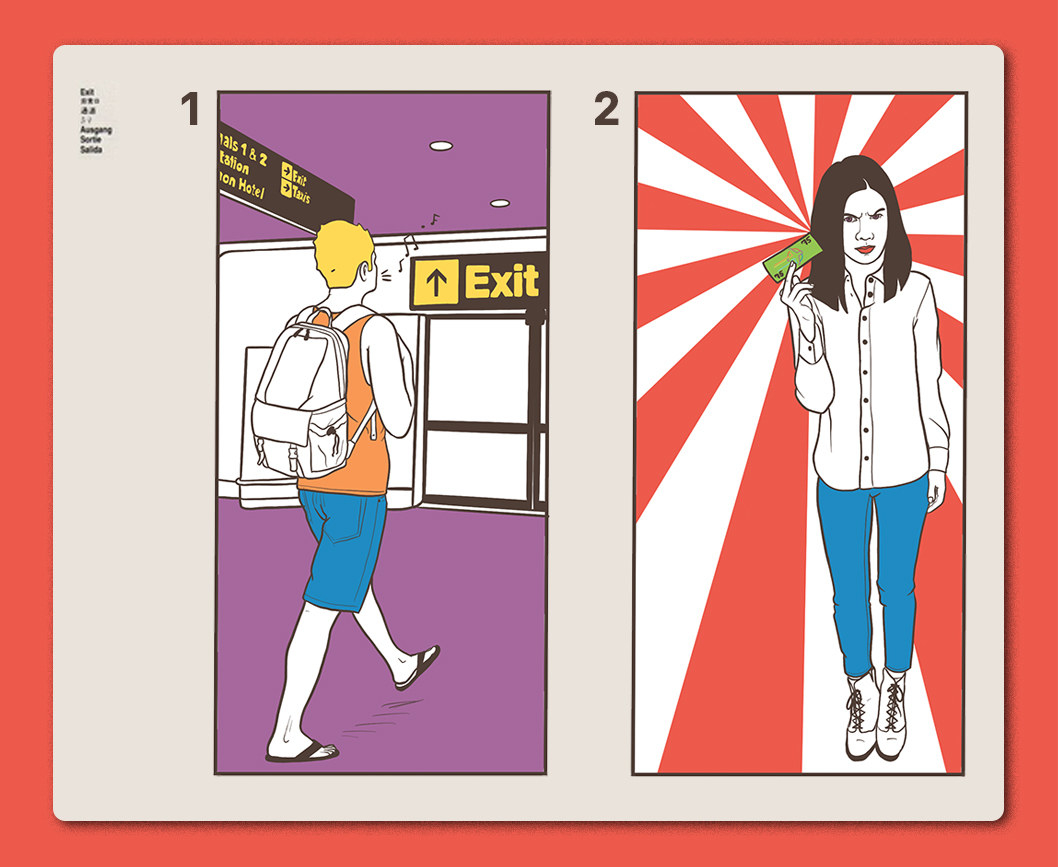 Other airlines have also run into the issue.
In June 2017, a woman sued Delta Air Lines and ExpressJet for $10 million for failing to protect her from a "sexually deviant passenger" who flight attendants had witnessed masturbating, according to court documents.
Rhonda Costigan and her 15-year-old daughter were flying from South Carolina to Michigan in 2016 when the incident happened. The flight attendant notified the pilot, who contacted Detroit Metro Airport Police. The man was later convicted of inappropriate touching and indecent exposure.
But Costigan alleged that the flight crew let the man roam the plane unsupervised and that he sat next to her and repeatedly touched her thigh and put his hands under her shorts.
Costigan said she was trapped in the window seat next to the man and had no way to escape.
Costigan, Delta, and ExpressJet have agreed to privately facilitated mediation scheduled for September, according to court documents. Delta and Costigan's attorney did not respond to requests for comment.
In 2008, a Texas woman filed a $200,000 lawsuit against American Airlines, alleging that the airline staff were "not accessible" when she needed help after a man masturbated in the seat next to her and then ejaculated on her hair during a 2006 flight.
Centava Dozier said a flight attendant had seen the man getting up from his assigned seat and moving next to her. The lawsuit said authorities met the man at the gate.
A trial court closed the case in 2009 saying Dozier did not have evidence to support her claim that American Airlines was responsible for the passenger ejaculating on her. The court also denied her motion for a new trial. A Texas appeals court later upheld the trial court's judgment.
And in July 2017, a woman accused American Airlines of failing to protect her after a man allegedly masturbated next to her. In a Medium post, Chloe King said flight attendants did not wake her up or move her to a safe place after another woman complained that the man sitting between them was masturbating.
The woman who complained was reseated and the flight crew notified French police, who questioned the man in Paris.
At the time, American Airlines said it was "reviewing" how it handled the incident.
When asked for comment about this incident and Dozier's incident, an American Airlines spokesperson outlined their standard protocol to contact law enforcement when the crew witnesses or are told about any alleged illegal misconduct on the aircraft.
King said that flight attendants only informed her right before the flight landed and that they refused to reseat her for landing.
"Instead, they made me climb back over the sex offender, trapped between him and the window for the rest of the flight," King wrote. "I was shaking and crying and trying not to get sick." ●