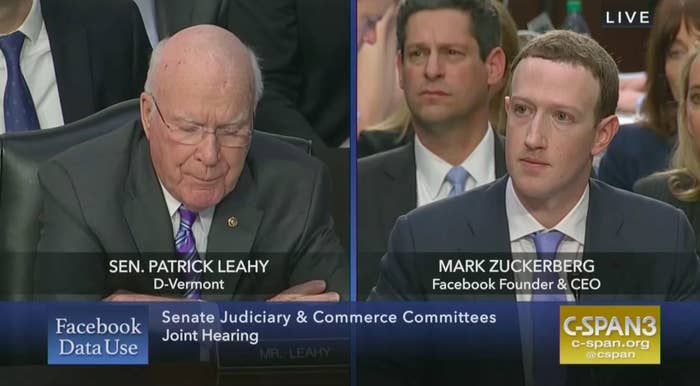 Facebook CEO Mark Zuckerberg testified Monday that special counsel Robert Mueller has interviewed Facebook staff as part of his probe into Russia's interference in the 2016 presidential election.
Responding to a question by Vermont Sen. Patrick Leahy, Zuckerberg said people at Facebook were interviewed by the special counsel's office, but that he personally had not been interviewed.

"And I want to be careful here," Zuckerberg said during a joint hearing held by the Senate Judiciary and Commerce committees. "Because our work with the special counsel is confidential and I want to make sure in an open session I'm not revealing something that's confidential."

He said that he was not aware of any subpoenas that Facebook may have received, but said, "I believe there may be. But I know we are working with them."

The special counsel's office declined to comment.
Deputy Attorney General Rod Rosenstein, who is overseeing Mueller's work, has previously said, "We received exceptional cooperation from private sector companies like Facebook, Oath, PayPal, and Twitter."

This is a developing story. Check back for updates and follow BuzzFeed News on Twitter.