Mark Zuckerberg said that Facebook made an error in determining that the Facebook page of pro-Trump bloggers Diamond and Silk was "unsafe to the community."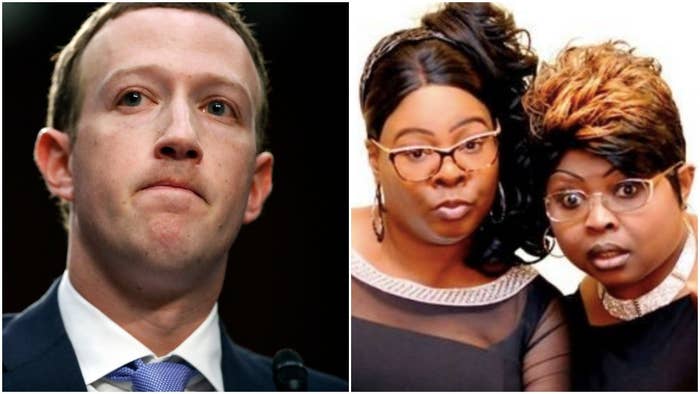 During his testimony before the House Committee on Energy and Commerce on Wednesday, Zuckerberg said his team made an "enforcement error" in suppressing Diamond and Silk's page, which is followed by 1.4 million people.
Responding to a question from Texas Rep. Joe Barton, Zuckerberg said, "In that specific case, our team made an enforcement error. We have gotten in touch with them to reverse it."
The questions from members of Congress follow repeated public complaints from the popular bloggers about Facebook's decision to suppress the page.
After Zuckerberg spoke about how Facebook removes terrorism-related content, Republican Rep. Marsha Blackburn told him, "Let me tell you something right now. Diamond and Silk is not terrorism."
Republican Rep. Steve Scalise asked Zuckerberg if the employees responsible for the decision were held accountable for their actions. Zuckerberg responded that he would have to follow up on that as "that situation developed" while he was preparing for his testimony to Congress.
During Tuesday's Senate hearing, Sen. Ted Cruz also asked Zuckerberg why it had "blocked Trump supporters Diamond and Silk's page with 1.2 million Facebook followers after determining their content and brand was 'unsafe to the community.'"
Brad Parscale, Trump's 2020 campaign manager, said Facebook was "attacking" conservative voices like Diamond and Silk.
While Zuckerberg did not specifically address the issue with Diamond and Silk's content during his testimony on Tuesday, he told Cruz that "Facebook and the tech industry are located in Silicon Valley, which is an extremely left-leaning place."
Last week, Diamond and Silk used Twitter to accuse Facebook of "bias censorship and discrimination" against their brand. The bloggers said that millions of people "who have liked and/or followed our page no longer receives notification" and that their reach had been reduced "by a very large percentage."
The bloggers said that Facebook's policy team told them that "your content and your brand has been determined unsafe to the community" and that the decision was final.
"These tactics are unacceptable and we want answers," Diamond and Silk said.
Conservative media, including Fox News, have supported the bloggers, giving them a platform to complain about Facebook and Zuckerberg in the week leading up to the congressional hearings.