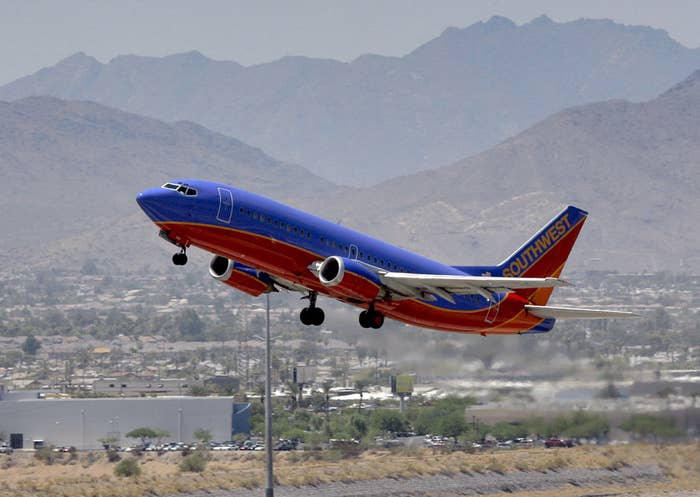 A North Carolina man admitted Friday that he ripped off a fellow passenger's hijab on a Southwest airlines flight in December 2015.
Gill Parker Payne, 37, pleaded guilty in a federal court in New Mexico to one count of using force or threat of force to intentionally obstruct a Muslim woman's freedom to exercise her religious beliefs.
On Dec. 11, 2015, Payne was seated several rows behind a Muslim woman, identified by the Justice Department only as K.A., on an Albuquerque-bound flight from Chicago, according to court documents.
Payne said he saw K.A., who he did not know, wearing a hijab. He said he was aware that it was a religious practice of Muslim women to wear a headscarf.
Shortly before landing in Albuquerque, Payne said he stood up from his seat and walked up to K.A.'s aisle seat.
"I stopped next to her seat, looked down at K.A., and told her to take off her hijab, stating something to the effect of, 'Take it off! This is America!'" Payne said in his written agreement.
"I then grabbed the back of the hijab and pulled it all the way off, leaving K.A.'s entire head exposed. As a result, K.A. felt violated and quickly pulled the hijab back up and covered her head again," Payne wrote. "Because I forcibly removed K.A.'s hijab, I admit that the United States can prove beyond a reasonable doubt that I intentionally obstructed K.A.'s free exercise of her religious beliefs."
"Mr. Payne has taken responsibility for his actions and is sorry for them," Payne's attorney, Amber Fayerberg, told BuzzFeed News Saturday. "He is ready to begin the healing process and move forward."
Under the statute, a person can face up to one year in prison and a fine of up to $100,000.
However, under the terms of his plea agreement, Payne will serve two months of home confinement and an unspecified period of probation, which will be determined at his sentencing, Fayerberg said.
"No matter one's faith, all Americans are entitled to peacefully exercise their religious beliefs free from discrimination and violence," Principal Deputy Assistant Attorney General Vanita Gupta, head of the Justice Department's Civil Rights Division, said in a statement.
"This prosecution sends a clear message to anyone who contemplates the use of threats or intimidation to interfere with the right of individuals, including members of our Muslim community, to express their faith without fear," U.S. Attorney Damon P. Martinez of the District of New Mexico, said in his statement.
CORRECTION
Payne is from North Carolina. An earlier version of this story misstated where he was from.