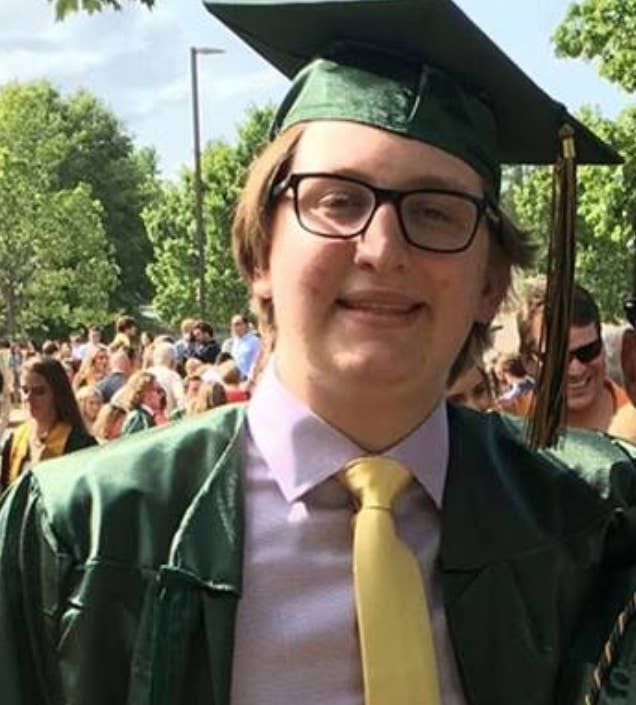 Arrest warrants for 10 members of the Phi Delta Theta fraternity were issued Wednesday in connection with the hazing death of an 18-year-old Louisiana State University student last month.

Maxwell Gruver died at a hospital on Sept. 13 after being rushed from the Phi Delta Theta fraternity house following a suspected hazing incident.

The autopsy findings released Wednesday stated that Gruver's death was an accident caused by "acute alcohol intoxication with aspiration."

Testing indicating that Gruver's alcohol level was .495 at the time of his death, the East Baton Rouge Parish Coroner's Office said in a press release.

Their preliminary autopsy report had found that Gruver had a highly elevated blood alcohol level. The autopsy also revealed the presence of THC — the compound found in marijuana — in his urine.

Following an investigation into his death, campus police issued arrest warrants for 10 members of Phi Delta Theta on Wednesday, authorities said in a statement provided to BuzzFeed News.

While nine of them were charged with hazing, one member, Matthew Naquin, was also charged with negligent homicide, which carries a maximum sentence of five years in prison.

Others charged included Zachary Castillo, Elliott Eaton, Patrick Forde, Sean Paul Gott, Zachary Hall, Ryan Isto, Hudson Kirkpatrick, Sean Pennison, and Nicholas Taulli.
Under Louisiana law, hazing at educational facilities funded by public money is prohibited, with violators facing up to 30 days in prison.

According to WAFB, two of the students arrested — Gott and Forde — are not currently enrolled as LSU students.

"Today's arrests underscore that the ramifications of hazing can be devastating," LSU President F. King Alexander said in a statement provided to BuzzFeed News. "Maxwell Gruver's family will mourn his loss for the rest of their lives, and several other students are now facing serious consequences – all due to a series of poor decisions," he said.
Several fraternity members turned themselves in at the university on Wednesday, according to an Advocate reporter at the scene.
Following Gruver's death, the university suspended all Greek life on campus indefinitely pending the results of the investigation.

Phi Delta Theta's headquarters said they were investigating the LSU chapter and cooperating with university officials and law enforcement.

The incident comes in the wake of heightened scrutiny of alcohol-fueled hazing rituals at fraternities across the country. Penn State University banned social events at all fraternities following the February death of a 19-year-old sophomore after a hazing ritual at the Beta Theta Pi fraternity where he was forced to consume "life-threatening amounts of alcohol.

Fourteen members of Beta Theta Pi will face trial on charges including reckless endangerment and hazing, after a Pennsylvania judge dismissed the most serious charges of involuntary manslaughter and aggravated assault against some of the brothers. Last month, Penn State suspended the Delta Tau Delta fraternity pending an investigation into an18-year-old student who was found unconscious in the street after allegedly drinking alcohol at the chapter.