Lisa Coleman Becomes The Sixth Woman Executed By Texas Since 1982
Coleman was convicted of kidnapping and murdering her girlfriend's 9-year-old son through abuse and starvation.
Lisa Ann Coleman, 38, was executed in Texas Wednesday for the 2004 murder of her girlfriend's 9-year-old son, Davontae Williams.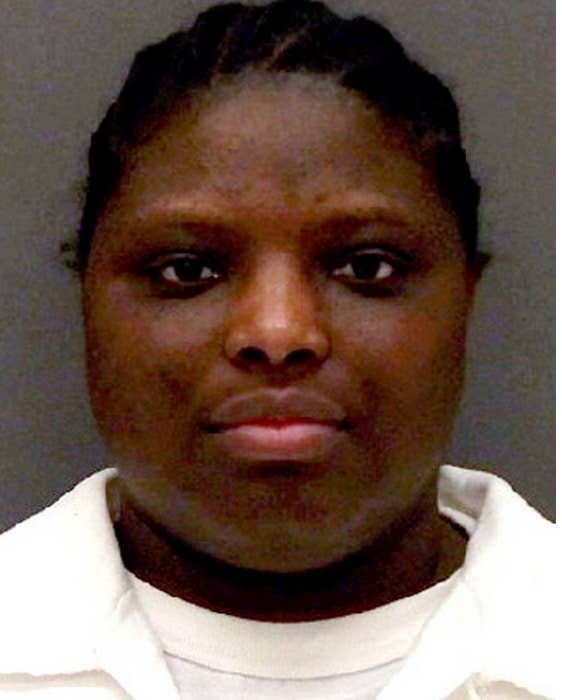 Coleman was executed at 6:24 p.m. CT, after making this final statement:
"I just want to tell my family I love them, my son, I love him. The girls on the row I love them and keep their heads up. Tell Darlie I love her, hand in hand. God bless y'all. I'm alright, tell them I finished strong. I love y'all, I'm done. I love you Richie. I love you. Thank you Brad and John, all of y'all. God is good, I love you Auntie. I'm done."
The boy's body was found starved, beaten, and bound with more than 250 scars, according to evidence from the trial. He was dressed only in bandages and a diaper and had been dead for several hours before paramedics arrived at his home. He died of severe malnutrition and pneumonia and weighed only 35 pounds.
Coleman and Davontae's mother, Marcella Williams, were found guilty of capital murder. Williams is now serving a life sentence after reaching a plea deal in the death of her son.
Williams was first investigated by child protective services when she was a 14-year-old mother to 2-month-old Davontae. She constantly moved to keep her three children hidden from authorities, and in 2002, caseworkers lost track of the family.
Coleman was sentenced to death because prosecutors used the charge of kidnapping against her. They argued that Coleman restrained Davontae from leaving his own house or having visitors and told people he wasn't at home when he was, the Star-Telegram reported. Prosecutors said keeping his location a secret amounted to kidnapping.
Coleman's lawyers contended that she is not guilty of kidnapping and therefore not guilty of capital murder. In a federal appeal, her attorney John Stickels stated that even the Texas Court of Criminal Appeals referred to the allegation that the child had been kidnapped in his own home as "counterintuitive." In a 2010 ruling, the 5th Circuit Court of Appeals called the kidnapping factor "the weakest component of the capital charge."
The appeal also sought to introduce four witnesses who would prove Coleman did not kidnap Davontae in his house and that her trial lawyers were "constitutionally ineffective" in failing to provide this evidence.
The 5th Circuit Court rejected the appeal on Tuesday.
On Monday, the Texas Board of Paroles and Pardons also rejected a clemency petition filed by Stickels. "What she's really guilty of is being a black lesbian," Stickels said. "If she is executed, it will be because of her sexual orientation. Her sexual orientation played a role in the state choosing to seek the death penalty and in her getting the death penalty."
He filed a certiorari petition and stay request to the U.S. Supreme Court Tuesday afternoon.
The Supreme Court denied the stay Wednesday evening.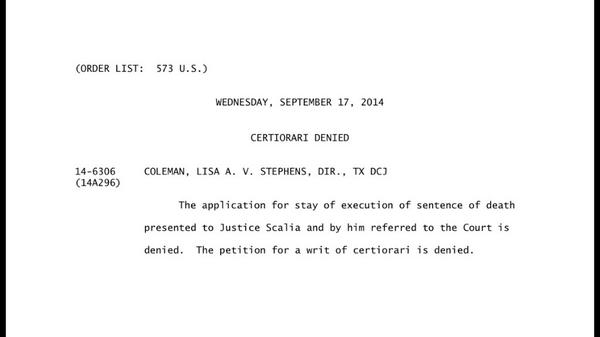 Coleman would be the sixth woman to be put to death in Texas since 1982 and the second woman to be executed this year.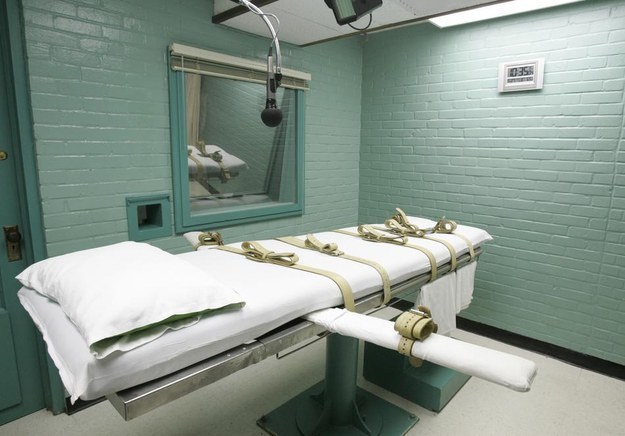 Texas, the country's most active death penalty state, also executed Suzanne Basso earlier this year.
Of nearly 1,400 people executed in the U.S. since the death penalty resumed in 1976, Coleman would be only the 15th woman to be executed.
Texas has carried out eight executions this year. Willie Trottie was put to death last week.