Alpha Epsilon Pi fraternity members at the University of Chicago referred to a Muslim student-activist on campus as a "terrorist" and planned to celebrate "Marathon Luther King Day" by drinking and eating at a fried chicken restaurant, according to emails obtained by BuzzFeed News.
The internal emails are the latest in a line of controversies that have rocked American fraternities. A university official denounced the comments as "offensive," and the fraternity promised an investigation into the emails — sent to the AEPi chapter listserv between 2011 and 2015, reaching active brothers and alumni — which were provided by a fraternity member on the condition he not be identified because he didn't want to damage his career prospects. In the emails, members defended the use of the n-word included in a brother's nickname, referred to an abandoned lot as "Palestine," and described the two fixtures of Islamic culture as "dynamite and C-4" explosives.
Jonathan Pierce, a former international president of AEPi and the national fraternity's spokesperson, said that the organization had begun an investigation into the chapter after BuzzFeed News's inquiries about the emails.
"As a Jewish fraternity, Alpha Epsilon Pi is especially sensitive to hate speech and behavior towards any minorities," Pierce said. "Especially during these troubling times of increased anti-Semitism on college campuses, we are very aware of the harm that negative speech towards minority groups can do. We will investigate and, if necessary, work to educate the individual members about this issue."
Michele Rasmussen, the dean of students, said, "The language used in these private emails is offensive, and it is not consistent with the University's values or our strong commitment to ensuring that people with diverse backgrounds and perspectives can thrive on our campus." Fraternities and sororities are not recognized student organizations at the University of Chicago.
AEPi is a 102-year-old international fraternity whose "heritage stems from one source: young Jewish men banding together in allegiance," according to the Lambda chapter's website. The fraternity says it develops leaders "for the future of the American Jewish community." AEPi's membership is "non-discriminatory and open to all who are willing to espouse its purpose and values."
One member sent an email to the listerv in January 2013, saying he was organizing "Marathon Luther King Jr. Day" — comprised of day drinking, eating at a restaurant famed for its fried chicken, and watching Black Dynamite, a film parodying the Blaxploitation genre of movies.

The email reads: "Reverend Marathon Luther King Jr. did more for our civil rights than any other leader during the civil rights era. Following the horrors of prohibition, the puritanical powers in control of the United States successfully stigmatized day drinking. This travesty flavored American life in many ways, leading to increases in domestic abuse, legitimate rape and worst of all oppression. MLK took a stand. He had a dream. He led a million man march on Washington in order to make his dream a reality."
The email then instructs brothers to start drinking at 9 a.m., to eat dinner at Harold's Chicken Shack, and then to watch the movie. The brother ends the email saying, "Let us honor this Great American," and signs off with "Hezbollah." The member who shared the emails told BuzzFeed News that up to 10 brothers, including himself, attended the "Marathon Luther King Day" in 2013.
Another AEPi chapter email urges brothers to petition against stipends for the university's Student Government (SG). One person refers to a Muslim woman who was part of the government as a "terrorist."


A November 2013 email described the two fixtures of Islamic culture as dynamite and C-4 explosives. The email, titled "someone's idea of what we should send to the MSA" is a mock invitation to the Muslim Students Association to participate in the University of Chicago's annual Latke-Hamantash debate, a tradition where students and faculty humorously compare the merits of latkes and hamantashens — "two staples of Jewish culture."


The email reads, "In an effort to foster better relations between Jewish and Muslim students, I would like to offer you the chance to participate in this year's event by debating two long-held fixtures of your culture! Please let me know if you plan to attend the C4-Dynamite Debates."

The email concludes, "Peace be upon you."

In two other email chains, sent in March and April 2015, some brothers refer to an empty lot filled with gravel and weeds next to the fraternity's apartment building as "Palestine," the member who provided the messages explained.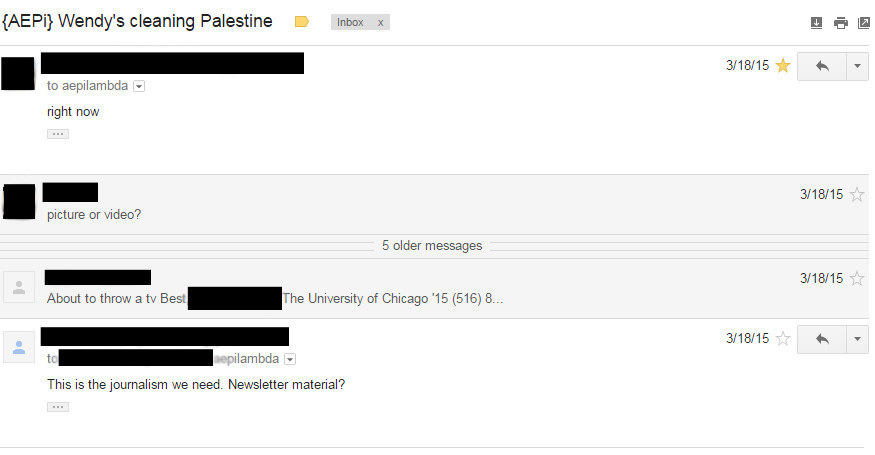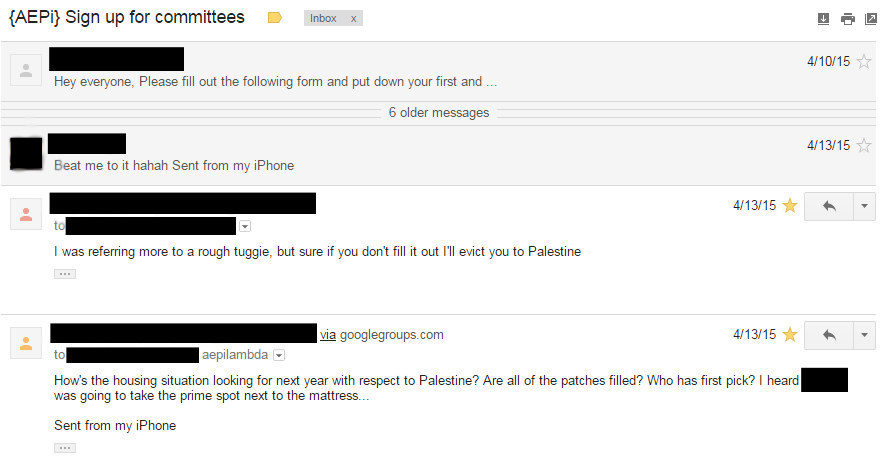 An email from July 2014 from a brother apparently traveling in Israel includes the subject line "Towel Heads." Another member's response to the email says, "Best subject line ever? Check."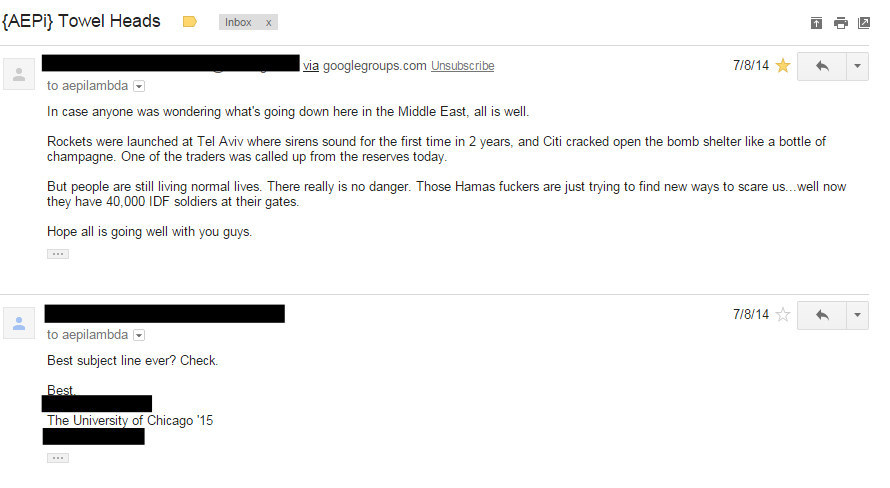 In another email from July 2011, a brother warns the chapter not to use his nickname which has the n-word in it, because despite being "very very funny, it's also very very racist." The brother asks the chapter not to use his nickname on Facebook, in emails, or in person, unless "you need to satisfy your inner klansman," he writes.

Another member responds to the email saying, "There is absolutely nothing wrong with the word nigger. By calling it the 'n word' you are giving it power that it doesn't deserve."
"What's racist about it?" writes a third member. "It's based on winnie the pooh!!"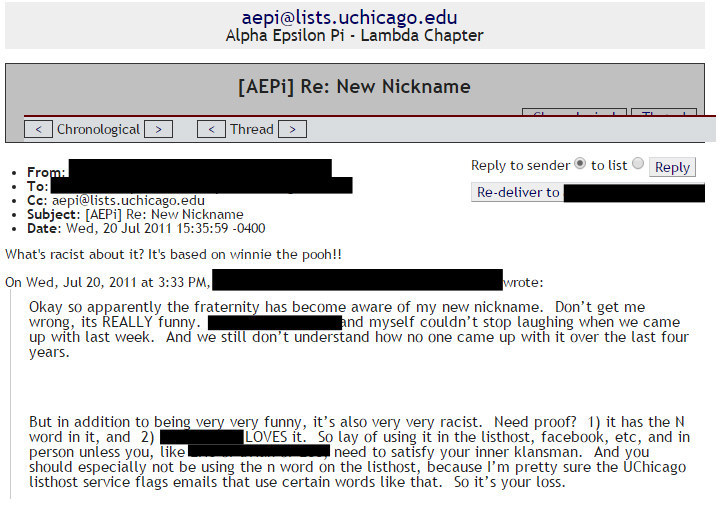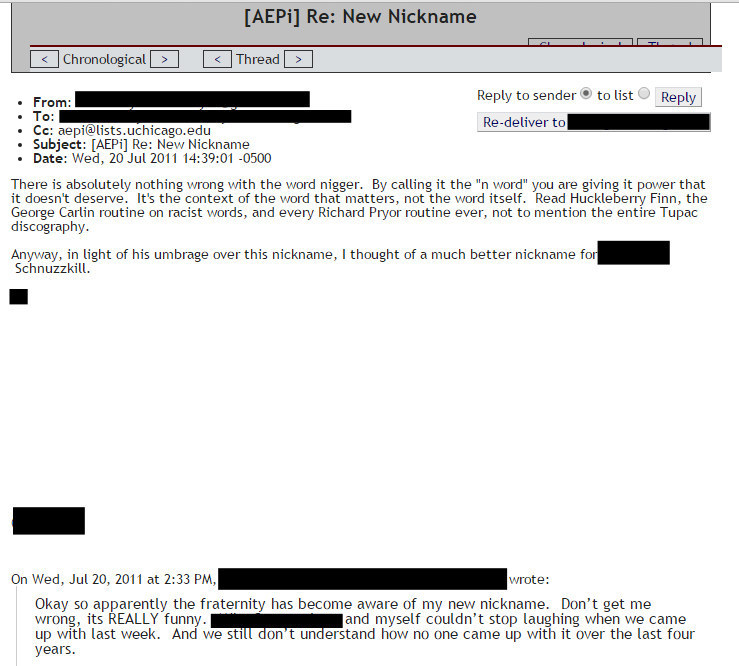 A December 2014 email with the subject line "Important Question," asks, "Can we be called the NIGs instead of the NIBs?" The brother who provided the emails told BuzzFeed News that NIB is an acronym for newly initiated brothers who have been accepted to the fraternity. He said that one of the NIBs who sent the email thought it would be "funny" to replace the acronym with a racial slur.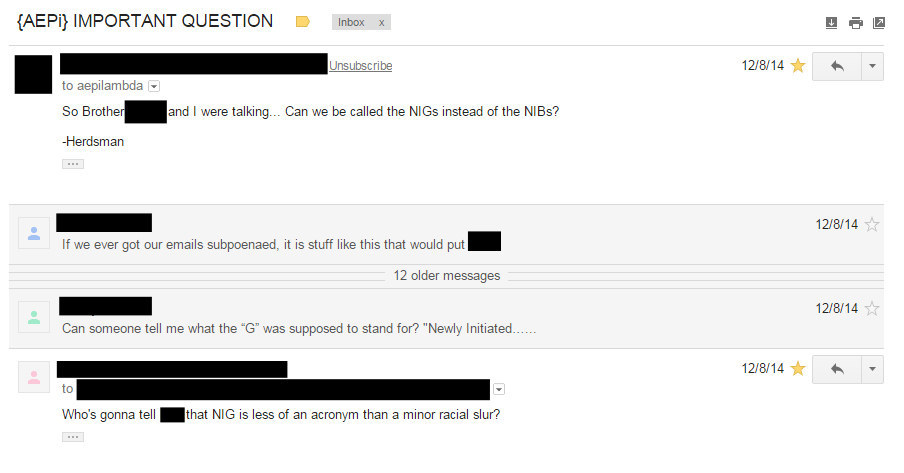 Another person responded to the email saying that NIG was less of an acronym than a "minor racial slur" while another indicated that if such emails were subpoenaed they would get the chapter's president in trouble.

In other emails, black people are referred to as "community members," which is a "veiled slur" and code within the fraternity, said the brother who provided the emails. An email from April 2013, with the subject "Loiterers," reads, "Three young female community members loitering outside yelling. Weird."
Another email, from May 2015, provides details about an upcoming performance by a rapper and addresses the brothers as, "those of you who like rap/hip-hop/community music."



An email from December 2012 talks about how one member, who was angry about other brothers leaving their clothes in his apartment, planned to burn all the clothes "in an enormous fire in Palestine" or "sell them to community members on 67th street."

The brother also provided BuzzFeed News with a document titled "Floor Three Constitution" — written by people on that floor of the fraternity's building — which he said existed before he joined and was regarded as a joke.

The document appears to provide guidelines to other brothers for dating. One of the rules says, "No fatties. No one wants to be or be friends with a fat girl fucker. Do not fuck or fuck with or do anything you can avoid doing with a fatty."
Another says, "No crazies. Although good in bed, the legitimately insane have no place with a relatively sane man. Every girl is crazy to some degree, we are talking about the truly bat shit insane."
The document also says, "If a dude is trying to mack it with some bitch then don't fucking interrupt or get in the way" and "Dibbs may be called if a guy feels that he can fucking get a chick and there's is no competition from any of his bros."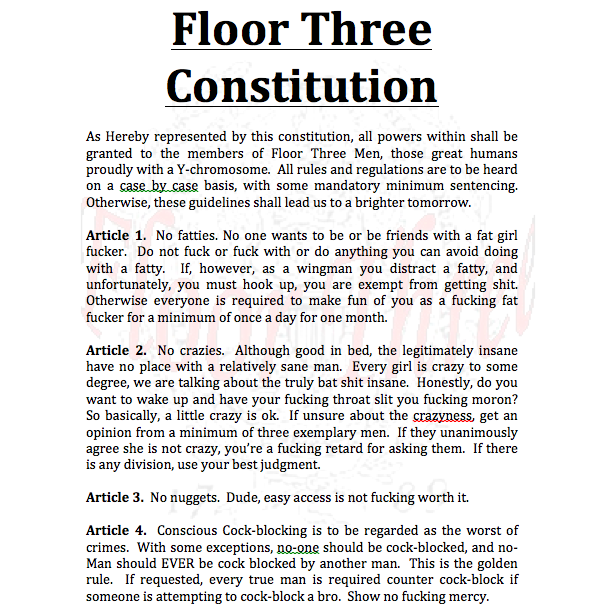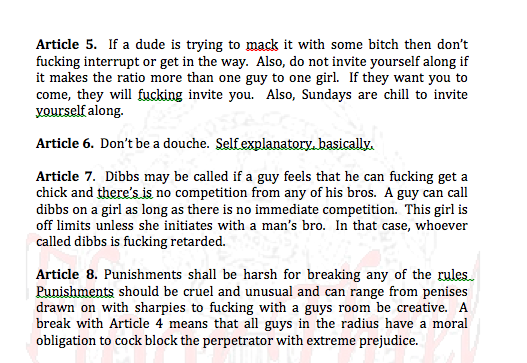 One email, sent in December 2012 to the chapter, shows a poster featuring a Jewish man eating a watermelon. The poster reads, "You don't have to be Negro to love watermelon."

The email doesn't have context, but as BuzzFeed reported in 2012, the poster was a controversial response in the 1960s to an ad for Levy's Jewish rye bread. One of the brothers calls the picture "outstanding" and writes, "It is also excellent that gmail wants to translate it (a 0 word email!) from afrikaans."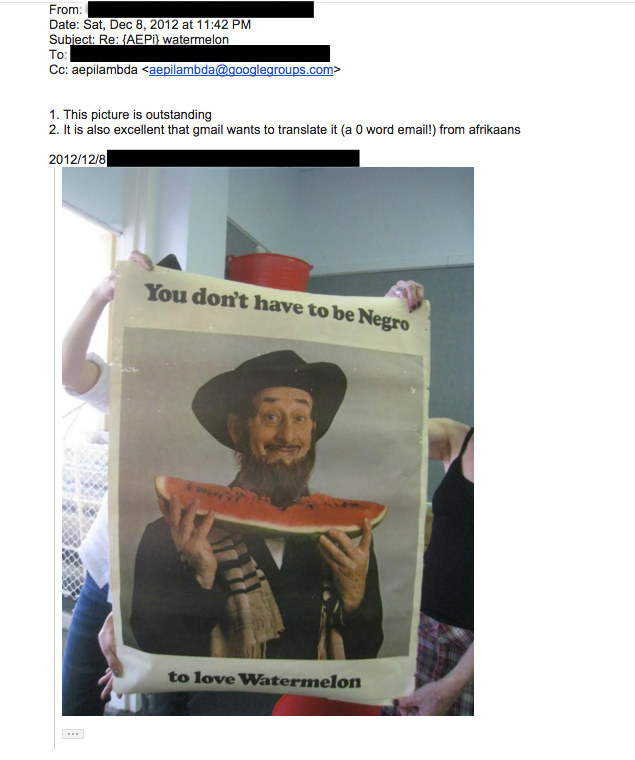 The brother who provided the messages told BuzzFeed News he had grown frustrated with the fraternity's "toxic culture" prevalent in the racist undertones of the emails.

Another AEPi brother, who is currently active in the chapter and spoke on the condition of anonymity, told BuzzFeed News that while he hadn't seen the emails, he believed there were "a few racist emails" that contained "derogatory things."
But, he added, there was a "division between the old AEPi and the new AEPi" and that he had seen a "marked difference" in the past year. He said some of the older brothers, many of whom graduated last year, "definitely had a reputation of being racist."
"We called them out on it a lot and we would have kicked them out but didn't want to stir up controversy," the brother said, adding, "there are still a few bad apples in the fraternity."
In 2015, the chapter decided to create two separate listservs, one for "things regarding AEPi" and the other for private messages between the members, according to the brother. "It's common sense they were separated," he said. It's important to distinguish what AEPi stands for and what people want to conveniently chat about."
The brother said that the chapter passed an "official mandate" in 2015 not to call the empty lot next to the fraternity's apartment Palestine. He also defended the fraternity saying that if racist things were said in the emails, "It's just drunk brothers saying stupid shit. Deep down inside we're all good people and sometimes we say stupid shit."
When asked about the brothers' attitude toward Muslim student-activists on campus, he told BuzzFeed News that AEPi was known throughout campus as a fraternity that wasn't "the most positive" about Palestine. "It's kind of like 'no-shit,'" he said.
Pierce, the spokesman for AEPi, did not deny the existence or content of the emails, but said that "some, if not, many" of the people in the emails were no longer students. "I've spoken to the chapter leadership and they are proud that they have changed the culture in the chapter so that this behavior no longer exists," he said.
Correction: AEPi is a 102-year-old fraternity. BuzzFeed News originally said it was a 92-year-old fraternity, according to the University of Chicago's chapter's website.