Missouri Executes John Middleton After 19-Hour Delay
UPDATED: Stay of execution of John Middleton ended at 6 p.m. CT Wednesday. The U.S. Supreme Court later denied Middleton's four requests to stay his execution.
Updated: JUly 16, 8:22 p.m. ET
Missouri Attorney General Chris Koster issues statement that John Middleton has been executed.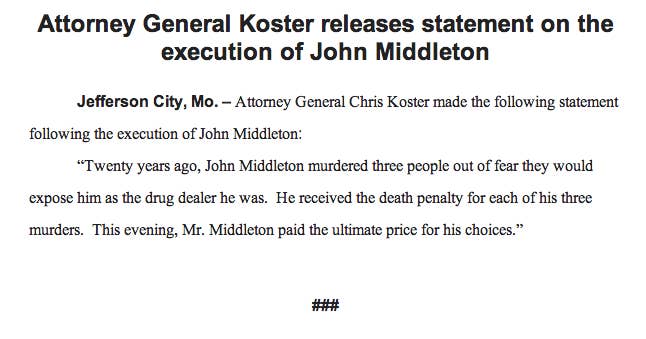 Updated — July 16, 7:27 p.m. ET
John Middleton's lawyers, with no stay of execution in place, have now filed a fourth request with the U.S. Supreme Court — in addition to the three previously denied. This fourth request is seeking a temporary stay of execution from the U.S. Supreme Court so the lawyers can file a certiorari petition seeking review of the Missouri Supreme Court's decision from earlier Wednesday denying Middleton a stay of execution.
[Update at 8:12 p.m. ET: The Supreme Court denied the stay request. It was not immediately clear whether Middleton's lawyers had yet filed a certiorari petition.]

Updated — July 16, 6:43 p.m.
A closely divided Missouri Supreme Court denied a stay of execution on a 4-3 vote in the hour before the federal stay of execution is set to end at 6 p.m. CT, as first reported by St. Louis Public Radio's Chris McDaniel. There are still three petitions pending at the U.S. Supreme Court, all of which have stay requests associated with them. In addition, Missouri Gov. Jay Nixon has not announced any decision on clemency.
[Update at 7:14 p.m. ET: Nixon has denied clemency to Middleton, per St. Louis Public Radio's McDaniel.]
[Update at 7:16 p.m.: The U.S. Supreme Court denies all three petitions pending from John Middleton. Missouri execution likely to proceed.]



Updated — July 16, 12:28 p.m. ET
A three-judge panel of the 8th Circuit Court of Appeals vacated the stay of execution for Missouri's John Middleton, effective 6 p.m. CT Wednesday. Further appeals are expected in the case. Middleton's execution was scheduled initially for 12:01 a.m. Wednesday, but U.S. District Court Judge Catherine Perry issued a stay of execution in the hours before that time.
From the court's ruling:

[Update at 1:15 p.m. ET: Lawyers for Middleton have filed a request at the 8th Circuit for a rehearing en banc, or, by the full court.]
[Update at 2:34 p.m. ET: The 8th Circuit has denied the request for a rehearing en banc. (Order posted below.)
At the same time, the state has filed its responses opposing the two pending petitions — habeas corpus and certiorari from the July 15 decision of the 8th Circuit — from Middleton's lawyers at the Supreme Court.]
[Update at 6:00 p.m. Middleton's lawyers filed a second petition for certiorari with the Supreme Court, appealing the 8th Circuit's decision vacating the second stay of execution issued by the trial court.]
Updated — July 16, 1:08 a.m. ET
The stay of execution will remain in place overnight, per a filing by John Middleton's lawyer. Lawyers for Middleton will respond by 8 a.m. CT to the state's request that the 8th Circuit Court of Appeals lift the stay of execution. If the stay is lifted, Middleton's execution can take place at any time on July 16.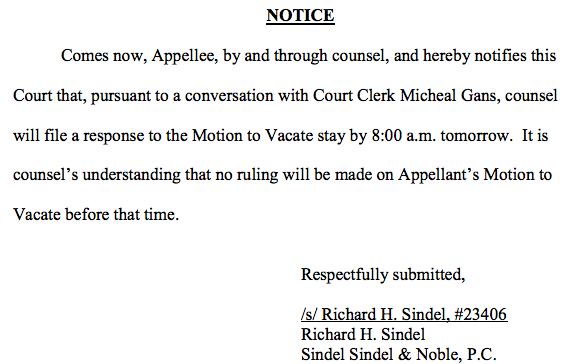 [Update at 9:10 a.m. Lawyers for Middleton argued in a filing Wednesday morning that the 8th Circuit cannot rule on the state's appeal because the trial court's order staying Middleton's habeas case so he could proceed with his claims in Missouri court's is not a final order that can be appealed. Lawyers also filed their opposition to Missouri's motion to vacate the stay of execution.]
[Update at 10:44 a.m.: Missouri opposed motion to dismiss its appeal because the "stay of execution was in effect a preliminary injunction because it was an indefinite stay."]
[Update at 11:16 a.m.: Lawyers for Middleton filed an application for a stay of execution with the Supreme Court, an original action filed there because state and federal courts "have consistently refused to permit Mr. Middleton to establish his incompetency." They also asked the Supreme Court to review the decision of the 8th Circuit Court of Appeals on Tuesday to vacate the first stay of execution issued by the district court.]
Updated — July 15, 11:48 p.m. ET

Updated — July 15, 10:25 p.m. ET
The 8th Circuit Court of Appeals denied John Middleton's request for an en banc rehearing. It did so before even receiving any written opposition to the rehearing from the state. (See order at bottom of post.) Middleton's execution is set for 12:01 a.m. Central Time Wednesday. [Update at 11:45 p.m.: Missouri Gov. Jay Nixon is yet to announce a decision on a clemency request, and a further stay request is still pending before the district court judge.]
Updated — July 15, 2014, 9:21 p.m. ET
Lawyers for John Middleton have asked the full 8th Circuit Court of Appeals to reconsider the state's appeal of a stay of execution granted to Middleton earlier in the day. A three-judge panel of the appeals court vacated the stay, but Middleton's lawyers argued in the latest filing that the appeal should be re-heard en banc because the panel vacated the stay because it "incorrectly applied the standard of review and the law."
Updated — July 15, 2014, 7:07 p.m. ET
A three-judge panel of the 8th U.S. Circuit Court of Appeals has overturned the stay on John Middleton's execution scheduled for Wednesday at 12:01 a.m. The panel said they vacated the stay granted by a federal judge earlier today because Middleton did not present his claim to the Supreme Court of Missouri and he did not attempt to invoke the procedures available under state law.
Middleton's lawyers are likely to appeal to the full 8th Circuit and then to the U.S. Supreme Court.
Updated —July 15, 1 p.m. ET:
U.S. District Judge Catherine Perry granted a stay for Missouri inmate John Middleton who was set to be executed on Wednesday morning at 12:01 a.m.
In her ruling, issued Tuesday, the judge said there was substantial evidence to show that Middleton suffers from insanity and would therefore be ineligible for execution. According to the Eight Amendment, inmates who are mentally disabled and can't comprehend why they're being executed, cannot be put to death.
Attorney General Chris Koster has appealed the ruling to the 8th Circuit Court of Appeals.
Perry said that her ruling was not a conclusion that Middleton was actually incompetent but that he was entitled to a full hearing to determine his current mental health. She noted that he had been diagnosed with a variety of mental health disorders and had a history of drug abuse. According to other inmates' his mental health had deteriorated over the 17 years of his incarceration.
According to an affidavit by a psychiatrist, Middleton lacked a "rational understanding of the reason for the execution and is therefore not competent to be executed due to a diagnosis of delusional disorder, a psychotic mental illness."
Updated — July 15, 4:40 p.m.
In a separate ruling, the 8th Circuit Court of Appeals refused to stop his execution on his claim of innocence. His lawyers have now appealed to the U.S. Supreme Court.
Missouri is scheduled to execute John Middleton, 54, on Wednesday at 12:01 a.m., for three murders that his lawyers insist he did not commit.
His lawyers say they have uncovered new evidence that gives Middleton an alibi for one of the murders for which he was convicted, and incriminates two other men in the killings. They have filed a petition to the Eighth Circuit Federal Court of Appeals that claims that on the day one of three men was killed, Middleton was being held in an Iowa jail 40 miles away from the murder scene.
"It's hard to think of a more iron-clad alibi than that," the prisoner's attorney, Joseph Perkovich, told The Guardian.
An affidavit signed by an unnamed witness in February also suggests that two other men may have committed the drug-related killings of three people in northern Missouri for which Middleton was convicted.
Perkovich blamed police and prosecutors for botching the investigation and allowing the real killers to make a case against their client.
Middleton's lawyers have also asked the Missouri Supreme Court for a new trial and have filed a separate case in the U.S. District Court claiming that he is too mentally ill to be executed.
Middleton was a meth dealer in Missouri in the 1990s. He was sentenced to death for killing three men, Randy Hamilton, Stacey Hodge, and Alfred Pinegar, suspected to be police informants or "snitches."
However, The Guardian reports that Middleton was convicted of Hodge and Hamilton's murder without the backing of DNA or forensic evidence. Pinegar, the third victim who was a drug dealer himself, was said to be murdered on June 23, 1995. However, new forensic evidence suggested that he was killed a day later when Middleton was actually being held in an Iowa jail on suspicion of a misdemeanor.
In addition, Middleton's lawyers say they have an affidavit of a witness who said he was beaten up with a baseball bat by two prominent meth dealers who then showed him a dead body which the witness later identified as Pinegar's.
The witness said that the two meth dealers thought he was a snitch and showed him Pinegar's body as a threat. According to his affidavit, one of the meth dealers told him, "There's already been three people killed. You want to be number four?"
Middleton's lawyers allege that these two men, one of whom is serving a seven-year sentence and the other, who is not incarcerated, killed the three victims.
So far, Missouri has dismissed the new evidence. The state's attorney general Chris Koster said Middleton has "manufactured" the alleged discrepancies in the forensic evidence two decades after the crimes. Koster also dismissed the testimony of the witness saying he is not "credible after having waited nearly two decades to make his current statement."
A new study in August found that almost four percent of U.S. capital punishment sentences are wrongful convictions, meaning approximately 120 of the roughly 3,000 inmates on death row in America might not be guilty.
Order denying rehearing en banc from the 8th Circuit (referenced in July 15, 10:25 p.m. update):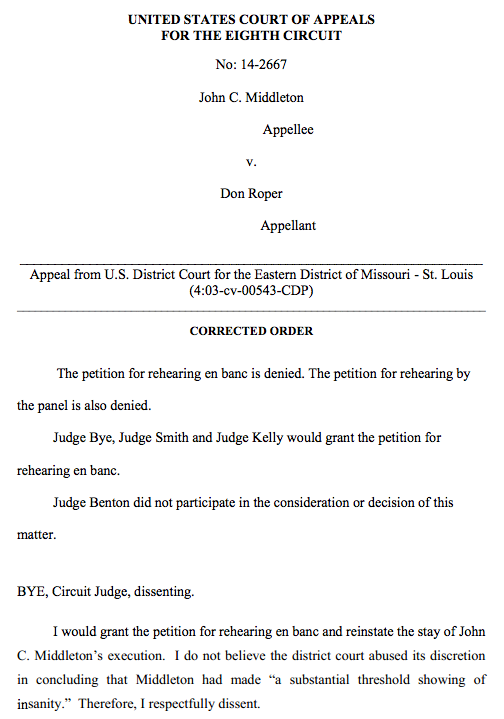 Order denying rehearing en banc (referenced in July 16, 2:34 p.m. update):