Unarmed D.C. Teen Tackled By Police Considers Lawsuit For Civil Rights Violations
Jason Goolsby, who was tackled and arrested by the Metropolitan police after a woman at an ATM said she made him feel "uncomfortable," ran from the officer because he "feared for his life."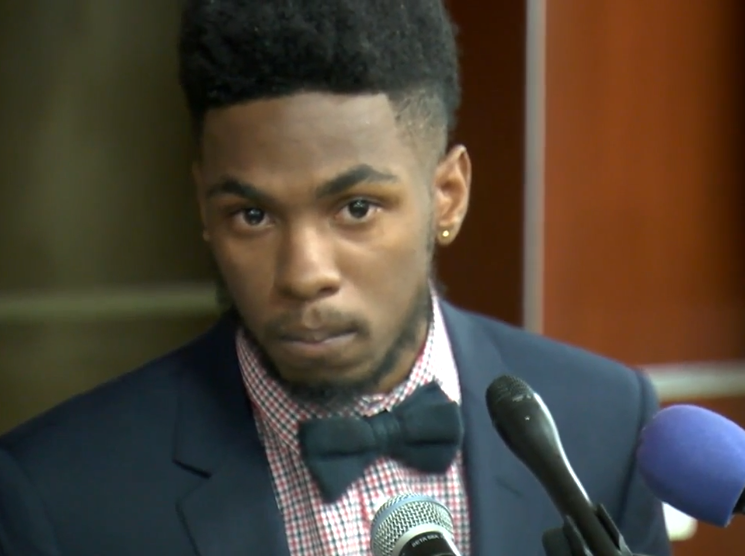 A lawyer for Jason Goolsby, the 18-year-old who was chased, tackled and detained by the Metropolitan police on Monday after a woman reported he made her "uncomfortable" at a Washington, D.C. ATM, said they are considering legal action against those responsible for the incident.
Goolsby and his friend, Michael Brown, were released after the police told them it was a "misunderstanding." Footage of the incident, recorded by Brown, spread on social media and sparked outrage as yet another incident of alleged police misconduct against unarmed black men.
Goolsby's lawyer said at a press conference Thursday that they would be looking into whether the teenager and his friend's civil rights were violated after they were "brutalized" by the police "for no other reason than the fact they were black." He also said they would look at Fourth and Fifth Amendment violations.
"Being black is not probable cause for being arrested or detained," Goolsby's lawyer said, adding that they would consider filing a lawsuit after their investigation into the incident was complete. "I have zero doubt that if these young men were white, none of this would have happened," he said.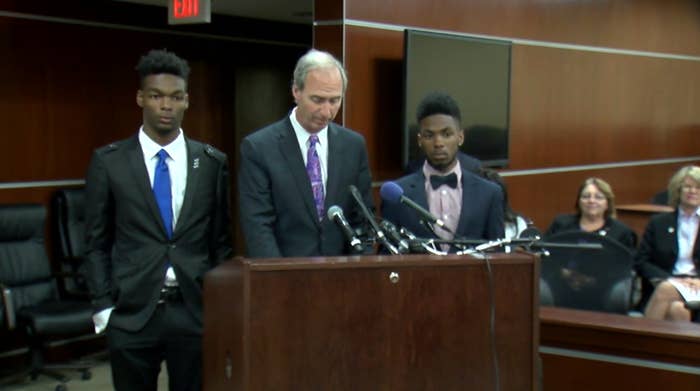 Goolsby and Brown, students the University of Washington, D.C., were at the Citibank ATM where Goolsby was contemplating whether to withdraw $35 for his recording studio session later that day, his lawyer said.
A woman, her husband, and a baby approached the ATM, so Goolsby held the door open to help the woman enter with her stroller, according to the lawyer. The woman, who was white, then allegedly said she forgot something in her car and the family abruptly left the ATM.
After he and Brown left the ATM, Goolsby said a white SUV police van approached him at high speed and stopped within "an inch of his body." The white police officer, who had one hand on his gun and pepper spray in the other, told Goolsby to get down on the ground, according to the teen's version of the incident.
Goolsby said he decided to run because he feared for his life after being nearly hit by the car and after he saw the gun and pepper spray. "My first instinct was to run because I didn't want to die," Goolsby said at the press conference.
His lawyer said Goolsby was well aware of the Freddie Gray incident and didn't want to become another casualty of police violence.
The officer then chased and tackled Goolsby and handcuffed him and Brown for more than two hours despite their repeated pleas that they did nothing wrong. "Jason felt the officer break his arm. He was screaming in pain," the lawyer said.
Goolsby suffered an injury to his left shoulder and said he still had muscle contusions in his back.
"But the physical pain pales in comparison to the psychological pain Jason and Michael suffered," his lawyer said.
They were later released after police told them there had been a misunderstanding. After asking an officer why they had been handcuffed, they were told that a woman had called the police and said that he had made her feel "uncomfortable."
According to a Metropolitan Police statement sent to BuzzFeed News, the initial call was for a "suspicious person" who, along with two others, may have been "trying to rob people at the ATM."
The department is "currently reviewing the circumstances surrounding the stop to ensure that policies and procedures were followed."
Citing their achievements in arts and music, Goolsby's lawyer said the two teenagers "without exception exemplify all of the values each of us wishes to instill in our own children." He said that moments before the incident occurred the two men had just finished attending a training session for volunteers helping educate troubled teens on safe sex and AIDS prevention.
"I just don't want this to ever happen again and I want to see justice," Goolsby said.