A California college student who was injured in the Las Vegas mass shooting filed the first lawsuit against MGM Resorts, which owns the hotel and casino from where the gunman fatally shot 58 people and injured more than 500 others at a music festival on Oct. 1.

Paige Gasper, a 21-year-old student at Sonoma State University, was struck by a bullet during country singer Jason Aldean's performance at the Route 91 festival.

The lawsuit, filed Tuesday in a Nevada district court, accuses MGM Resorts and Mandalay Corp. of negligence by failing to maintain the hotel's premises in a "reasonably safe condition."

Other defendants named in the lawsuit include Live Nation Entertainment, the company that hosted the Route 91 festival, the estate of the shooter, Stephen Paddock, and Slide Fire, which manufactured the bump stock device that allows semiautomatic weapons to fire at a rate close to that of an automatic weapon.

"This is the America we live in where people can do horrible things," a lawyer for Gasper said at a news conference Wednesday. "By failing to plan for it, we put a lot of people in danger."

Paddock, 64, managed to smuggle in 23 guns, including AR-15 and AR-47-style assault rifles, into his room on the 32nd floor of the Mandalay Bay hotel, turning it into a "fortress," law enforcement officials said.
Gasper's lawsuit accuses the hotel of failing to respond in a timely manner to Paddock's shooting of a hotel security guard, who — according to a revised timeline from authorities — was shot six minutes before Paddock targeted 22,000 concertgoers on the street below.

MGM Resorts disputed this new timeline, saying, "We cannot be certain about the most recent timeline that has been communicated publicly, and we believe what is currently being expressed may not be accurate."

Lawyers for Gasper said a big focus of their investigation would be the six minutes between Paddock's attack on the hotel's security guard and his shooting upon the concert.

Her attorneys said that the "chain of command" at the hotel seemed to have broken down because for six minutes "nothing happened."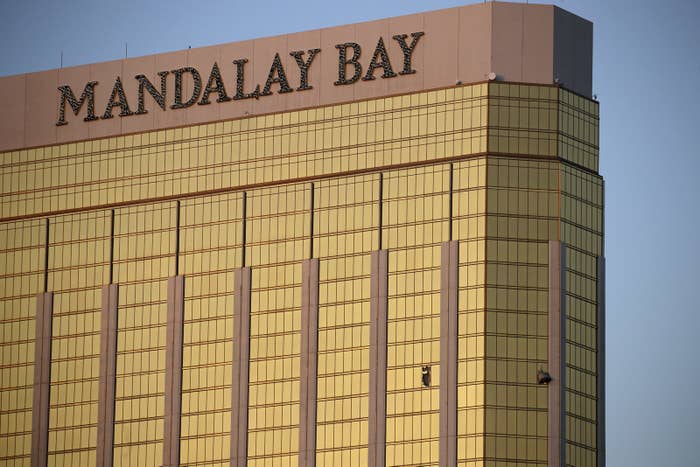 The lawsuit states that MGM Resorts should have known their failure to keep their premises reasonably safe would result in "catastrophic injury perpetrated by a gun-toting guest with an extreme intention to harm others."
"This lawsuit is not about gun control," her attorneys said Wednesday, adding that their focus was on how Paddock managed to smuggle multiple weapons into the room, and install surveillance outside, without raising red flags with hotel staff.

"He spent at least four days stockpiling weapons and ammunition. One would wonder how the room service or cleaning staff did not notice what was going on," one of her attorneys said.

Authorities had earlier determined that hotel employees going to and from Paddock's room did not notice anything nefarious.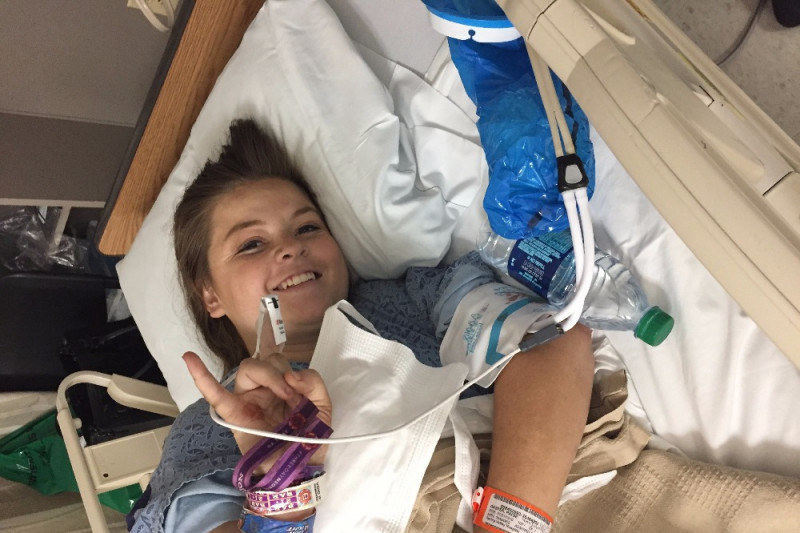 The bullet that struck Gasper entered her right underarm and traveled through her breast tissue, shattering her ribs and lacerating her liver before exiting her body, the lawsuit states.

While being helped by her friends to escape, she was trampled by a crowd fleeing the concert, according to the lawsuit. She was eventually rescued by a good Samaritan who helped her take cover behind a dumpster on the venue grounds and then took her to a hospital in his truck.
At the news conference Wednesday, Gasper's mother, Heather Selken, said it would be a "long recovery" for her daughter who is a senior in college and worked three jobs.

Selken said the decision to file a lawsuit was not an easy one for the family because they are "private" and "humble," with members from law enforcement and the military.

"My daughter is extremely strong and patriotic," Selken said.
And while "people can be hateful" when it comes to legal action, she said "for change to happen, the hard things have to happen."
"We want change to happen so this won't happen to you, your children, and your families," she said.

On Oct. 3, MGM Resorts announced that it would donate $3 million to aid victims of the shooting and first responder organizations.
A fundraising page started on behalf of Gasper has raised more than $4,400.