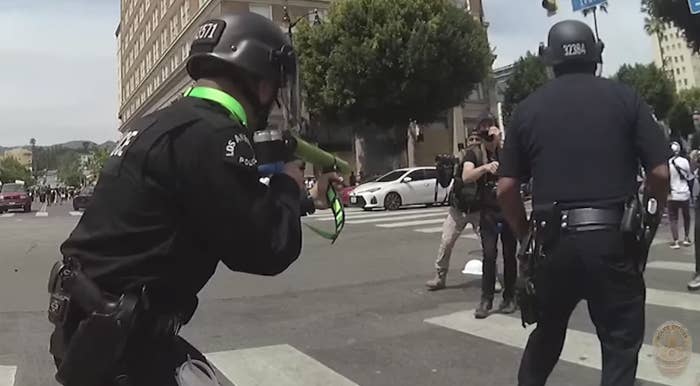 The Los Angeles Police Department on Friday released a body camera video showing a police officer shoot a protester in the groin with a "less lethal" device during a protest against police brutality in June.
The protester, 28-year-old Ben Montemayor, previously told the Los Angeles Times that he suffered serious injuries to his testicles after being shot with the foam projectile. In an Instagram post on June 7, Montemayor said he had to have emergency surgery or risk losing his right testicle entirely.
The LAPD began investigating the use-of-force incident after the LA Times reported that Montemayor and other protesters were injured by officers during demonstrations in May and June.
On Friday, the department released body camera footage showing officers grabbing a large sign from Montemayor, shoving him backward, and shooting him in the groin at close range with a 40mm "less lethal" launcher while his hands were in the air.

The LAPD's use-of-force directive on the 40mm "less lethal" launcher states that "less lethal" force is only allowed when an officer reasonably believes the suspect is "violently resisting arrest or poses an immediate threat of violence or physical harm."
"Verbal threats of violence or mere non-compliance do not alone justify the use of Less-Lethal force," the 2018 directive says.

The body camera video released shows a large number of LAPD officers dispersing protesters at a Hollywood intersection. Audio of a police radio can be heard saying that bottles and rocks are being thrown at officers.
In the video, Montemayor is seen standing in the middle of a crosswalk, holding a large banner with a friend that calls for defunding the police and protecting communities. The video does not show him engaging in any sort of violent behavior.
The video then shows an officer grabbing the woman holding the banner as she goes off camera. One officer then charges toward Montemayor and rips the banner from his hands, while another officer appears to push him back as Montemayor raises his hands in the air.
Montemayor then appears to move forward a little before an officer shoots him directly in the groin with the 40 mm "less lethal" launcher from approximately 5 feet away.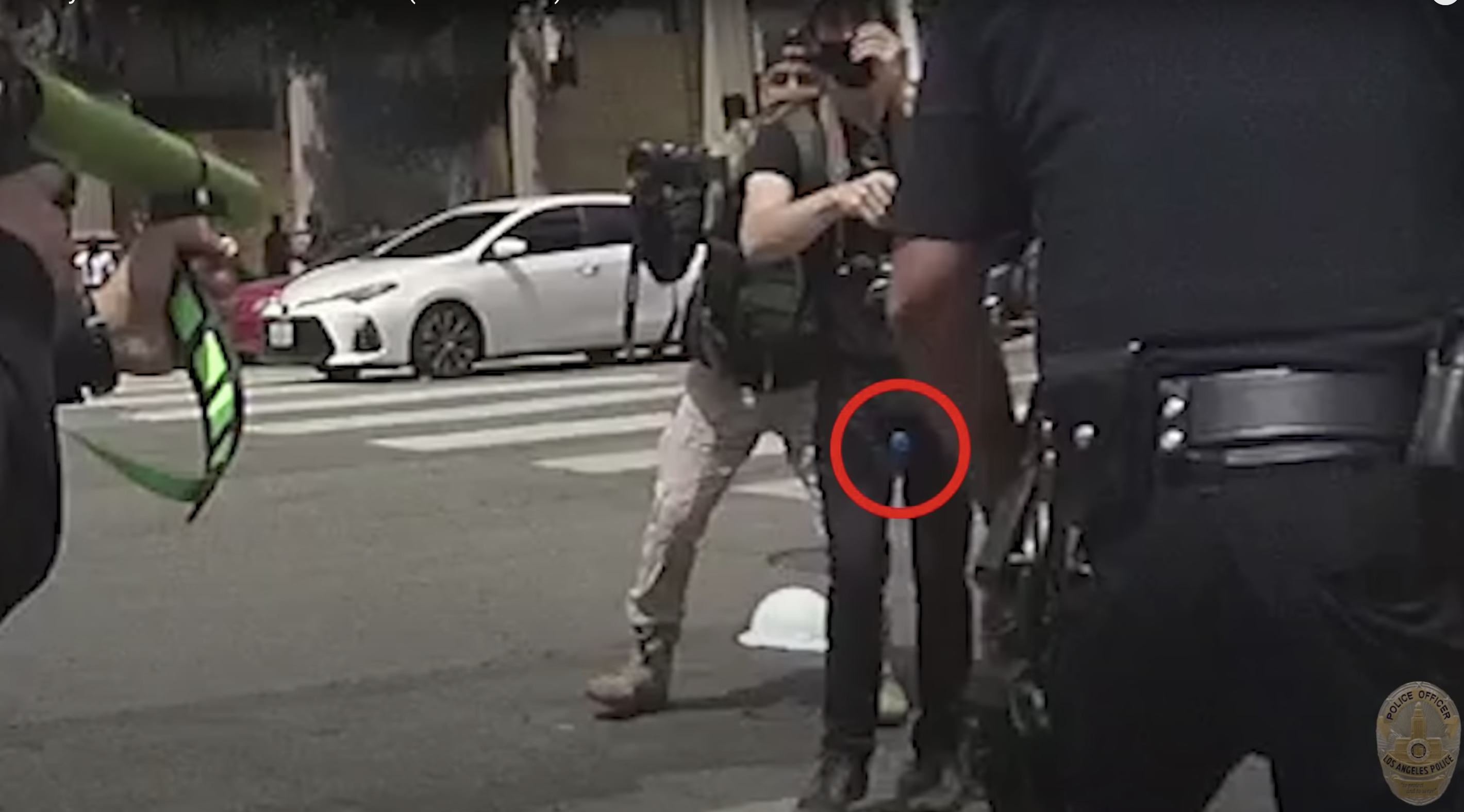 In his Instagram post, Montemayor said his friend who was holding the banner was thrown to the ground by officers. He said that as he moved forward to help her, he "received a riot gun round to the testicles."

"At this point I was in a lot of pain," Montemayor said in his post. He said another protester with medical experience gave him an ice pack and helped him walk out of the area.
LAPD Capt. Stacy Spell said Montemayor left the scene after being shot and was not identified by officials at the time.
Montemayor said that after receiving an ultrasound from a nearby hospital's emergency room, he was prepped for emergency surgery because "the surgeon was afraid that if they wasted any time, I might lose my right testicle entirely."
He said that his testicle was swollen to nearly twice its size.
In the LAPD video, Spell said Montemayor has refused to provide a "detailed account" of the incident to LAPD investigators and has referred them to his attorney. Spell also said it was "undetermined" if Montemayor had been hospitalized due to his injuries sustained from the shooting.
The 40mm "less lethal" launcher fires a foam projectile that is "intended to cause pain" when it strikes a body, Spell said. "And while there may be bruising, it is designed to be non-penetrating," he said.

Spell said the investigation is still in the "very early stages" and that no conclusions have been made about the officers' actions.
Montemayor's attorney Dan Stormer responded to the bodycam video, telling the LA Times, "In some ways, it's even worse than we thought."
"It's not often you see something like this that is so cut and dried, but it's pretty brutal," Stormer said.

Montemayor has said that he intends to sue the LAPD.