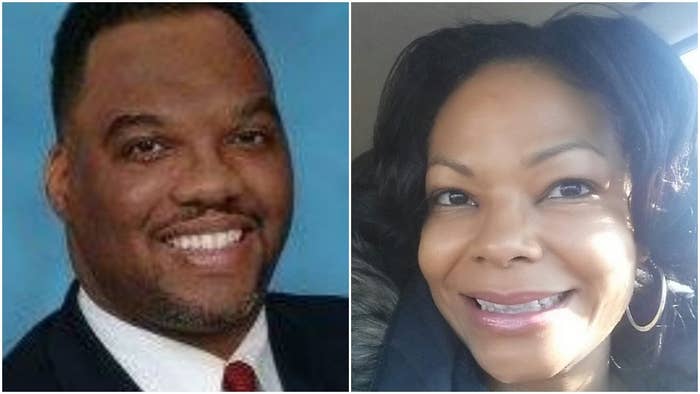 A former Ohio judge who served nine months in prison for beating his then-wife in a brutal attack in front of their children has now been accused of killing her.
Lance Mason was arrested on Saturday after police responded to a 911 call to his estranged wife Aisha Fraser's home in Shaker Heights, Ohio. Police said they arrested Mason as part of their initial investigation into Fraser's death.
The Shaker Heights police charged Mason on Monday morning with felonious assault in relation to injuring one of their officers.
Police said this was the first of "several expected charges" and that "additional criminal charges" will be brought against him in relation to Fraser's death.
Police did not say how Fraser injured the officer, but Cleveland.com reported that an officer was hit by a car feeling a domestic violence incident near Fraser's residence on Saturday.
Fraser, 45, was a beloved sixth-grade teacher at Woodbury Elementary School.
In 2014, Mason, a former Cuyahoga County Common Pleas judge, repeatedly punched Fraser, bit her face, choked her, and slammed her head inside his car multiple times during an attack witnessed by the couple's two daughters — then aged 4 and 6.

Mason was sentenced to two years in prison after pleading guilty to felonious assault and domestic violence. However, he was granted early release from prison after serving nine months, Cleveland.com reported.
After his release, Cleveland Mayor Frank Jackson hired Mason as his minority business development administrator.
In a statement on Saturday, the city said that Mason had been fired immediately following his arrest on felony charges in relation to Fraser's death.
"I extend my deepest condolences to the family of Ms. Aisha Fraser, especially to her children," Jackson said.
On Aug. 2, 2014, Mason and Fraser — who were separated at the time — were driving to Fraser's house with their two daughters after attending a funeral, when they began discussing their relationship, according to court records.

During the conversation, Mason allegedly became upset and punched Fraser 20 times, bit her face, choked her, and broke her orbital bone while repeatedly slamming her head against the dashboard, armrest, and window of his car as he drove. Their daughters were in the backseat of the car. Fraser tried to escape the moving car, but Mason grabbed her hair, according to court records.
When the car stopped at a red light, Fraser managed to get out but fell to the ground. Mason parked the vehicle and while their daughters watched, he began to hit Fraser as she lay on the ground.
During the attack, the couple's older daughter — who has special needs — was quiet, but the younger child was screaming, records said. Mason got back in his car and drove away, leaving Fraser behind.
Mason later called his sister and told her to pick up the children because he planned to shoot himself, but he was arrested by police later that day.
Fraser sustained severe injuries to her head, face, and neck including an orbital blowout fracture under her left eye, and needed facial reconstructive surgery, according to court records. The couple's children began receiving counseling after witnessing their father's attack, and Fraser filed for divorce shortly after the incident.
At the time, police found an arsenal of weapons at Mason's house, including several shotguns and handguns, a semiautomatic rifle, smoke grenades, a sword, a Jaguar knife, and around 2,300 rounds of ammunition.
The Shaker Heights Police Department said in a statement Saturday that the city had experienced "a terrible tragedy" and that the police extended their condolences to "the family and friends of Aisha Fraser."
The Shaker Heights teaching community mourned the loss of Fraser on social media, and her colleagues posted their favorite photos of her.
"Aisha exemplified the best of Shaker Heights Teachers; smart, amazingly caring of her students and her colleagues, active in her profession and in Our Association," the Shaker Heights Teachers' Association said in a statement. "She is loved by many."
"Aisha was a devoted mother and a longtime committed teacher to Woodbury students," the Shaker Heights City School District said in a statement. "She touched so many of our children's lives and will be deeply missed. Her loss is unexpected and the impact of this news on our entire school community is unimaginable and profound."

A fundraising campaign started by the teachers association to support Fraser's children had raised nearly $75,000 as of Monday.
"My daughter was blessed to have been in Ms Fraser's 6th grade class and she's devastated by the news of her passing," a contributor said on the page. "She was one of her favorite teachers."
"I went to Shaker with Aisha," one friend said on the fundraising page. "I don't think I ever saw her without a smile on her face. I'm so shocked and sad and angry."