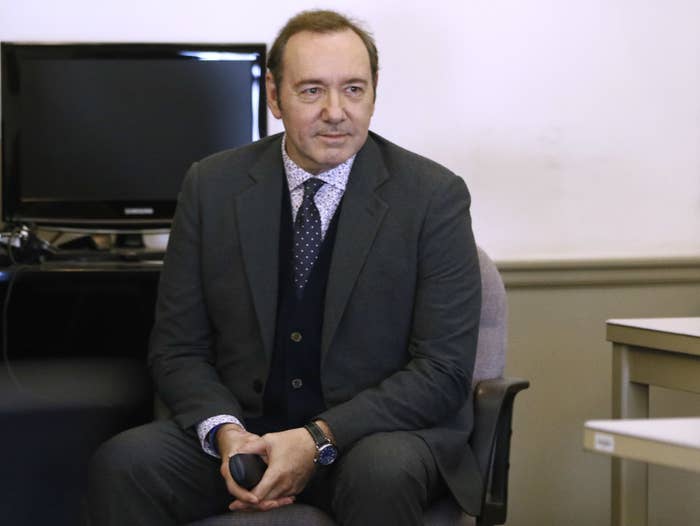 Kevin Spacey pleaded not guilty on Monday to a charge of sexually assaulting an 18-year-old man at a Nantucket bar in 2016.
Spacey, 59, was arraigned in the Nantucket District Court on a single count of indecent assault and battery and was ordered not to have any contact with the alleged victim.
The disgraced actor arrived at the packed court Monday morning for his arraignment after being accused of groping the then-teenager in 2016. A not guilty plea was entered on his behalf.
During the10-minute hearing, prosecutors requested that Spacey be released on the condition that he stay away from the alleged victim.
Nantucket District Court Judge Thomas Barrett asked the Cape and Islands District Attorney's Office if it would like to impose any travel restrictions on the actor, who arrived on Nantucket island in a private jet less than an hour before the hearing.
Prosecutors declined to impose any travel restrictions and said their only request was for the actor not to have any contact with the alleged victim and his family. Barrett then ordered Spacey to be released without bail with the condition that he have no contact with the victim and his family.
Barrett also agreed to waive Spacey's appearance for a pretrial conference scheduled for March 4.
Spacey did not speak during Monday's brief hearing and nodded slightly when told by the judge not to have any contact with the alleged victim.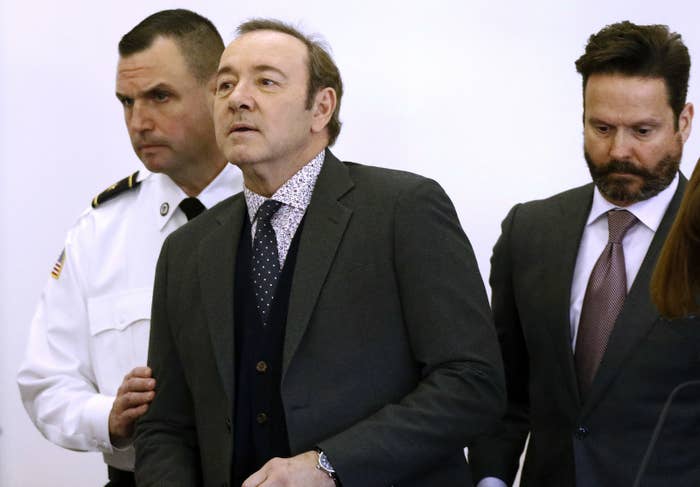 Barrett had earlier denied a request from Spacey's attorneys that he be allowed to skip his arraignment, as the actor was concerned that his "presence will amplify the negative publicity already generated in connection with this case," the Boston Globe reported.
In October 2017, Rent actor Anthony Rapp told BuzzFeed News that Spacey had made an unwanted sexual advance on him when he was 14. Since then, several other men have accused Spacey of sexual assault, after which Spacey was fired from his hit Netflix show, House of Cards.

In November 2017, a former Boston TV news anchor, Heather Unruh, held an emotional press conference alleging that Spacey had groped her then-18-year-old son, who worked as a busser at a local restaurant, the previous year.
According to the criminal complaint, Spacey plied the teen with several drinks before putting his hands down the alleged victim's pants and groping his genitals for about three minutes.
While Spacey was in the bathroom, a woman saw the distressed teen, who told her that he thought Spacey was trying to rape him, according to the complaint. The woman told the teen to run away, so he left from the back door of the bar and ran home, the complaint said.
Last month, Spacey's attorneys did not succeed in trying to get a judge to dismiss the charges against him by arguing that alleged victim lacked credibility because he did not initially report the alleged assault to authorities and that he had lied to Spacey about being 23 years old during the encounter.

Spacey's attorneys also argued that the alleged victim was "so intoxicated at the time that he may have blacked out shortly after Spacey allegedly groped him."