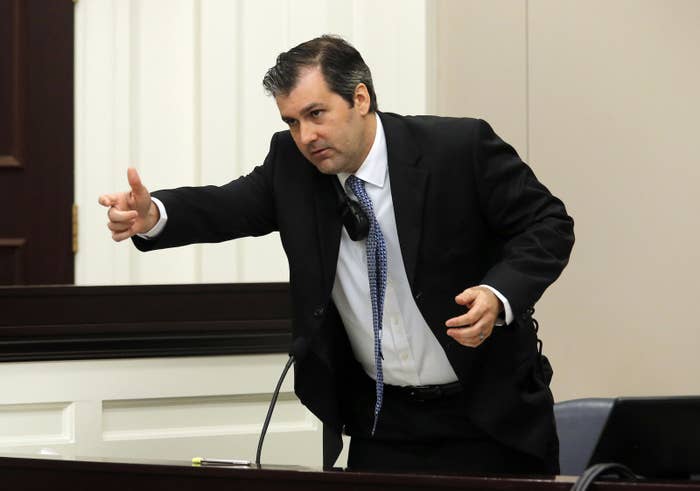 A jury on Friday failed to reach a verdict in the trial of a former South Carolina police officer charged with murder for the fatal shooting of Walter Scott, an unarmed black man, briefly signaling that a mistrial could be imminent before finally agreeing to continue deliberating next week.
The now-infamous 2015 video that captured the incident showed then-officer Michael Slager firing his handgun multiple times, striking Scott in the back as he ran away following a traffic stop related to a burned-out brake light.
After days of deliberation that started Wednesday night, the 12-member jury — made up of 11 white members and one black member — shuffled in and out of the courtroom Friday to repeatedly tell the judge that they were deadlocked and could not reach a unanimous verdict. Jurors initially told the court that they would "not be able to come to a consensus" and that listening to witness testimony again would not change anything.
Notes from the jury and comments from attorneys in the room appeared to refer to one juror who said he could not "in good conscience" convict Slager.
After jury first reported being deadlocked Friday, Judge Clifton Newman issued an Allen Charge, an instruction encouraging the jurors to deliberate further until they can reach a unanimous verdict.
"You have a duty to make every reasonable effort to reach a unanimous verdict," Newman told the jurors. He added that unless they reach a consensus, he would have to declare a mistrial "and we will have to go through this whole process again."
Later Friday afternoon, however, a mistrial appeared to be imminent after the jury came back a second time and reported that they were still deadlocked.
"The juror is not moving," the judge said while reading from another note. The judge then explained that he could not force the jury to continue deliberating again "without their consent."
Defense lawyers then requested a mistrial.
But instead of accepting a mistrial, the jury foreperson said that further explanation of the law might help them come to a verdict. They then returned to deliberate, and the judge declared a recess "for a little while."
Shortly after 6 p.m., the jury returned to the courtroom and announced that while they had still not reached a verdict, they would continue deliberating Monday morning. Prosecutors and defense attorneys agreed to let the jury come back after the weekend, though the defense mentioned that "we'd rather have a mistrial."
At a news conference Friday evening, attorneys for Scott's family expressed optimism that Slager would ultimately be convicted. Justin Bamberg said, "we do feel that justice is on the horizon." And L. Chris Stewart said, "we are not worried about it taking so long because justice takes a long time sometimes."
"This is not a black family verses Michael Slager," Stewart added, "this is the world verses Michael Slager."
Scott's brother, Anthony, also said at the news conference that he anticipated a conviction Monday.
"We do believe within our hearts that we will see justice for my brother," he said.