First, some background:
At the Senate Banking Hearing Committee on Tuesday, Warren grilled Stumpf for his role in a "massive years' long scam" at the bank.
The bank paid a record fine of $185 million after admitting its employees set up over 1.5 million unauthorized credit and debit accounts for its customers without their consent. More than 5,000 employees have been fired since the bank began investigating its sales practices in 2011.
Warren questioned Stumpf about his personal accountability in the bank's actions and accused him of enriching his own stock portfolio while "this scam was underway."
"You haven't resigned, you haven't retuned a single nickel of your personal earnings and you haven't fired a single senior executive," Warren told Stumpf. "Instead, evidently, your definition of accountable is to push the blame to your low-level employees who don't have the money for a fancy PR firm to defend themselves. It's gutless leadership."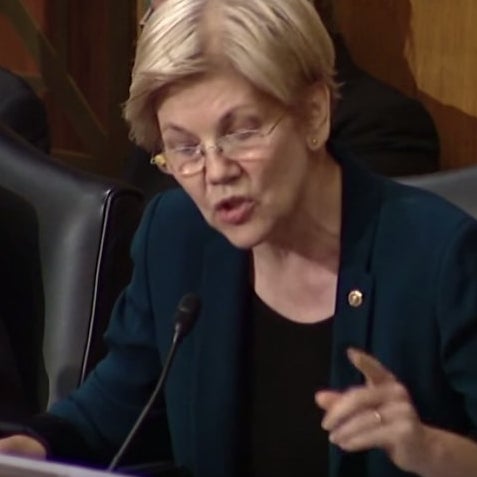 Warren also hammered Stumpf about his personal gain through the strategy of cross-selling, which is "pushing customers to open more accounts."
She said the other big banks averaged fewer than three bank accounts per customer. "But you set the target at eight accounts," Warren told Stumpf. "Every customer of Wells Fargo should have eight accounts with the bank. And it's not because you ran the numbers and found that the average customer needed eight banking accounts. It is because, 'eight rhymes with great.' This was your rational right there in your 2010 annual report."
When Stumpf tried to defend cross-selling, saying it was a way of "deepening relationships," Warren cut him off and produced 12 transcripts of Wells Fargo earnings calls where Stumpf "personally cited Wells Fargo's success at cross-selling retail accounts as one of the main reasons to buy more stock in the company."
Warren finished:
Here's what really gets me about this, Mr. Stumpf. If one of your tellers took a handful of $20 bills out of the crash drawer, they'd probably be looking at criminal charges for theft. They could end up in prison.

But you squeezed your employees to the breaking point so they would cheat customers and you could drive up the value of your stock and put hundreds of millions of dollars in your own pocket.

And when it all blew up, you kept your job, you kept your multi-multimillion-dollar bonuses, and you went on television to blame thousands of $12-an-hour employees who were just trying to meet cross-sell quotas that made you rich.
"This is about accountability. You should resign. You should give back the money that you took while this scam was going on, and you should be criminally investigated by both the Department of Justice and the Securities and Exchange Commission. This just isn't right," Warren finished.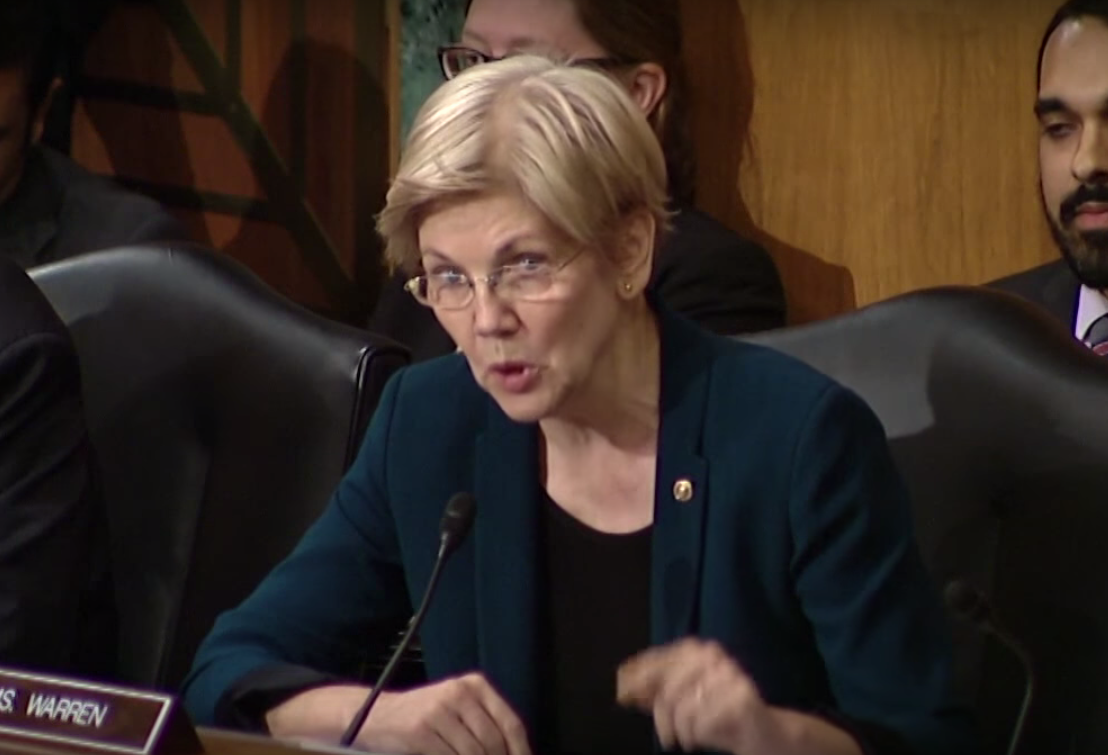 People were there for it.
They were just thankful they weren't on the receiving end of Warren's wrath.
"Jesus Christ, Sen. Warren killed a man in DC just to watch him die. I need a cold shower."
"Sen. Warren just verbally waterboarded Wells Fargo's CEO."
"I would rather put my hand in a blender than have @elizabethforma scold me like she scolds the big banks."
People called her a "beast" and a "modern day hero."
Some were inspired.
"New self-care strategy: watch videos of Elizabeth Warren in congressional hearings."
She even managed to win over some unlikely fans.
And some could not help but enjoy Stumpf's ordeal.