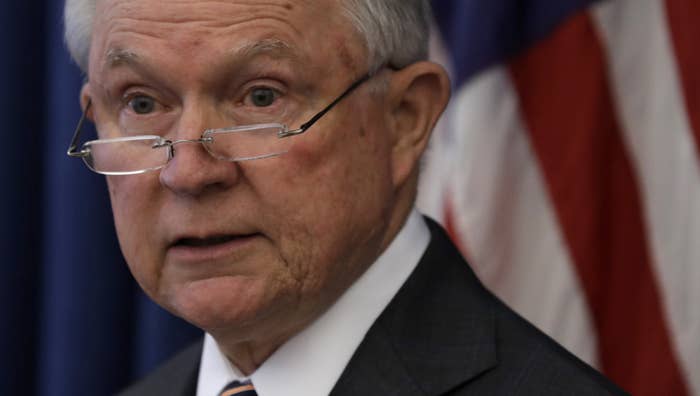 Hours after President Trump slammed Jeff Sessions in a televised interview as having no control of the Justice Department, the attorney general hit back Thursday, saying he had done so "the day I was sworn in."
Trump, as he has repeatedly done over the past two years, berated and disparaged Sessions for recusing himself from the special counsel's probe into Russian interference in the 2016 elections.
"I put an attorney general who never took control of the Justice Department," Trump told Fox & Friends. "Jeff Sessions never took control of the Justice Department. It's sort of an incredible thing."
Hours later, in a statement that appeared to be a direct response to Trump, Sessions defended his performance.
"I took control of the Department of Justice the day I was sworn in, which is why we have had unprecedented success at effectuating the president's agenda — one that protects the safety and security and rights of the American people, reduces violent crime, enforces our immigration laws, promotes economic growth, and advances religious liberty," Sessions wrote.
He also said his department would not be influenced by politics.

"While I am Attorney General, the actions of the Department of Justice will not be improperly influenced by political considerations," he wrote. "I demand the highest standards, and when they are not met, I take action."
When asked Thursday if he would consider firing Sessions, Trump said he had "wanted to stay uninvolved."
"But when everybody sees what's going on in the Justice Department — I always put 'justice' now with quotes — it's a very, very sad day," he added.
Trump also questioned the "kind of man" Sessions was for recusing himself after he took the job of attorney general.
"Even my enemies say that Jeff Sessions should have told you that he was going to recuse himself and then you wouldn't have put him in," Trump said. "He took the job and then he said, 'I'm going to recuse myself.' I said, 'What kind of a man is this?'"

The only reason Trump said he gave Sessions the job was his loyalty and because he was an "original supporter."
"He knows there was no collusion," Trump said.
In his statement, Sessions also appeared to be pushing back against recent criticism from other Republicans, including suggestions that Trump could replace the attorney general after the midterm elections in November.
"The president's entitled to an attorney general he has faith in, somebody that's qualified for the job, and I think there will come a time, sooner rather than later, where it will be time to have a new face and a fresh voice at the Department of Justice," Sen. Lindsey Graham told reporters Thursday. "Clearly, Attorney General Sessions doesn't have the confidence of the president."

GOP Rep. Duncan Hunter also slammed "the new Department of Justice" after he and his wife, Margaret, were indicted by a federal grand jury for allegedly misusing campaign funds.
"We're excited about going to trial with this, frankly. This is modern politics and modern media mixed in with law enforcement that has a political agenda," Hunter, who has maintained his innocence, told 10News on Wednesday. "That's the new Department of Justice."

In February, Sessions similarly fought back against Trump's attack on his decision to have the inspector general look into allegations of abuse by the Justice Department in obtaining a Foreign Intelligence Surveillance Court warrant.

After Trump called his move "disgraceful," Sessions released a statement saying the Justice Department would act in a "fair and impartial manner" for "[a]s long as [he is] the Attorney General."