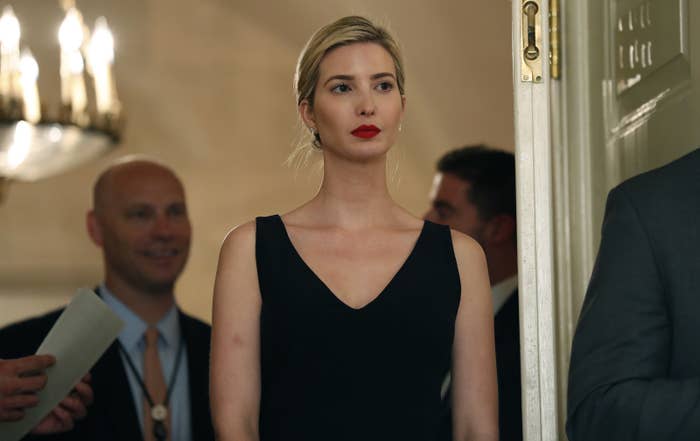 A New York judge on Friday ordered Ivanka Trump to testify in a lawsuit over claims that her company ripped off an Italian shoe company's most popular design.

Aquazzura sued Trump and her company — IT Collection LLC — last June, alleging that her company's "Hettie Shoe" was a "virtually identical copy" of one of its signature styles — the "Wild Thing" sandal — which has been worn by the likes of Kendall Jenner and Solange Knowles.
The lawsuit against Trump and Marc Fisher, who partnered with Trump to launch her eponymous footwear brand in 2010, accused the duo of "seeking the same success Aquazzura experienced, but without having to put in the hard creative work."

Aquazzura alleged that Trump copied nearly every detail of the "Wild Thing" sandal, from the shape and silhouette to the fringe and tassel.
Last week, Trump's attorneys requested US District Judge Katherine Forrest to prevent Trump from submitting a deposition in the case.

In a signed declaration, Trump described herself as the "Assistant to the President of the United States" and noted that she had an office in the White House.

She said that as the former president of IT Collection LLC, she had "no involvement in the conception, design, production, design, or sale of the Hettie Shoe."
Trump said her involvement had been strictly limited to signing off each season's line and that she wasn't aware of Aquazarra's "Wild Thing" sandal at the time that she approved the "Hettie Shoe" as part of her season's line.

However, Judge Forrest denied her request Friday, saying she would have to answer questions in a deposition for the case.

"Ms. Trump's public statements regarding active and comprehensive brand management lead to a reasonable inference that the shoe at issue would not have been released without her approval," Forrest said in her ruling. "In such a situation, a deposition is appropriate."

Forrest said that given Trump's "competing professional obligations," her deposition would be limited to two hours and would occur in Washington, DC, "if that is more convenient for Ms. Trump."