Up to six people were killed and several others injured when a newly installed pedestrian bridge at Florida International University collapsed Thursday afternoon, crushing vehicles underneath, officials said.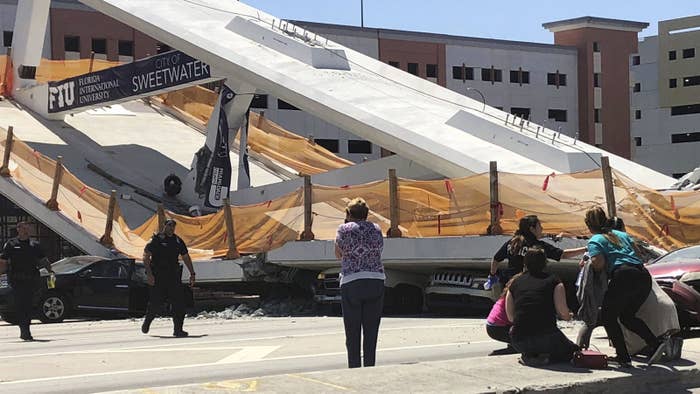 Eight vehicles were trapped under the bridge and at least 10 people were transported to the hospital, officials said. Two of those people were extricated from the rubble, fire officials said.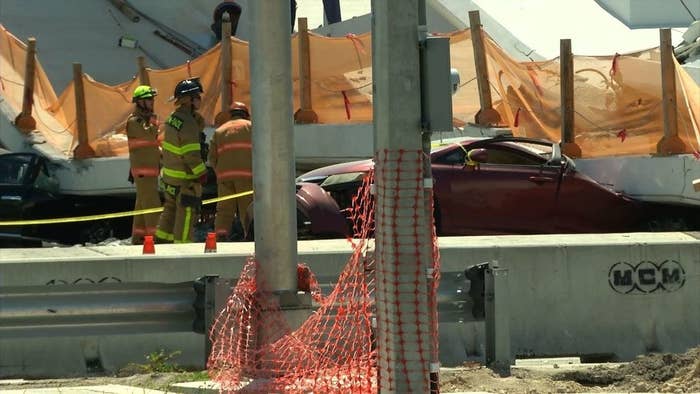 Rescue teams were still searching for survivors Thursday evening, but by Friday police said the operation had turned from rescue to recovery. Police said their priority was to recover victims who remained under the collapsed bridge on Friday morning.
Detective Alvaro Zabaleta said up to six people were killed. Authorities confirmed Friday that one of the victims was a student at Florida International University but did not release other information about the victims.
Not only were multiple vehicles crushed under the weight of the bridge, but Miami-Dade Fire Rescue Chief Dave Downey said Thursday an unknown number of construction workers were on the structure when it gave way.
"This bridge was about goodness, not sadness," Florida International University President Mark Rosenberg said during a news conference. "Now we're feeling immense sadness, incontrollable sadness, and our hearts go out to all those impacted."
Sweetwater Mayor Orlando Lopez said the bridge was supposed to connect the university with Sweetwater, a project that had been ongoing since 2010.
"I couldn't believe that this very bridge that was being built and erected had actually collapsed," he said. "It is a very tragic day."
Construction crews were conducting tests on the bridge Thursday, Rosenberg said, but added they were "consistent with best practices."
"I know the tests occurred today and I believe that they did not prove to lead anyone to the conclusion that we would have this kind of a result, but I don't know that as fact," Rosenberg told reporters.
Miami-Dade Mayor Carlos Gimenez told the Miami Herald stress tests were being conducted.
Officials plan to work overnight in search of victims and the possibility of survivors.
Mark McKenney, director of Kendall Regional Medical Center, told reporters that the hospital, located about three miles away from the bridge, received 10 patients from the scene.
Two of those patients were in critical condition, including one in his thirties who arrived in cardiac arrest, and a second who was in a coma, McKenney said.
The other eight patients, he said, were in stable condition.
Once rescue efforts are completed, the Miami-Dade Police Department's Homicide Bureau will begin investigating the collapse, officials said.
A social media producer on Twitter shared what appeared to be surveillance video of the moment the bridge collapsed.
Another video posted on Instagram Friday shows the bridge collapse from a dash camera on a vehicle that came to a stop several cars away from the bridge.
Earlier in the day, rescue crews said that as of 3 p.m. local time, they had found no signs that anyone had survived the collapse.
Local reports said the span of the bridge — which was installed on Saturday — weighed 950 tons.
An FIU student, who identified himself only as Kyle, told BuzzFeed News that he was at a traffic light on campus while driving over to a friend's house when, "Boom... I heard and saw the bridge fall."
Florida International University said the bridge had been meant to make the busy intersection safer for thousands of pedestrian crossing the wide roadway.
The bridge would provide "a safer crossing of the eight-lane thoroughfare for the 4,200 FIU students living in Sweetwater" and that it would also offer "9,900 square feet of gathering and event space," the university added.
"Nothing is going to stand in our way of promoting our students' safety and security, and nothing is going to stand in our way of progress," Rosenberg, the school's president, said in a statement.
On Friday Florida Senator Marco Rubio tweeted that the cables suspending the bridge had loosened, and were being tightened when it collapsed.
The university also said a 174-foot section of the bridge was built using "Accelerated Bridge Construction (ABC) methods." The method of construction, the school added, "reduces potential risks to workers, commuters and pedestrians and minimizes traffic interruptions."
Funding for the $14.2-million bridge came as part of a grant from the US Department of Transportation.
video-player.buzzfeed.com
Other funding agencies include the Federal Highway Administration, the Florida Department of Transportation Local Agency Program, FIU, and the city of Sweetwater.
Construction began in 2017 and was initially expected to be completed in early 2019, the university said.
"Our thoughts and prayers are with the victims, their families, and first responders who are assisting in the on-going rescue and recovery efforts following today's tragic collapse of a pedestrian bridge at Florida International University," the Department of Transportation said.
The Federal Highway Administration and National Transportation Safety Board is also assisting in the investigation.
Munilla Construction, which worked on the bridge, said it was devastated by the "catastrophic" collapse.
FIGG Engineering, which designed and worked on the bridge, also issued a statement:
We are stunned by today's tragic collapse of a pedestrian bridge that was under construction over Southwest Eighth Street in Miami. Our deepest sympathies are with all those affected by this accident. We will fully cooperate with every appropriate authority in reviewing what happened and why. In our 40-year history, nothing like this has ever happened before. Our entire team mourns the loss of life and injuries associated with this devastating tragedy, and our prayers go out to all involved.
Other companies worked on the bridge, such as Barnhart Crane and BDI, appeared to have deleted tweets about the bridge after the incident.
Jesse Grimson, a partner for BDI, told BuzzFeed News that the small Colorado-based consulting and manufacturing firm did some work on the bridge during the move. But he refused to comment further, saying he had only recently learned about the structural failure.
"We have no idea what happened," he said.
A now-deleted tweet from BDI stated: "We are thrilled to have performed structural monitoring during a spectacular bridge move by #barnhartcrane at #FIU #Miami. Congratulations to BCR on a job well done, we always appreciate being part of the team!"
Grimson would not say why the March 12 tweet was removed.
In a recent tweet, FIU also hailed the bridge as the "first-of-its-kind" pedestrian bridge that was all about "student safety."
White House press secretary Sarah Sanders said President Trump was aware of the incident and would continue to monitor the situation.
In a statement, Florida Rep. Carlos Curbelo, whose district includes FIU's main campus, said he was "extremely disconcerted by the collapse of the pedestrian bridge at Florida International University and the news of fatalities and injuries."
"As soon as the immediate needs have been met, we need to get to the bottom of what happened today and ensure that it never happens again," Curbelo said.
Curbelo told BuzzFeed News that there was "sad irony" in the situation.
"This project was built to keep students safe, and pedestrians safe, and it has ended up being the cause of death of drivers underneath," he said. "It's just unthinkable. Very painful."
Florida Rep. Mario Rafael Díaz-Balart told reporters authorities need to find out "what the heck happened here."
"I mean, this is beyond tragic," he said.