"I'm Just Happy To Be Alive" And "God Bless America": Rescued Window Washers Recall Terrifying Ordeal
Two window washers spoke about how they remained calm while hanging from the 68th floor of One World Trade Center on Wednesday.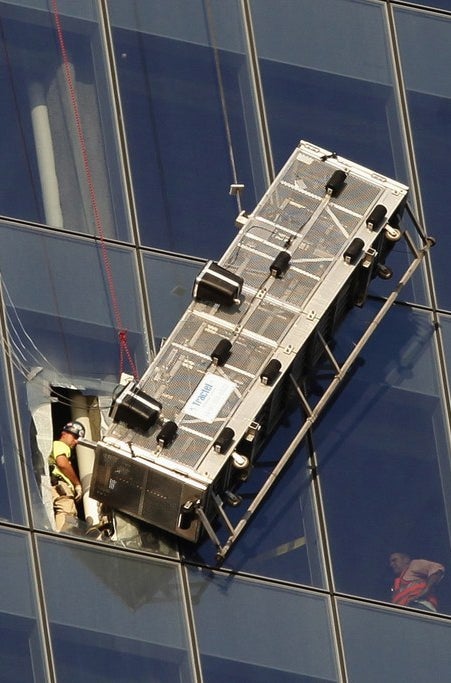 Juan Lizama and Juan Lopez, the two window washers who were trapped on the 68th floor of the tallest building in the U.S. — One World Trade Center — said they were always in control of the situation.
The pair was stranded on the exterior of the Manhattan skyscraper on Wednesday for around 90 minutes after one of their scaffold's cables became loose. They were rescued by NYPD and FDNY emergency workers, who broke through windows to reach the men.
At a press conference Wednesday, Lopez, 33, said, "I'm just happy to be alive. I'm happy to have made it home to see my family for another day."
Lizama, 41, who is originally from El Salvador, said, "God bless America. I'm very happy to be living here."
Lopez said that when the scaffold tilted, panic set in for a few minutes. But then their "survival instincts" and safety training kicked in. "We've been prepared for any incident like this. It was calmness and peace of mind," Lopez said. "I had the best partner possible. We just waited to be saved."
Lizama said that they started on the 43rd floor of the building and worked their way up. He said he was a little panicked when the scaffold tilted, but they were always in control of the situation. After their rescue, Lizima called his wife and told her he was fine and would be home soon. He told her to tell his kids he was going to be okay.
They both thanked the fire department officials and the police for saving their lives. Lopez joked he'd prefer to do some ground floor work before he is mentally prepared to wash windows on skyscrapers.
"The most important thing is to be alive," Lopez said.