Hurricane Maria rapidly intensified into a potentially catastrophic Category 5 storm Monday, starting a course through a string of tiny Caribbean islands still reeling from the devastation of Hurricane Irma.
The storm made landfall Monday night on Dominica, tearing up the island with 160 mph winds. The tiny sovereign nation had never before experienced a Category 5 hurricane, and early reports suggested that damage would be devastating, including widespread flooding and property damage.
In a series of Facebook posts, Dominica's Prime Minister Roosevelt Skerrit chronicled Maria's harrowing arrival, and later, his own rescue.
"We do not know what is happening outside. We not dare look out. All we are hearing is the sound of galvanize flying. The sound of the fury of the wind. As we pray for its end!" he wrote Monday night.
"My roof is gone. I am at the complete mercy of the hurricane. House is flooding," he posted about half an hour later. Then simply: "I have been rescued."
In a longer statement later, Skeritt assessed the initial damage: "Initial reports are of widespread devastation. So far we gave lost all what money can buy and replace," he wrote.
"My greatest fear for the morning is that we will wake to news of serious physical injury and possible deaths as a result of likely landslides triggered by persistent rains."
"So, far the winds have swept away the roofs of almost every person I have spoken to or otherwise made contact with," he added. "The roof to my own official residence was among the first to go and this apparently triggered an avalanche of torn away roofs in the city and the countryside."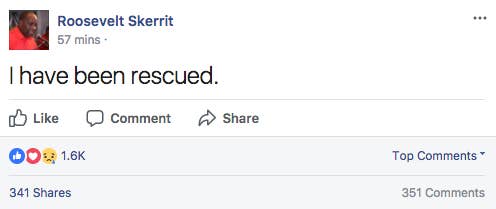 In an update early on Tuesday morning, the National Hurricane Center said Maria had weakened slightly since making landfall in Dominica, but was said to remain an extremely dangerous Category 4 or 5 as it headed to the Virgin Islands and Puerto Rico.
The hurricane is expected to move over the northeastern Caribbean Sea Tuesday before approaching Puerto Rico and the Virgin Islands sometime Wednesday.
In preparation for more devastation, President Donald Trump approved new emergency declarations Monday for the US Virgin Islands and Puerto Rico, enabling federal agencies to coordinate disaster relief efforts in the US territories. Puerto Rico's governor has also declared a state of emergency, and the territory began rationing basic supplies Monday in advance of Maria's expected destruction.
Maria is also expected to make direct landfall in Puerto Rico, prompting the governor to declare a state of emergency and order residents to evacuate flood- and landslide-prone areas.
"Severe flooding is expected," Puerto Rico Gov. Ricardo Rosselló said. "We are urging that if you are in a dangerous area don't think it won't happen. Experts have told you today that the margin of error is very slim here."
Though Puerto Rico was largely passed over by Hurricane Irma, its brush with the storm severely damaged the territory's already fragile infrastructure, and hundreds of thousands of people are still without power. About 200 people are still in emergency shelters after that storm, and the government has set up 500 new centers to house those displaced by Maria, Rosselló said.
"You have to evacuate," Puerto Rico's public safety commissioner, Héctor Pesquera, said. "Otherwise you're going to die."
The hurricane is expected to produce 12 to 18 inches of rainfall in Puerto Rico, with isolated maximum amounts of 25 inches. The NHC also warned of a dangerous storm surge accompanied by large and destructive waves, raising water levels to 6 to 9 feet in Puerto Rico and the US Virgin Islands.
Maria is the second major hurricane in a month to impact the Caribbean. Irma claimed the lives of at least 38 people in the region and has left several islands still struggling to recover from its devastating aftermath.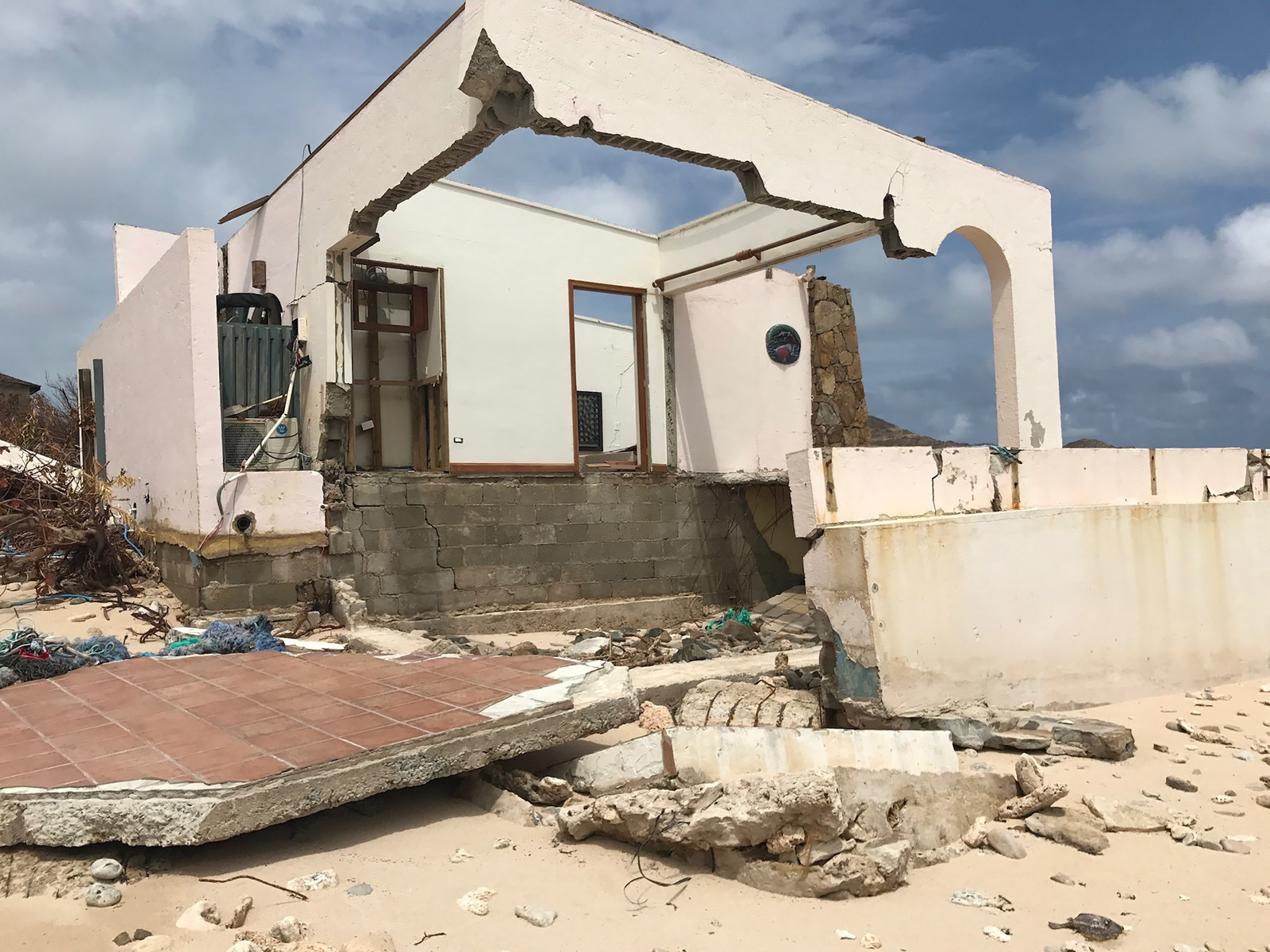 Forecasters expect Maria will follow a similar path to Irma.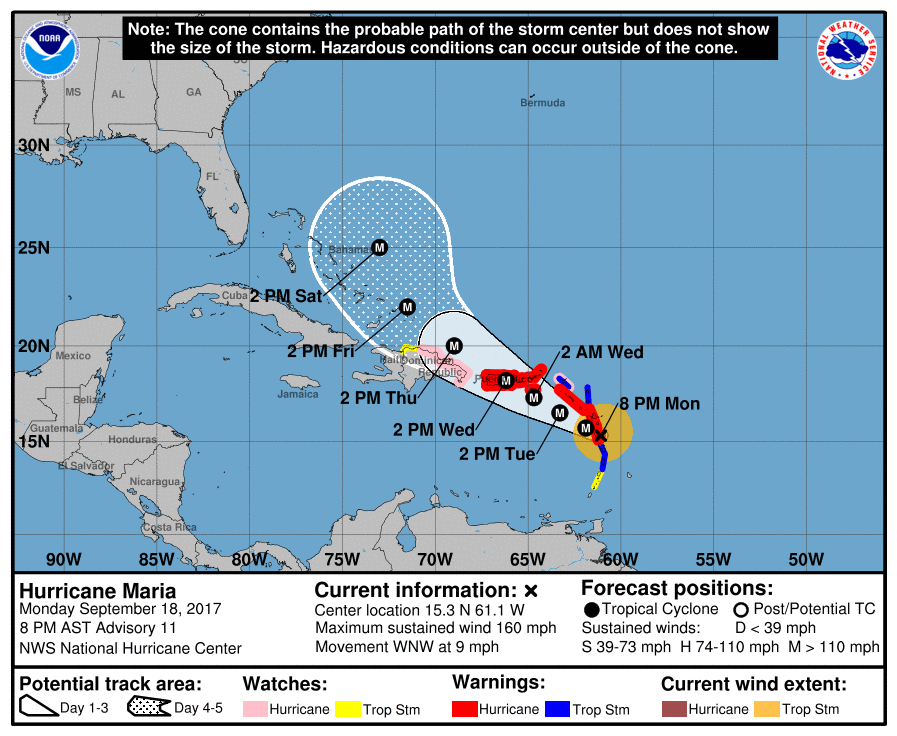 And the NHC has described the storm as "potentially catastrophic."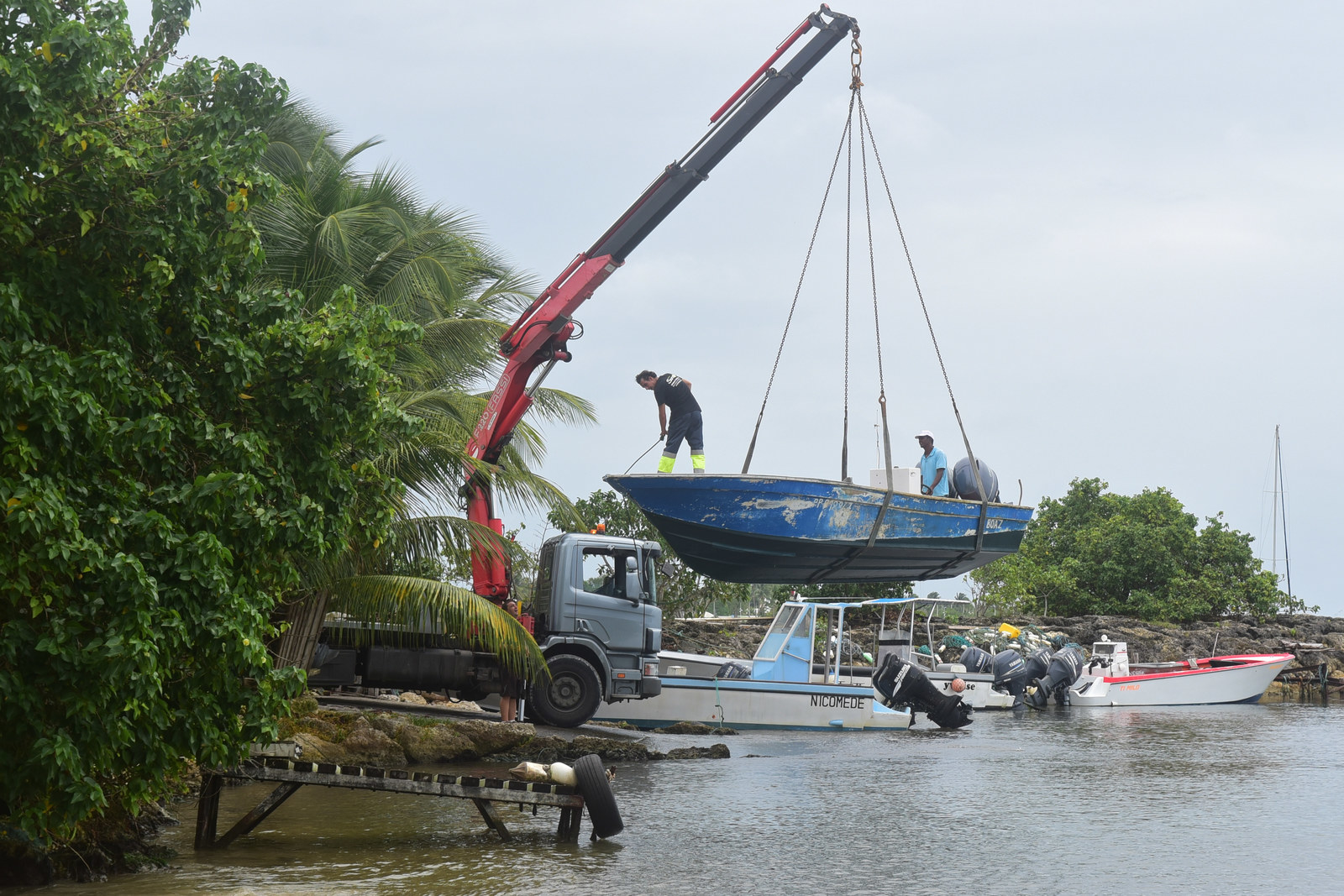 As of Monday night, hurricane warnings were in effect for several territories, including Guadeloupe, Dominica, St. Kitts, Nevis, Montserrat, Martinique, Puerto Rico, the US Virgin Islands, and the British Virgin Islands.
Tropical storm warnings were also issued for Antigua and Barbuda, Saba and St. Eustatius, St. Maarten, Anguilla, and St. Lucia.
"Some additional strengthening is possible tonight, but some fluctuations in intensity are likely during the next day or two," the NHC said. The agency added that expected rainfall on islands in the eye of the storm could cause "life-threatening flash floods and mudslides."