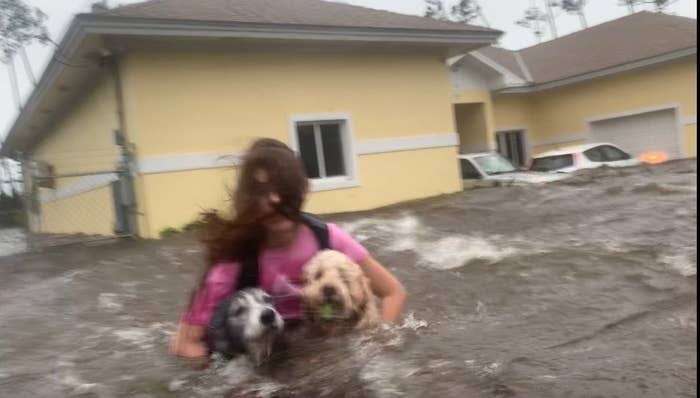 At least seven people were killed in the Abaco Islands as Hurricane Dorian struck the Bahamas, wreaking destruction and devastation that left officials expecting the death toll to rise.

"We are in the midst of a historic tragedy in parts of the northern Bahamas," the nation's prime minister, Hubert Minnis, said in a news conference Tuesday.
Minnis confirmed that seven people in Abaco had died as a result of the hurricane that has reportedly destroyed thousands of homes on the island. At least 21 people were injured and taken to hospitals, he said.
"The devastation is unprecedented and extensive," Minnis said.
Dorian made landfall in the Bahamas on Sunday as a Category 5 storm with 185 mph winds — the strongest hurricane to ever strike the country.
Minnis and other officials began to survey damage on Abaco on Tuesday, and in some communities, 60% of homes had been destroyed. A shanty town known as the Mud was "completely destroyed or decimated," he said.

Dorian slammed the islands with storm surge 12 to 15 feet above normal tide levels "with higher destructive waves," according to the National Hurricane Center. After battering the Bahamas for two days, the hurricane was downgraded to a Category 2 storm early Tuesday.
Forecasters warned residents to remain in shelters as dangerous winds gusting up to 140 mph and extreme flooding were expected to continue over Grand Bahama for much of Tuesday. The unprecedented storm was expected to move toward Florida and the southeast coast on Wednesday.

Minnis said his country's emergency management agency would be working with the US and other international partners to bring aid to storm victims. He also applauded Bahamanian civilians for helping in search and rescue efforts, and asked those with resources that could help search crews to get involved.
"We are seeing the courage of Bahamian volunteers who are coming to the rescue of others using whatever resources they have at hand," he said.
On Sunday night, Dorian crawled toward the Abaco Islands and came to a standstill over Grand Bahama Island, unleashing devastating rainfall and winds for more than 36 straight hours.

Several videos shared on social media showed cars, houses, airports, and hospitals submerged in flood waters.
Minnis said that downtown Grand Bahama was under 3 feet of water, including the ground floor of its hospital and the prime minister's office.
A video from Bahamian lawmaker Iram Lewis showed the Grand Bahama International Airport in Freeport submerged under water.
In another video showing a residential street submerged in flood waters, Lewis told Florida Rep. Kionne McGhee that his family members, including a 4-month-old baby, were trapped in their house during the hurricane. Lewis later said his family was safe.
In another video sent to McGhee, a Bahamian minister said floodwaters outside his house had risen to 20 feet above sea level.
A video captured by an ABC News crew showed a group of people struggling to swim across raging floodwaters in Abaco. A man, three women, and two teenage girls managed to swim to safety and take shelter at a bunker in the area, ABC reported.
Other residents weren't as lucky. Howard Armstrong told CNN he was trapped in his home with his wife as a 21-foot-high storm surge overwhelmed the structure.
"She just drowned on me," he said in an emotional interview.
Other videos shared on social media showed the widespread destruction that the hurricane brought to the islands.
Florida state Rep. Shevrin Jones shared a message from his cousin who said that he and his team had found the bodies of a family curled up in each other's arms.
Hurricane chaser Josh Morgerman, who was riding out the storm Marsh Harbour, a town in Abaco Islands, described being overtaken by fierce winds and narrowly fleeing to safety in the temporary calm brought by the eye of the storm. It was the most intense cyclone he'd experienced in 28 years of storm chasing, he said in a Twitter thread.
Dorian is expected to move "dangerously close" to the Southeast US coast in the coming days, bringing "life-threatening" storm surge and lashing coastlines from Florida to North Carolina with hurricane-force winds.