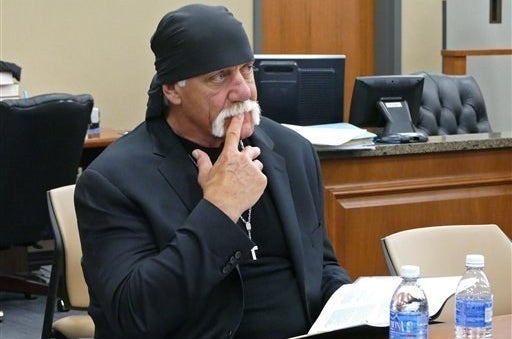 Wrestling legend Hulk Hogan testified in a Florida court Monday that he felt "completely humiliated" when Gawker published a clip of his sex tape with the ex-wife of his friend and radio host, Bubba the Love Sponge.
"I'm torn, my family is torn," Hogan said in court, describing the impact that the release of the tape had on his life. "It turned my world upside down."

Hogan — whose real name is Terry Bollea — is suing Gawker Media for $100 million for publishing the clip without his consent, causing him "severe emotional distress and harm," his lawyers said. Gawker owner Nick Denton says if Hogan wins that much money, it could sink his company.

Hogan's lawyers on Monday said the only reason Gawker published the wrestling legend's sex tape in 2012 was for "power and profit" and to "virally market their website. Shortly after Gawker posted the video, Hogan sued Gawker for violating his right to privacy — there's been a fierce legal battle ever since.

Hogan testified Monday that when he heard Gawker had published a clip of the sex tape with Heather Clem, his "hands started shaking violently."

"I felt numb," he said. "All I knew was that Gawker had put some sex tape up that I didn't know about and was filmed illegally and I was praying that Bubba didn't know anything about it."

Hogan said that in the hours after the sex tape was published, Bubba denied his involvement in the tape's release.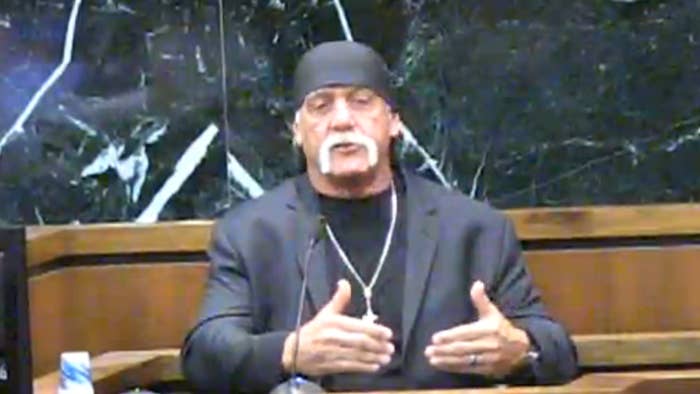 The wrestler's testimony came on the first day of the long-awaited trial that was postponed from last July to March. He described the "low point" in his life in 2007 when he first had sex with Heather Clem, now Heather Cole. Hogan said he and his first wife, Linda, were having problems and that he was unsuccessful in convincing her to return home after she moved out to California with their children.

"I was depressed," he told the court. "I was at a low point in my life and when Bubba said to come to his house, I was just desperate and I went over there and one thing led to another."

Hogan said he thought Bubba and Clem cared for him and that "he let his guard down." He said that the couple — who had an open marriage — had constantly tried to convince him to have sex with Clem, but he had always turned them down.

He said that when he arrived at Bubba's house, there was a group hug, after which Clem led him to their bedroom, and Bubba handed him a condom.

"My gut was telling me this was off...this was wrong," Hogan said, adding that he asked Bubba if he was filming the encounter. He said Bubba "latched onto me" and replied, "I'm your effing best friend, how dare you say that to me."
"Everything was so surreal," he said. "That's how it was."
On cross-examination, Hogan admitted he had lied on some radio and television interviews about having watched the video excerpt posted by Gawker. He testified that he has never watched the tape, and that he took "artistic liberty" as his Hulk Hogan character in the interviews.
Michael Sullivan, Gawker's attorney, also pressed Hogan on why he was concerned about Bubba filming him before he had sex with Clem. "It was just my gut feeling at the time," Hogan responded. He later admitted that he knew Bubba had security cameras in his house, but insisted he wasn't aware that there was a camera in Bubba's bedroom, or pointed towards the bed.
Hogan's cross-examination will continue Tuesday.
In a video deposition played in the court Monday, Clem testified that Hogan didn't know he was being recorded by a camera secretly installed in the bedroom she shared with Bubba at the time.

In her deposition, Clem said Bubba had installed a security camera in their bedroom on the advice of his attorney. She described Bubba as "rude and manipulative" and said, "He would continuously berate you until you did what he wanted. Whether it was in the privacy of your own home, or publicly."

She said she was not aware of how Gawker obtained the sex tape, and that Hogan was not aware he was being recorded. She said the security camera was not visible to him at the time of their encounter.

During opening statements, Hogan's attorney, Shane Vogt asked the jury to consider if Gawker crossed the line in publishing the clip, and to decide if the video was "morbid and sensational prying into the private lives of others" or whether it was of "legitimate public concern" and had newsworthiness.
"This wasn't a story about political corruption, mayors smoking crack or Lance Armstrong breaking the rules," Vogt said. "This was a pornographic video recorded without someone's consent, and [Gawker] knew it."
Vogt argued that by publishing the video, Gawker's revenues and page views rose — as did the staff's bonuses. He said the company used social media to "virally market the video" to promote their brand and site.
"This is what bullying has become in the 21st century," he said.
Vogt also traced Hogan's life and career from humble beginnings to his struggle to become a wrestler, along with the damage his body endured, as well as the breakdown of his marriage with his first wife, Linda. Vogt said that it was at this low point in Hogan's life that he "gave in to temptation" and had sex with Heather Clem who was in an open marriage with his "best friend" Bubba the Love Sponge.
Vogt said that Hogan would not give excuses when he testified. "But it wasn't his choice that he was being recorded," Vogt said.
Vogt said that Gawker should be held accountable and compensate Hogan for "each of the 7-plus million people that watched him naked and having sex" and for the severe emotional distress it caused him.
"He's not claiming medical bills," Vogt said. "It's the mental suffering, the shame, the humiliation of having his naked body exposed all the time when people got to see it in their homes."
Michael Berry, a lawyer representing Gawker Media, argued in his opening statement that the 90-second edited clip Gawker posted complemented public interest in Hogan's sex tape.
Berry said news reports about the existence of the sex tape dated back months before Gawker even received it the mail. At the time, Berry said, Hogan talked about his personal life in a variety of ways, including in his two autobiographies, on TMZ, and various radio shows.
"He talked publicly about things more intimate than his sex life," Berry said. Berry said A.J. Daulerio — the author of Gawker's commentary that accompanied the video — knew that in 2012 "celebrity sex tapes had become a cultural phenomenon."
He also knew, Berry said, that the video now in his possession answered questions from previous media coverage, including the identity of the unknown brunette.
Berry insisted that Gawker did not post Hogan's sex tape but rather, a clip of the sex tape with only nine seconds of intercourse.
"Mr. Daulerio knew to use only as much of the video as was necessary," Berry said.
Berry refuted the comments made by Hogan's lawyer, stating that Daulerio's post did not include any advertisements or promotions for products because advertisers don't like to have their ads next to such stories.
"Gawker did not make any money directly from this post," Berry said.
Berry stated that the reason Gawker posted the video and commentary — despite claims of not making any money off it — was because Gawker's founder, Nick Denton, "wants people to get the truth when they go to Gawker websites, and often, images are key."
Denton believes it is important to tell the truth, even if it involves a celebrity sex tape, Berry said.
"It important and it's lawful," Berry said.