A high school teacher in Louisiana is being investigated after a racially charged message appeared on his whiteboard Thursday, school officials and students told BuzzFeed News.
Parents and students of Pickering High School in Leesville alleged that math teacher Randolph Perez posted the derogatory message on his classroom's whiteboard, accusing one of his students of stealing a computer mouse.

The message read: "To the moronic, self-obsessed ethnic who stole the mouse from the back computer: the fact that you do not know both your parents, and that the so called adults that are caring for you can not afford a five dollar part because they are too busy buying drugs and coring cigars at the Shop-Rite does not change the fact that you are nothing more than a two bit thief and a waste of carbon and oxygen."
Mike Kay, the assistant superintendent of Vernon Parish Schools, told BuzzFeed News that the message was posted on Perez's whiteboard Thursday and that the school board is investigating the incident.

"Vernon Parish does not condone this behavior or support his statements," Kay said. "As soon as the employee returns to work, we'll be dealing with this as it's a serious matter."

Kay said there was a protocol in place to deal with employees, but did not elaborate on what actions could be taken.
Brittny Taylor, a senior in Pickering High School, told BuzzFeed News that she saw the message on the whiteboard when she walked into Perez's class Thursday morning.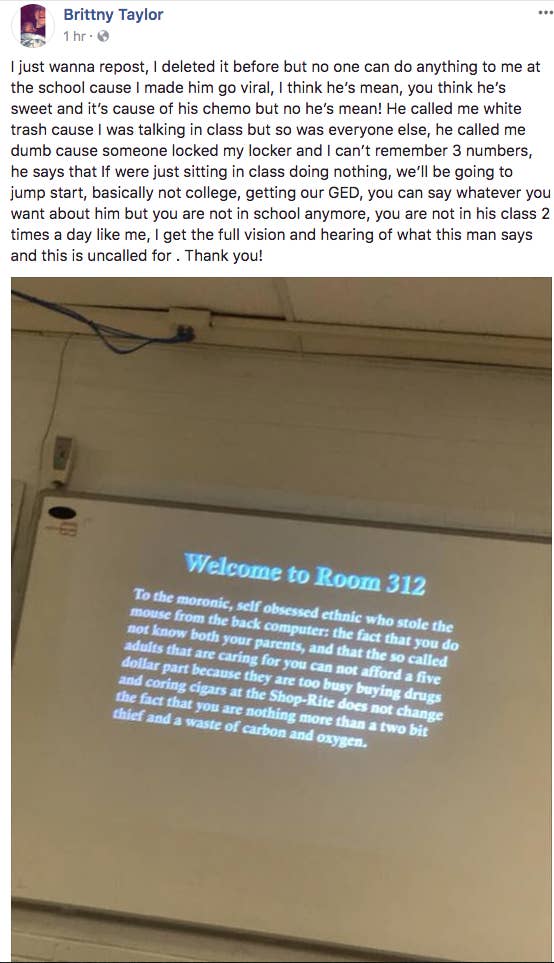 She said that Perez himself did not know who had stolen the mouse but that he thought his message was funny.
"When I first walked in, he was walking around the class saying whoever took it is probably on food stamps and welfare," Taylor told BuzzFeed News in a phone call and in Facebook messages.
She said Perez laughed about the message and encouraged students to take a photo of it and share it around. She said the message remained on his whiteboard all day.
Taylor took a picture of the message and posted it on Facebook on Friday, alleging that Perez had also called her "white trash" and "dumb" on previous occasions.
She said that when she complained to the principal of the school, Dana Donaldson, she laughed at her and didn't believe her. Donaldson did not immediately return BuzzFeed News' request for comment.
Many former students and parents in the community shared the photo on social media, expressing concern that Perez's alleged behavior had gone unpunished for several years.
Toree Gradillas, who graduated from the school three years ago, told BuzzFeed News that similar complaints about him had surfaced even when she was at school, but that no action had been taken against him.
"If I found out that it was my kid he was speaking to like that, whether it was in a joking manner or not, it's not professional," she said.
Morgan Erk, a military wife whose children attend the elementary school in the district, told BuzzFeed News that she feared putting "our very culturally diverse children" in Pickering High School.
"Apparently, it's very common for him to use curse words and racial slurs," Erk said.
Perez did not immediately respond to BuzzFeed News' request for comment.