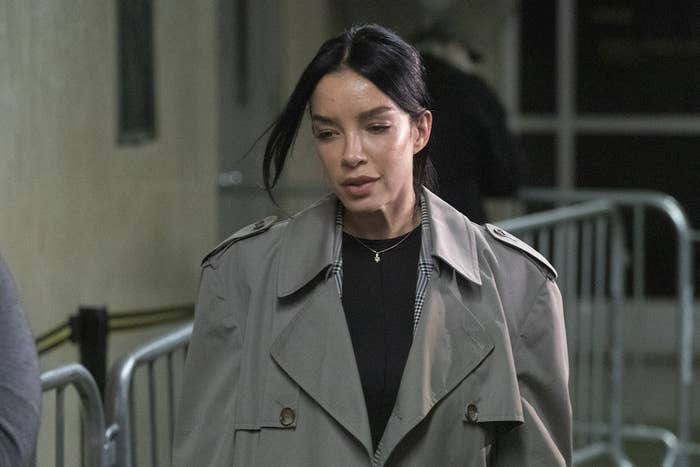 In dramatic testimony on Monday, a model and social media influencer vehemently denied luring Lauren Marie Young to Harvey Weinstein's hotel suite and shutting the door to the bathroom, where he allegedly trapped Young and masturbated while groping her breast.
"That never happened," Claudia Salinas said in court Monday. "If I had done that, I would remember that. I never closed a door behind anybody ever."
Last week, Young, also a model, testified that Salinas followed her and Weinstein into the producer's hotel suite after a meeting at the hotel bar in Los Angeles in 2013. In her testimony, Young said Salinas shut the suite's bathroom door, trapping her inside with Weinstein. He allegedly groped Young while masturbating naked. Young claimed Salinas was "standing right there" when she managed to leave the bathroom.
Salinas said that the meeting at the Montage hotel bar took place, but she contested other aspects of Young's account of the night. Not only did Salinas deny shutting the bathroom door on Young — she denied being in the suite altogether.
However, Salinas acknowledged that she previously told investigators that she did not know if Young went to Weinstein's room that night and that her only recollection of the "uneventful" evening was that she had met Weinstein and Young for drinks at the hotel bar.

Salinas had told investigators last year that she did not remember if anything had happened after she, Weinstein, and Young met for drinks.
"I don't recall, but it could have happened," Salinas had told investigators in 2019, referring to the alleged assault.

She told the court Monday, "I meant that if it happened, I most certainly wasn't there."

She also said that she wasn't present in any "bathroom scenario" involving Young or Weinstein and that she had never seen Weinstein in a bathroom robe.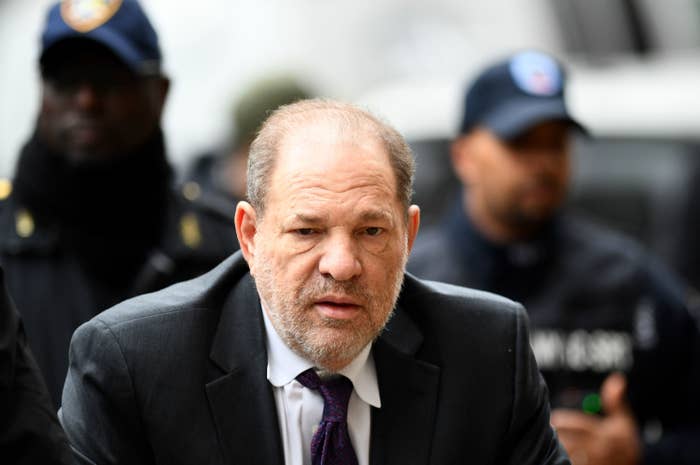 Weinstein's defense lawyer called Salinas to the stand Monday and within seconds asked her about the events of the evening in question.

In a dramatic rapid-fire exchange, Weinstein's lawyer Damon Cheronis asked Salinas if she had ever seen Weinstein run out of a bathroom suite naked.
"No," she replied.
"Did you ever lure Lauren Young into a bathroom with Harvey Weinstein?" Cheronis asked her, to which Salinas said "no."

He asked her if she had ever locked Young in a bathroom with Weinstein and if she had ever stood outside a bathroom door with Young and Weinstein inside. "No," Salinas said emphatically.
"Did you ever see Lauren Young follow a naked Harvey Weinstein out of a bathroom with a white dress around her elbows?" Cheronis asked. "Absolutely not," Salinas said.

"Are you sure?" he asked her.

"Yes, I'm sure," she replied. "I would remember that."

Salinas, who first met Weinstein when she was 19, described him, then a powerful Hollywood producer, as being "flirtatious" with her.

She also said she had been to Weinstein's hotel suites on other occasions but did not remember "that particular suite" in which Young said the alleged assault took place.

She said there were always "other people" in the hotel suites, including Weinstein's assistants and hotel staffers, whenever she had visited him.

Salinas said to the court that Weinstein always told her to bring her "good-looking friends" to events he invited her to, but said she thought it was an "innocent suggestion."
Salinas said she often brought her friends to events, adding, "All my friends are good-looking," which provoked some laughter in the packed courtroom.

She also told the court that Weinstein had a "very strong personality" and that "at times, he wasn't nice to me." She said that Weinstein never helped her with her career. Salinas appeared in three of Weinstein's movies, including Dirty Dancing: Havana Nights, Hell Ride, and Crossing Over.
UPDATE
Claudia Salinas's age could not be confirmed and was removed from this post.