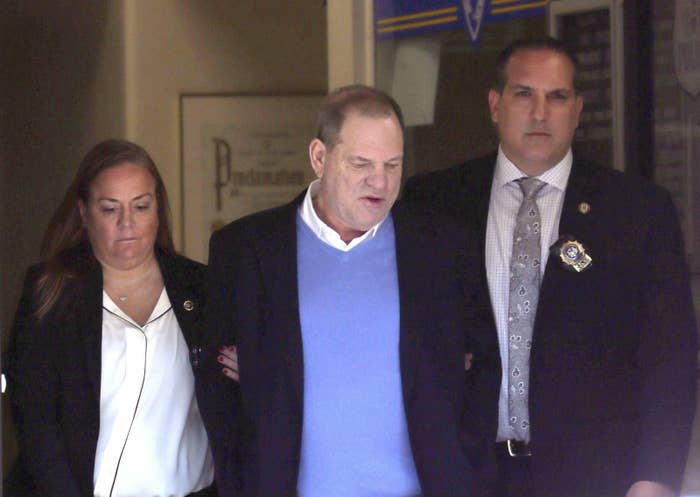 Three more women are accusing Harvey Weinstein of rape and other sex crimes in a new lawsuit filed in New York.
In the class-action lawsuit filed Friday, the women accuse Weinstein of sexual assault, false imprisonment, battery, rape, and "other heinous sexual acts."
The lawsuit comes in the wake of Weinstein's indictment this week on charges of rape and other sex crimes.

The three women who met Weinstein to discuss their projects or auditions "operated under duress and the threat of being blacklisted" by Weinstein and other producers at Miramax if they refused, or spoke up, according to the lawsuit.
One of the women suing Weinstein, Melissa Thompson, alleged that he raped her in his hotel suite in 2011 during a meeting to discuss a new marketing tool for his business.

According to the lawsuit, Thompson was referred to attorney Benjamin Brafman and another attorney who then worked for Brafman's law firm, Alex Spiro, after she was led to believe that they were representing Weinstein's victims. Thompson turned over video evidence of Weinstein's conduct to Brafman, only to learn later that he was set to be Weinstein's criminal defense attorney, the lawsuit said.
In a statement provided to BuzzFeed News, Brafman said his firm has never represented Thompson and he has never personally met with her or any of the other women named in the lawsuit.
"Alex Spiro was never a partner of this firm he was one of many associates and left this firm in or about Sept 2017. To the extent he spoke with or met with any of these women, he did so on his own time after he had left this firm and was already employed by Quinn Emanuel," Brafman said. "In addition, while at this firm, he never met with Mr Weinstein nor did he have any responsibility whatsoever in connection with our representation of Mr Weinstein in any matter."
Spiro also released a statement saying he would never represent Weinstein.
"I never have and I never would represent Harvey Weinstein," he said. "I left the Brafman firm well before Brafman ever represented Weinstein, and, in fact, I represent one of the key victims, but Ms. Thompson has never been a client."
Caitlin Dulany, an actor who met Weinstein in 1996, alleges that after earning her trust as a mentor, Weinstein assaulted and threatened her in her apartment and later sexually assaulted, battered, threatened, and falsely imprisoned her in his hotel suite at the Cannes Film Festival.
Larissa Gomes, an actor and dancer, alleges that Weinstein gave her a massage against her will and tried to forcibly kiss her in his hotel room in 2000.
The lawsuit seeks retribution for the women's loss of work opportunities and "devastating damage to their careers" as well as damages for emotional distress.
It was filed by the two law firms of Hagens Berman and the Armenta Law Firm, which are representing six other women in a 2017 class-action lawsuit against Weinstein.
"Harvey Weinstein may have been put in handcuffs for his assault on two women, but we are working to see a day of justice for the hundreds of women who were exploited for Weinstein's sexual gratification and silenced by this ring of conspirators," Elizabeth Fegan, one of the attorneys representing the women, said in a statement.

CORRECTION
An earlier version of this post incorrectly stated that Brafman's law firm was named as a defendant in the lawsuit.