Melania Trump's office is accusing a Cambridge school librarian of being "divisive" for rejecting the first lady's donation of 10 Dr. Seuss books for National Read a Book Day.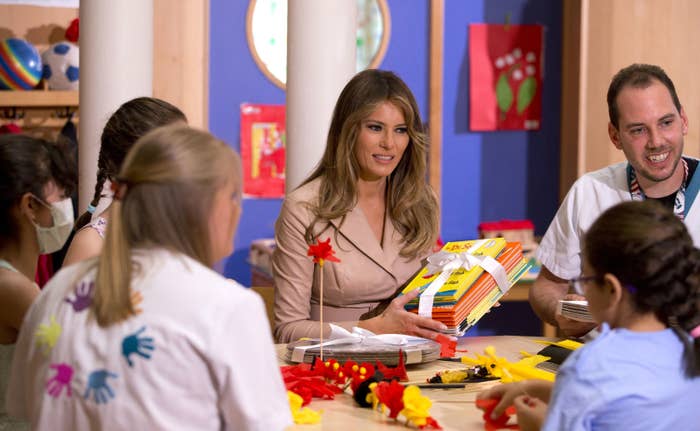 In a widely-shared blog post addressed to Trump, elementary school librarian Liz Phipps Soeiro said her school "doesn't have a NEED for these books" and suggested gifting them instead to "underfunded and underprivileged communities."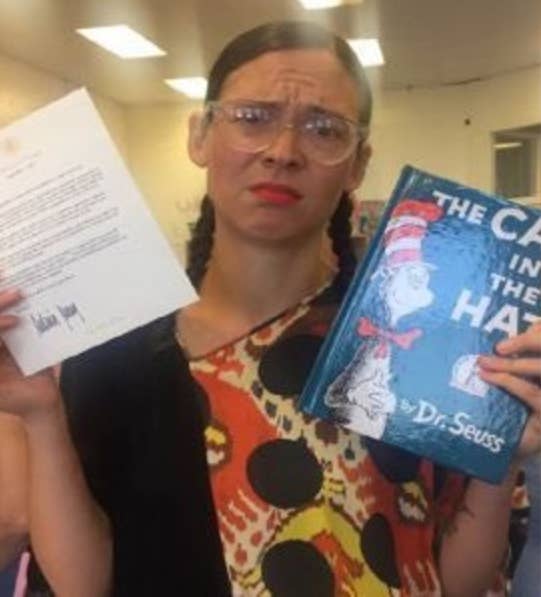 In the post, Soeiro, an advocate for inclusive libraries, thanked Trump for gifting the books and for recognizing her school as "special," but said she would not be keeping the 10 Dr. Seuss titles in the library collection.
"So, my school doesn't have a NEED for these books," Soeiro wrote, describing her school and library as an award-winning one that has provided students access to over 9,000 volumes.
She also criticized Secretary of Education Betsy DeVos for "punishing" schools with "closures and slashed budgets."
"Why not go out of your way to gift books to underfunded and underprivileged communities that continue to be marginalized and maligned by policies put in place by Secretary of Education Betsy DeVos?" Soeiro wrote.
Soeiro also criticized Trump for her choice of books, calling Dr. Seuss a cliché and noting that his illustrations were often "steeped in racist propaganda, caricatures, and harmful stereotypes."
"You may not be aware of this, but Dr. Seuss is a bit of a cliché, a tired and worn ambassador for children's literature," Soeiro wrote. "As First Lady of the United States, you have an incredible platform with world-class resources at your fingertips," she said, encouraging Trump to reach out to the local librarian for more recommendations.
"I am honored that you recognized my students and our school," Soeiro said. "I can think of no better gift for children than books; it was a wonderful gesture, if one that could have been better thought out."
She said she was attaching a list of 10 books that would offer Trump "a window into the lives of the many children affected by the policies of your husband's administration."
But Trump's office pushed back, calling the librarian's blog "divisive."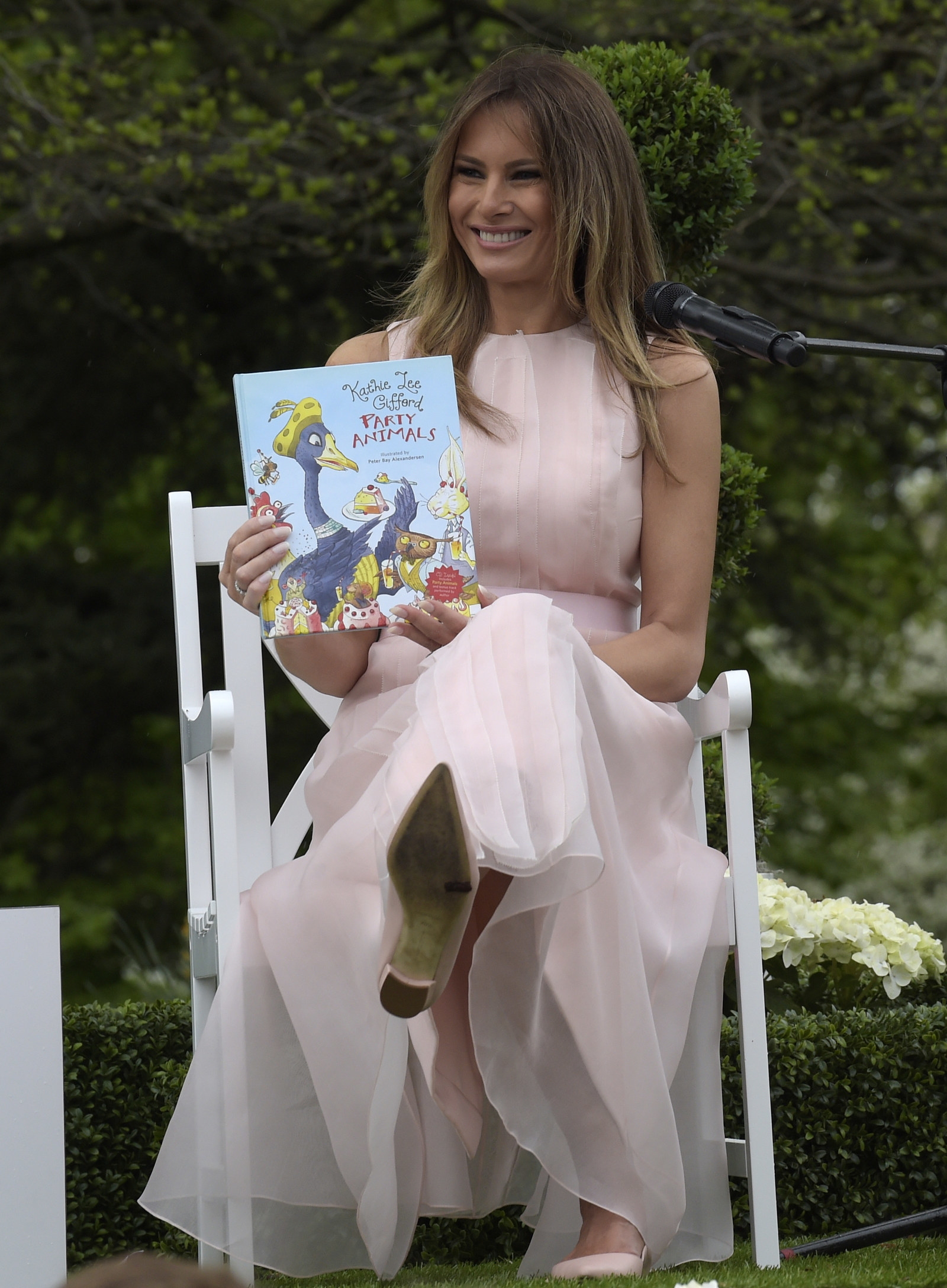 "Mrs. Trump intends to use her platform as First Lady to help as many children as she can. She has demonstrated this in both actions and words since her husband took office, and sending books to schools across the country is but one example," Stephanie Grisham, the first lady's communications director, said in a statement to BuzzFeed News. "Turning the gesture of sending young school children books into something divisive is unfortunate, but the First Lady remains committed to her efforts on behalf of children everywhere."
The librarian's post sparked a partisan furor online, with some describing her characterization of Dr. Seuss as "liberal indoctrination."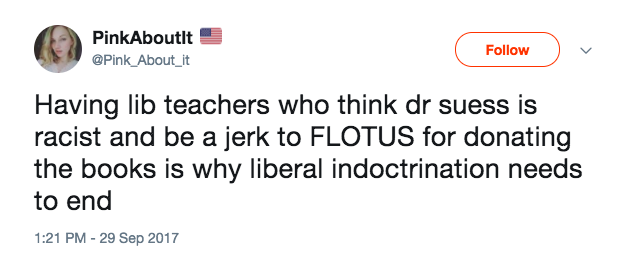 Many people were pissed that she thought Dr. Seuss was racist.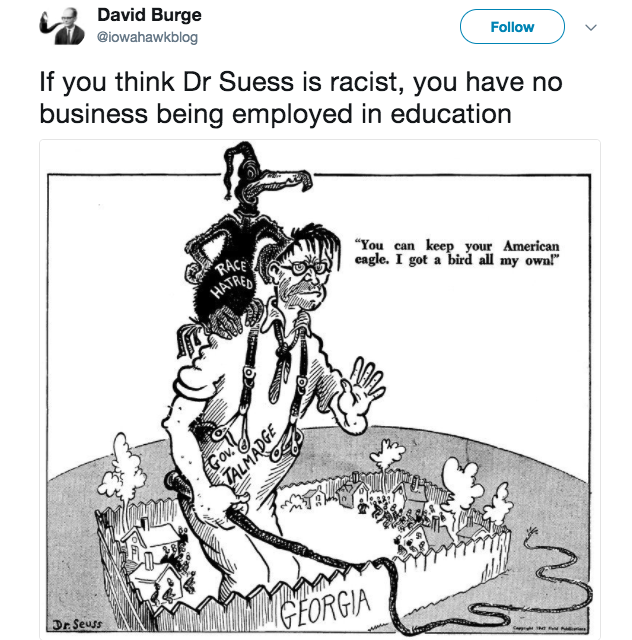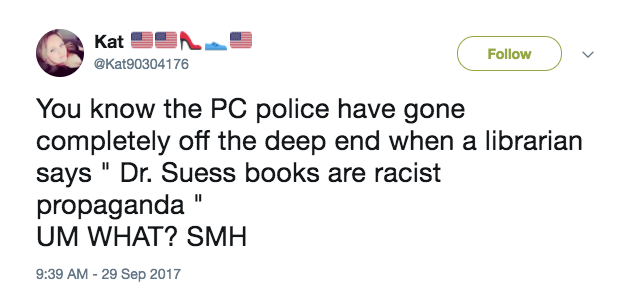 A photo that appeared to show Soeiro dressed as a Dr. Seuss character was widely shared by her critics.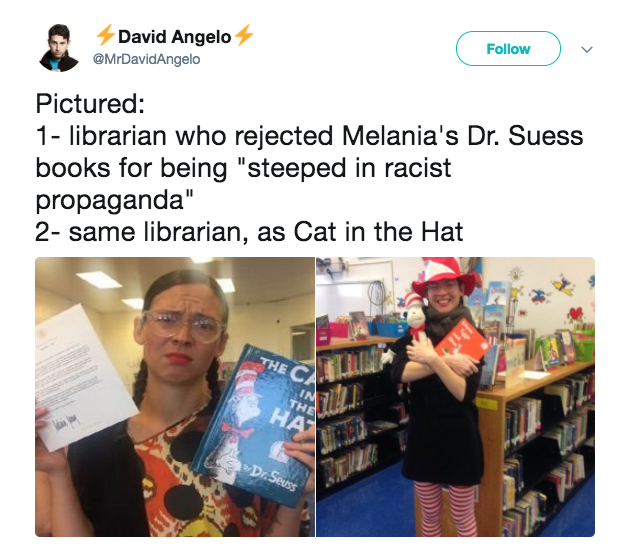 People said that former first lady Michelle Obama had also read Dr. Seuss books to students.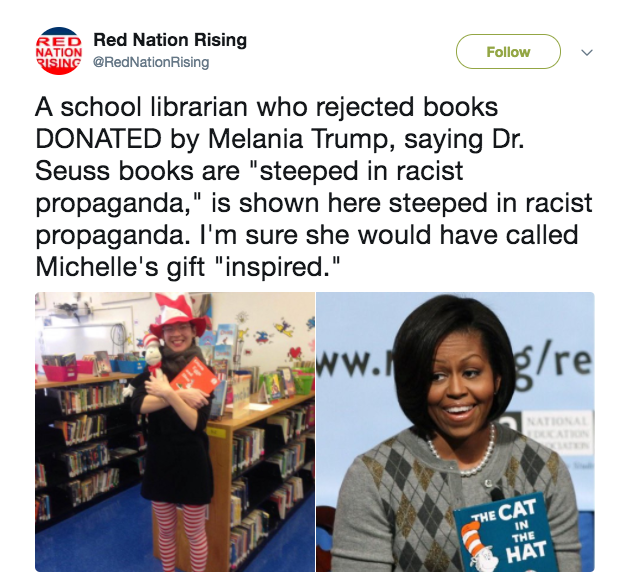 Even Sen. Ted Cruz joined the debate on Twitter.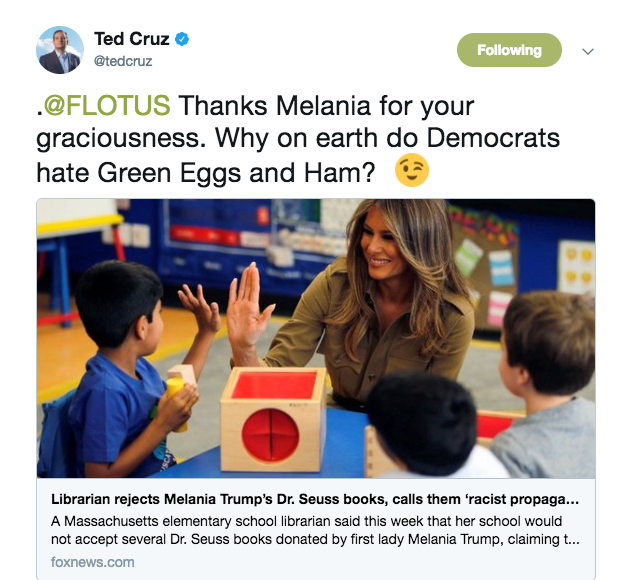 However, some people said Soeiro made a good point about the book donations better serving an underprivileged school.

Others said that while criticizing Dr. Seuss was "petty," they agreed that Trump should not have used taxpayer money to send the books to already privileged schools.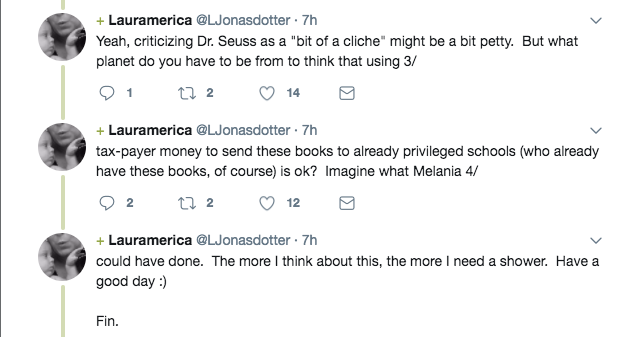 And some acknowledged that there were parts of Dr. Seuss that were "problematic."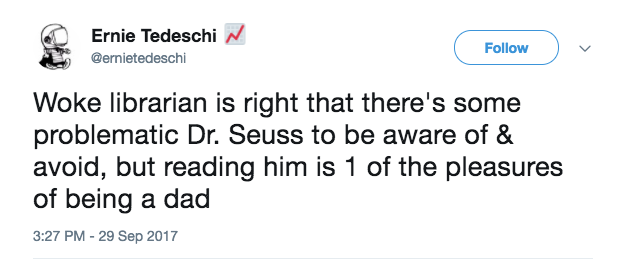 However, they thought that her valid points were "drowned out" by some parts of her controversial blog post.