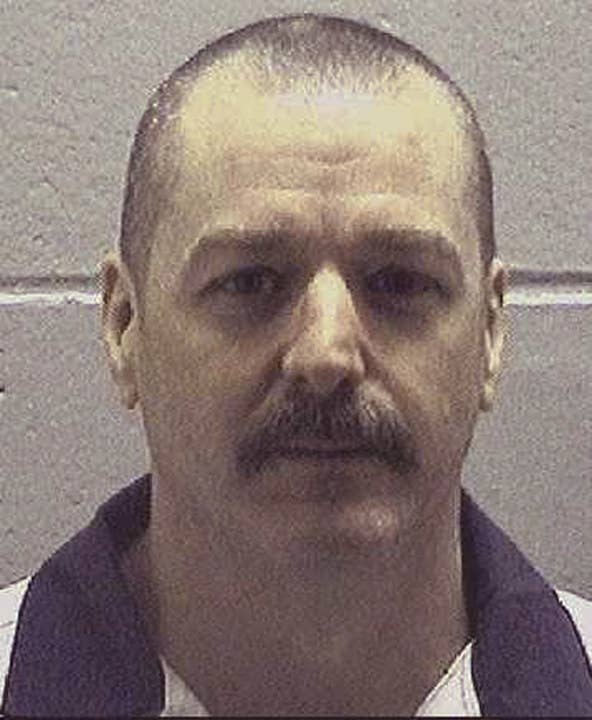 UPDATE
Marcus Ray Johnson was executed late Thursday for the 1994 rape and murder of Angela Sizemore in Albany, Georgia
Johnson was put to death at 10:11 p.m. Thursday, state corrections officials said.
ORIGINAL REPORT

Marcus Ray Johnson is set to be executed on Thursday for the 1994 rape and murder of Angela Sizemore in Albany, Georgia.
Johnson has maintained his innocence for 21 years, saying that he only punched Sizemore on the nose when she became "clingy" after the two had consensual sex in a vacant lot near the bar they met at hours earlier. Sizemore, 35, was stabbed more than 40 times and sexually assaulted with a tree limb. Her body was found in her car across town the next morning.
Johnson asked the U.S. Supreme Court on Thursday to stop his execution, with lawyers arguing that "newly available evidence" showed that his conviction and death sentence rested on "materially inaccurate and unreliable circumstantial evidence."
The Georgia Supreme Court on Thursday rejected Johnson's appeal to stop the execution and to request for a new trial due to the lack of physical evidence tying Johnson to the murder and the "unreliable and inaccurate" eyewitnesses who identified Johnson.
The Georgia Board of Pardons and Paroles also had denied a clemency petition Wednesday that was filed by Johnson's attorney, Brian Kammer. The clemency petition sought a stay of execution to allow for new forensic testing that he claimed will prove Johnson's innocence.

In Johnson's appeal, he argues that he is "factually innocent" of Sizemore's murder and that his execution would be "an atrocious violation of our Constitution and the principles upon which it is based."

According to his lawyer, no physical evidence tied Johnson to the murder. The appeal states that, despite Sizemore being brutally stabbed, only a "speck" of her blood was found on Johnson's leather jacket which Johnson said was from him punching her in the nose. Recent DNA testing also confirmed that there was no physical evidence linking Johnson to the car where Sizemore's body was found, the appeal said.
His lawyer is also asking for time to test blood samples taken from the site where her body was found.
Johnson's lawyer said that the state's case only relied on eyewitnesses who claimed to see a "white man" in the vicinity of where Sizemore was found. These "wholly unreliable cross-racial eyewitness identifications obtained through the shoddiest, most discredited ad-hoc police methods" were the only links tying Johnson to the murder, according to the appeal. It also refers to an expert's testimony that details how mistaken eyewitness identifications have been behind nearly three-quarters of wrongful convictions in hundreds of DNA exonerations.
The appeal noted that even after Johnson was sentenced to death, the trial court found that the evidence "did not foreclose all doubt to guilt."
"They are grasping at straws," Sizemore's daughter, Katherine Barker, told The Atlanta Journal-Constitution. "There is evidence that puts Johnson at the crime and not just eyewitnesses…. I'm not a bloodthirsty person but I do believe my mom deserves justice," said Barker, who was 5 years old at the time of the murder.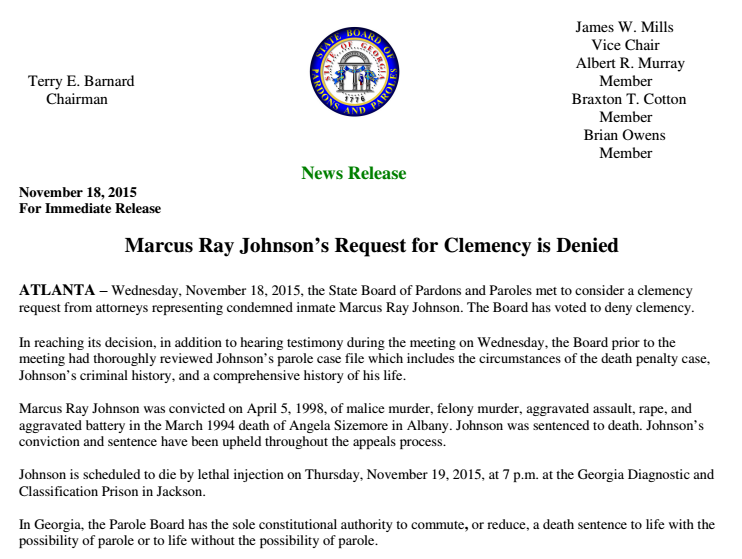 UPDATE
This report has been updated with information about the denial of Johnson's clemency request.