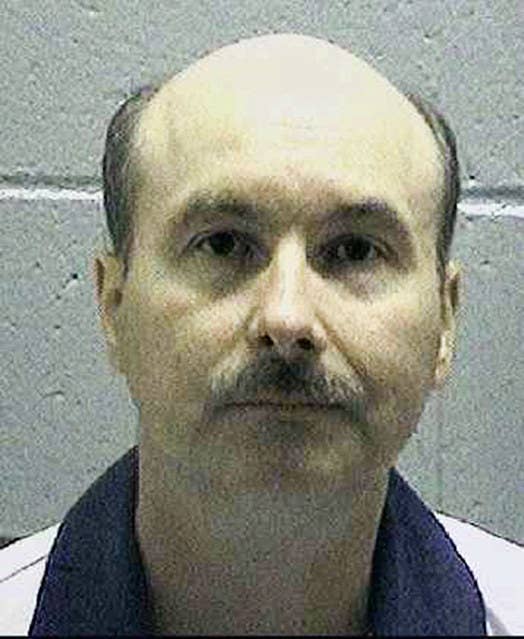 William Sallie was executed Tuesday night in Georgia for the 1990 murder of his father-in-law, Jack Moore, after the US Supreme Court denied two requests to halt it.
Sallie became the ninth person to be executed in Georgia this year, making it the state with the most executions so far in 2016. It was also the highest number of executions in the state since the death penalty was reinstated in 1976.
In March 1990, Sallie broke into the home of his in-laws, Jack and Linda Moore, where his ex-wife Robin and their two-year-old son, Ryan, were living after Sallie lost a bitter custody battle. Robin's 17-year-old sister, April, and 9-year-old brother Justin also lived in the rural home in Bacon County, according to court documents.
Sallie shot the Moores as they slept in their bed, killing Jack and wounding Linda. He then handcuffed Linda and Justin to the bed rail and abducted Robin and April to his mobile home where he raped them, according to evidence presented at the trial. He released them a day later and was arrested shortly after.
The Georgia Board of Pardons and Paroles denied clemency for Sallie on Monday. Sallie's clemency petition and an appeal filed in the US Supreme Court argue that his execution will be unconstitutional as he has been denied federal court review of his claims of juror bias because of a procedural technicality.
The US Supreme Court denied his request, with no noted dissents by any of the justices.
His lawyers argued that Sallie's death sentence was imposed at the urging of a juror who was "patently biased" against him and was dishonest about her life experiences that would have affected her judgement during jury selection.
"Yet the fact that Mr. Sallie's death verdict was rendered by a biased and dishonest juror has never been considered by any Court" because Sallie missed a critical deadline for a federal review of his case as he did not have a lawyer to help him, owing to Georgia's law that denies death row defendants the right to an appointed attorney during a critical stage of post-conviction, his attorneys said.
"As a result, Mr. Sallie awaits his execution under a sentence handed down in 2001 from a tainted jury," his attorneys said in a statement. Despite "extensive evidence of juror bias" in his trial, no courts has ever heard the evidence regarding the juror misconduct, or ruled on it, the attorneys said.
Sallie's lawyers said that they have evidence that one of the jurors — who allegedly bragged about convincing an evenly divided jury to vote unanimously for Sallie's death — had "failed to disclose her history of contentious, messy divorces" during jury selection and had also withheld her history of an "ugly interstate child custody fight."
"Her life had uncanny parallels to the tragic events at the center of Sallie's case," his lawyers said. "This certainly disqualified her from sitting on the jury for a case so bizarrely similar to her own traumatic experiences."
In an opinion piece for the New York Times on Monday, Norman S. Fletcher, who served as a justice on the Supreme Court of Georgia for over 15 years, wrote that Sallie's case was a "prime example" of the injustice of the death penalty system and the problems with the way capital cases were handled.
"Perhaps the biggest problem with Georgia's system, and one of the reasons the state carries out so many executions, is that it often fails to provide people with lawyers," Fletcher wrote. "Georgia continues to deny counsel — and denies a man like William Sallie the opportunity to defend his life."
Sallie also argued Georgia's death penalty is unconstitutionally arbitrary. In the 1970s, the U.S. Supreme Court re-instated the death penalty after it was being arbitrarily enforced.
"Georgia has not lived up to" its promise that the death penalty would not be arbitrarily imposed, Sallie's attorneys argue. The state responds that the issue was properly addressed and dismissed in state court. The issue of arbitrariness has been a recurring topic brought up by Justice Stephen Breyer, who has questioned the constitutionality of the death penalty.