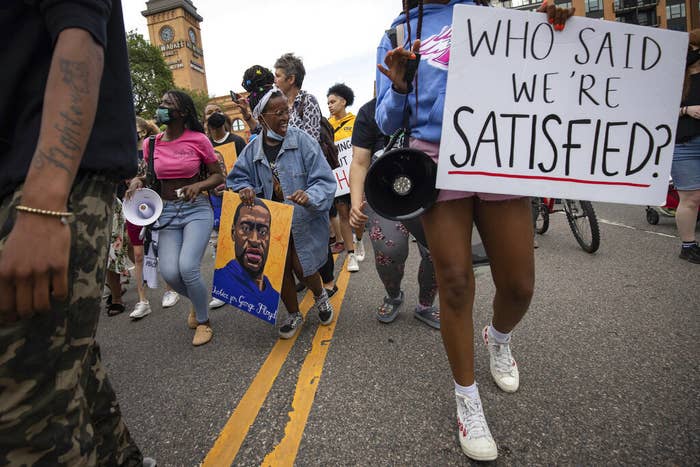 One year ago today, George Floyd, 46, was killed by a former Minneapolis police officer outside the store where he bought his last pack of cigarettes. His murder, captured on a teenager's cellphone video and seen around the world, reenergized the Black Lives Matter movement and ignited massive protests for police reform and racial justice amid a pandemic.
The yearlong movement of dissent, rage, and grief over the numerous killings of Black people by law enforcement officers has sought to fundamentally reshape policing in the US and address structural racism.
Some state and local legislatures have cut police budgets and passed laws limiting violent police tactics. Last month, a jury found Derek Chauvin guilty of murdering Floyd in a rare conviction of a police officer.
But even as Floyd's family hoped the verdict would be a turning point in the country's history for police accountability, cops have continued to kill people and the George Floyd Justice in Policing Act stalled in the Senate, missing President Joe Biden's Tuesday deadline for signing it into law.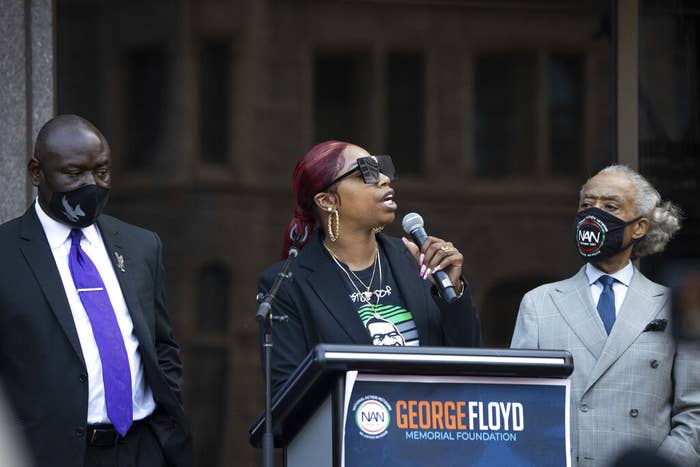 "It has been a long year. It has been a painful year," Bridgett Floyd, Floyd's sister, said at a Minneapolis rally on Sunday, which was part of a series of events and actions organized by the George Floyd Memorial Foundation in remembrance of his death. "It has been very frustrating for me and my family. For your life to change within a blink of an eye. I still don't know why."
Floyd's family, including his daughter Gianna Floyd, ex-partner Roxie Washington, brothers, and nephew, met with Biden and Vice President Kamala Harris in a private meeting at the White House that lasted about an hour on Tuesday.
After the meeting, the family members told reporters outside the White House that they'd had a "productive" conversation with Biden, who they said showed genuine concern for their well-being.
The family said that while Biden was not happy with missing his deadline for signing the federal police reform bill — which restricts racial profiling by police, bans the use of chokeholds, makes it easier to convict officers for misconduct, and limits qualified immunity (which protects cops from civil lawsuits) — he wanted to ensure that it was "the right bill, not a rushed bill."
Biden also played with Gianna, who "had a ball," one of the family's attorneys, Chris Stewart, said after the meeting.
"We just want the George Floyd Justice in Policing Act to be passed in the future," Philonise Floyd, Floyd's brother, said. "If you can make federal laws to protect the bald eagle, you can make federal laws to protect people of color."
Floyd's family paid tribute to him outside the White House. Gianna said, "Say his name." They all raised their fists in unison and said, "George Floyd."
The family also met with House Speaker Nancy Pelosi and other lawmakers Tuesday to push for the passage of the bill.
Their attorney Ben Crump said that the blood of Floyd, Breonna Taylor, and other Black Americans killed by police was on this legislation.
"This is an American issue. This is not a policing issue or civil rights issue," he said.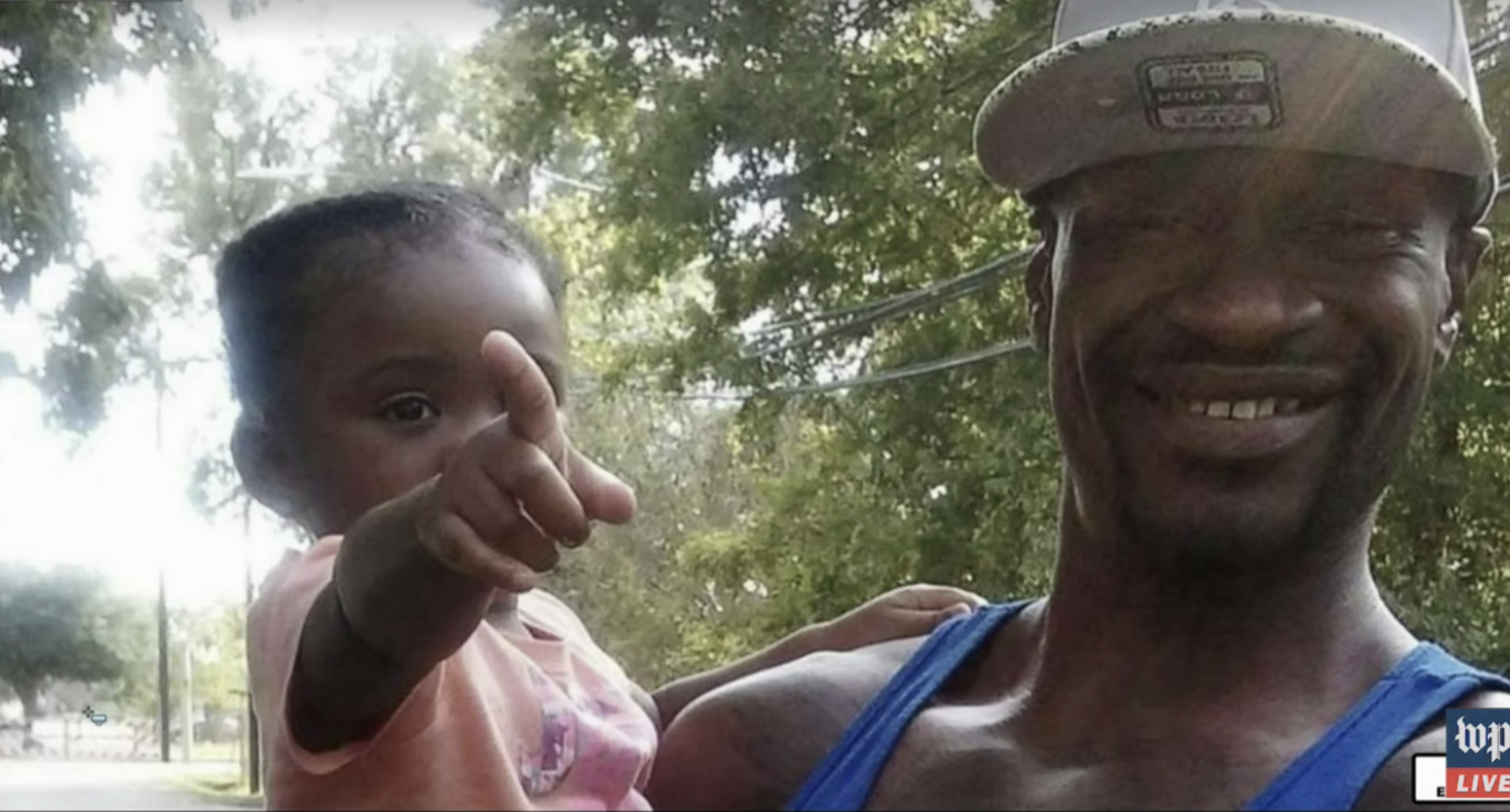 Marches, rallies, vigils, and protests took place across the country on Monday and Tuesday, many of which were centered around the 9 minutes and 29 seconds that Chauvin pressed his knee into Floyd's neck until he took his last breath.

Minnesota Gov. Tim Walz issued a proclamation asking everyone in the state to unite in a moment of silence at 1 p.m. local time on Tuesday for 9 minutes and 29 seconds to honor Floyd and "every person whose life has been cut short due to systems of racism and discrimination in Minnesota."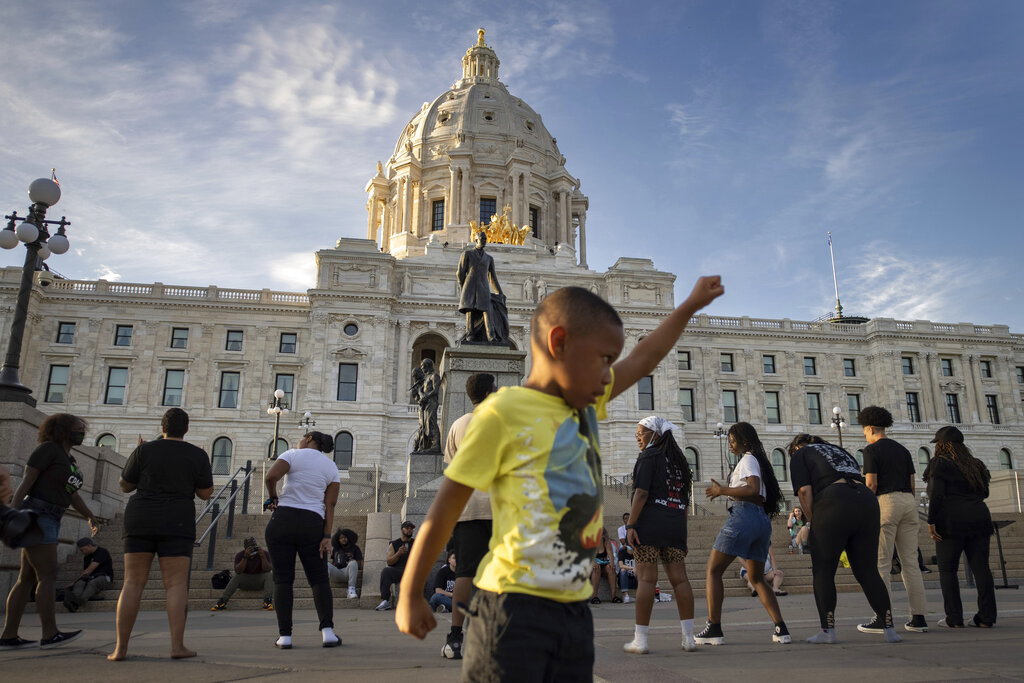 In downtown Minneapolis, a "Celebration of Life" event, featuring a showcase of Black culture, history, art, and live performances, took place at the Commons Park on Tuesday afternoon to commemorate Floyd.
People paid their respects at George Floyd Square, the memorial marking the place where he was killed a year ago. The scene was briefly disrupted after gunshots were heard on Tuesday morning and one person was hospitalized with non-life-threatening injuries, the Associated Press reported.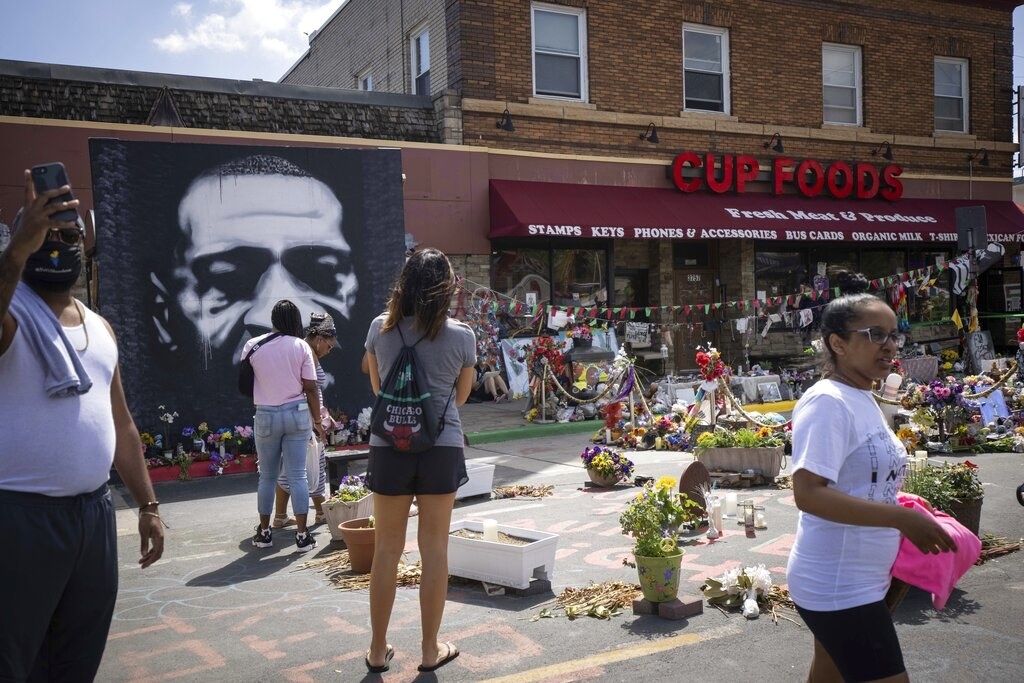 In New York City, police took a number of people into custody after a group of demonstrators, including mayoral candidate Shaun Donovan, knelt for 9 minutes and 29 seconds, blocking the Holland Tunnel entrance on Tuesday, the New York Times reported.

Civil rights leader Al Sharpton and New York City Mayor Bill de Blasio took a knee for 9 minutes and 29 seconds at the George Floyd memorial in Harlem.
"Stay in the streets in honor of George Floyd," read a flyer from the Los Angeles chapter of Black Lives Matter, urging people to join a Tuesday march from City Hall to demand "transformative justice in honor of Brother George and every life stolen by the police."
In Dallas, a social justice nonprofit planned a solidarity march and rally as part of George Floyd Week. In Philadelphia, faith leaders called for a citywide prayer for healing and reform at 9:25 p.m Tuesday. Vigils and rallies are also scheduled to take place in Chicago, Atlanta, and Seattle, among other cities.
The George Floyd Memorial Foundation called on people to contact local officials and support legislation as part of a "Virtual Day of Action."

Floyd's family and their attorneys on Tuesday announced the creation of the George Floyd Community Benevolence Fund to benefit businesses and organizations serving the Minneapolis community.
Prominent political leaders and activists paid tribute to Floyd on social media.
During Sunday's rally in Minneapolis, Sharpton pressed lawmakers to pass the federal police reform bill.

"George Floyd is not going down in history as a martyr. George Floyd is going down in history as a game changer," Sharpton said. "When you went down on his neck, you broke the neck of police misconduct in this country."