Texas Carries Out Its 10th And Final Execution Of The Year
Gang member, Miguel Paredes, was executed on Tuesday for a triple murder. The Supreme Court denied Paredes' request for a stay of execution.
UPDATE — 8:00 p.m. ET: Miguel Paredes, a San Antonio gang member involved in a triple slaying in 2000, was executed in Texas on Tuesday.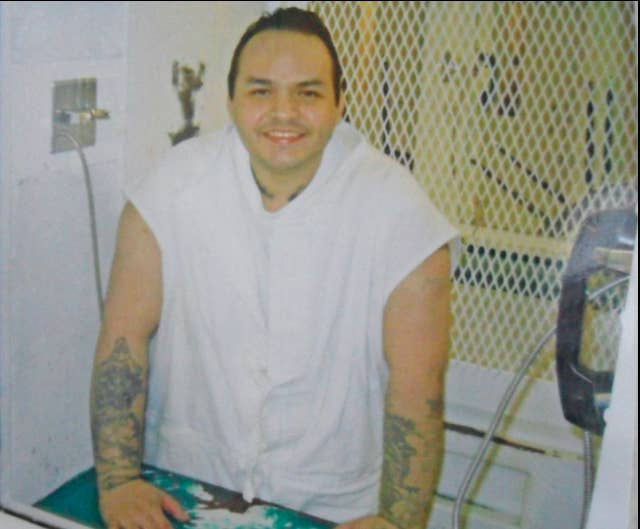 Paredes was pronounced dead at 6:54 p.m. CT.
In his last statement, Paredes told his victims' families he hoped "you let go of all the hate because of all my actions."
His last statement:
"To the victim's family, I want you to know that I hope you let go of all of the hate because of all my actions. I came in as a lion and I come as peaceful as a lamb. I'm at peace. I hope society sees who else they are hurting with this. To my loved ones, I hope both victims find in their hearts to forgive me, and I have forgave everyone and I love everyone, pray for my soul and I forgive myself. I love y'all and I'll be waiting for y'all, my brother take care of my family. Take care of my girl, my mom, my sons and all of my loved ones. Brother Wayne and Brother Joe, thank y'all. Jorge don't give up on Luis, I'll be listening. Thank you for everything. Father I commend my soul, please take care and watch everybody I leave behind. I am ready Warden. Father please accept my soul. I am sorry, I love y'all, I am always going to be with you. I love y'all, I love y'all. I love you Father, I love you Father, I love you Savior."
The Supreme Court denied stay of execution for Miguel Paredes, set to be executed by Texas tonight. The order can be found below.
Update — 6:42 p.m. ET: His last meal was a Philly cheesesteak, two Cokes and a Gatorade.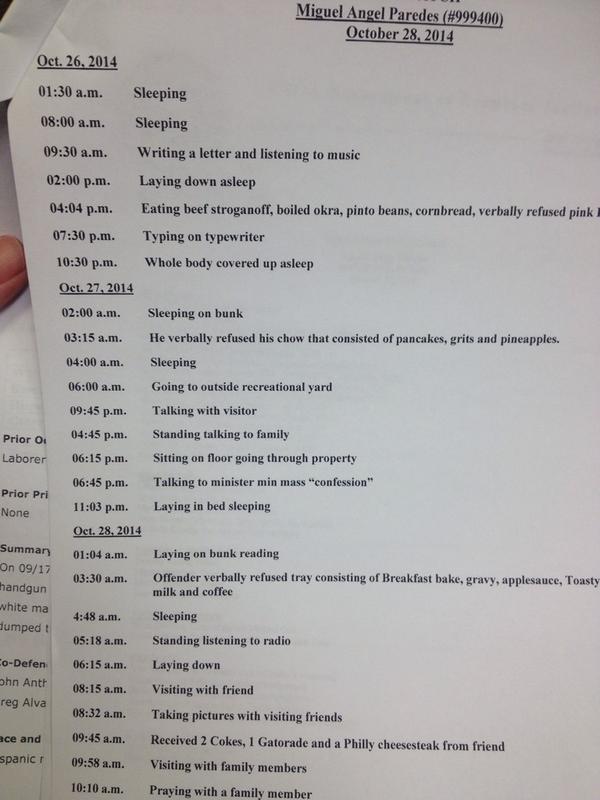 Paredes, 32, along with two other co-defendants, was convicted of murdering three people in 2000 over a drug dispute with a rival gang. Paredes was the only one who got a death sentence; his co-defendants are serving life in prison.
If executed, Paredes will become the 10th and the final person to be put to death by Texas this year, which saw the fewest number of executions there since 1996.
Paredes' attorney, David Dow, filed an appeal with the 5th Circuit Court of Appeals Monday to stay the execution while it considers a petition for certiorari writ petition seeking Supreme Court review, also filed Monday.
In the writ petition, Dow argued that Paredes' previous counsel failed to discover that Paredes' suffered from a significant mental disease when he waived his "Wiggins claim" — the right to challenge his sentence based on ineffective trial counsel. The appeal says that Paredes is scheduled to be executed without ever having the opportunity to have the federal courts review the merits of his claim.
Texas officials opposed Paredes' request in a filing at the court on Tuesday morning.
"All that gang life folklore, the romanticism, it's crap," Paredes told the San Antonio Express-News in an interview last week.
When Paredes was 18, he and his fellow Hermanos Pistoleros Latinos gang members shot to death Adrian Torres, 27; his 23-year-old girlfriend, Nelly Bravo; and Shawn Michael Cain, 23.
Prosecutors said they were settling a drug debt with Torres, who was a member of rival gang, the Mexican Mafia. Paredes shot at Bravo's head and fired a shotgun at her chest. He was also found responsible for the death of Cain. The three bodies were found wrapped in carpet, burned, and dumped in a remote stretch of road in South Texas.
Paredes turned to art while he awaited his execution for 13 years.
"As long as one kid sees beyond all that crap because of my situation, that's fine," said Paredes, who expressed regret over the slayings.
Update, 4:34 p.m.: Here is the Supreme Court order denying a stay of execution to Paredes: