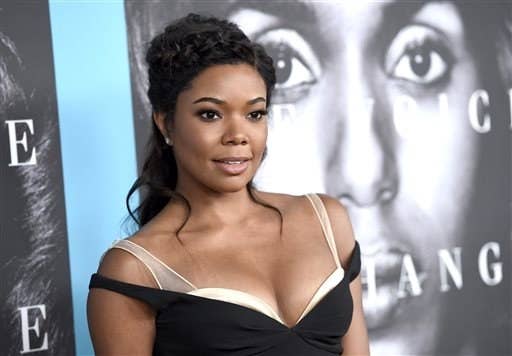 In an op-ed for the Los Angeles Times on Sept. 2, Gabrielle Union — the actress who stars in The Birth of a Nation — addressed the rape allegations against the film's actor, director, and producer Nate Parker.

When the decades-old allegations against Parker resurfaced in recent weeks and it was revealed that his accuser had killed herself in 2012, Union — who is a sexual assault survivor — said that she found herself "in a state of stomach-churning confusion."

Parker and his friend Jean Celestin — who co-wrote The Birth of a Nation — were accused of raping a fellow Penn State student in 1999. While Parker was acquitted of all charges, Celestin was convicted, but his conviction was later overturned. The accusations, and the subsequent trial, came back into the limelight in recent weeks as The Birth of a Nation — touted as an Oscars contender — is set for release.

Union said she took on the role of an unnamed slave who is raped not only because she could relate to the experience, but also to represent "countless black women who have been and continue to be violated."

"As important and ground-breaking as this film is, I cannot take these allegations lightly," Union wrote.
In a recent interview with Ebony magazine, Parker acknowledged that as a teenager he had never considered the definition of consent. "Back then, it felt like…I'll say this: at 19, if a woman said no, no meant no. If she didn't say anything and she was open, and she was down, it was like how far can I go?" Parker said in the interview.

"On that night, 17-odd years ago, did Nate have his date's consent?" Union wrote in her op-ed. "It's very possible he thought he did. Yet by his own admission he did not have verbal affirmation; and even if she never said 'no,' silence certainly does not equal 'yes,'" she said.

Union said that even after reading all 700 pages of the trial's transcripts, she didn't know what happened the night of the alleged rape. "But I believe that the film is an opportunity to inform and educate so that these situations cease to occur on college campuses, in dorm rooms, in fraternities, in apartments or anywhere else young people get together to socialize," she said.

The actress became an advocate for sexual assault survivors after she was raped at gunpoint in the backroom of a shoe store where she worked at the age of 19.

She said that she signed onto the "brilliant film" two years ago "to talk about sexual violence."

"I know these conversations are uncomfortable and difficult and painful," she wrote. "But they are necessary. Addressing misogyny, toxic masculinity, and rape culture is necessary. Addressing what should and should not be deemed consent is necessary."

She said she was using her voice for those victims — who like her character in the movie — remain silent.
"This is real. We are real. Sexual violence happens more often than anyone can imagine. And if the stories around this film do not prove and emphasize this, then I don't know what does."