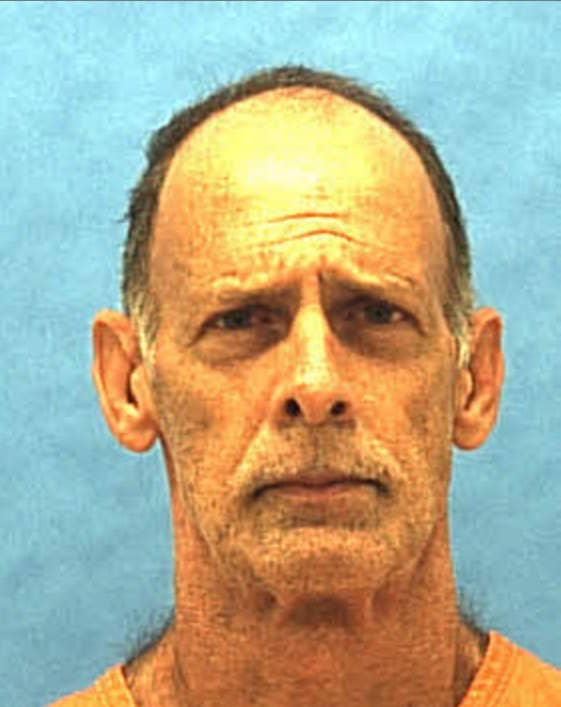 A Florida man convicted of killing his ex-wife, daughter, and in-laws was executed by lethal injection Thursday.

The Supreme Court announced earlier in the evening had denied Jerry Correll's request for a stay of execution, although Justices Stephen Breyer and Sonia Sotomayor wrote that they would have intervened.
Instead, Correll became the first person to be executed using midazolam since a Supreme Court decision in June allowing the drug's use in a case out of Oklahoma.

Correll, 59, was convicted of stabbing to death his ex-wife, Susan Correll, 25, their 5-year-old daughter Tuesday, Susan's mother, Mary Lou Hines, 48, and sister, Marybeth Jones, 29, at Hines' home in Orlando.
All four of Correll's victims were repeatedly stabbed and died from massive hemorrhages, according to court documents. The three adults had "defensive wounds" on their hands. All four bodies were found at the house of Correll's ex-mother-in-law, Mary Lou Hines, who was one of the victims.
Susan Correll's murder was described in court documents as "heinous, atrocious and cruel" and was committed during sexual battery. Court documents said Correll tortured her before killing her.
Correll's child, Tuesday Correll, was "clad only in her nighty and was clutching her cloth doll when she was brutally and repeatedly attacked by her own father," according to court documents. She had "hostage-type" wounds.
Correll repeatedly stabbed Susan Correll's sister, Marybeth Jones, and stole her car after killing her.
Several bloody fingerprints and palm prints found at the crime scene were matched to Correll's, according to court documents.
The Supreme Court had been asked to put Correll's execution on hold while deciding another case, Hurst v. Florida. The Hurst case challenges the constitutionality of the state's unique death sentencing laws, which require a judge, not jury, to decide whether a person convicted of a capital crime is to get the death penalty. The jury only gives the judge an advisory recommendation, and the recommendation does not need to be unanimous.
In response to Correll's latest filings at the Supreme Court, Florida officials opposed the request for a stay of execution, arguing that he was shifting his arguments in order to fit the pending Hurst case.
"Now that many other courts have granted stays in capital cases throughout the state while this Court considers Hurst, Correll want to align his argument with that in Hurst simply to avoid execution."
Notably, the federal public defender's office also weighed in with a brief supporting Correll's request, detailing what it called the Florida Supreme Court's "limited view" of prior U.S. Supreme Court precedent on the issue of the role of the jury in capital sentencing — a view, they wrote, that is squarely at issue in Hurst.
On Oct. 2, the Florida Supreme Court lifted a stay of execution for Correll, who had also challenged the state's use of midazolam, a controversial drug that was at the center of a significant Supreme Court ruling in June. In a 30-page ruling, the court ruled that Correll failed to show he was "very likely to endure needless suffering upon administration of midazolam" which is part of Florida's three-drug protocol.

Correll was scheduled to be executed in February, but his execution was halted pending the Supreme Court's decision on whether Oklahoma could use midazolam as a sedative in its executions.
The court allowed the use of midazolam, which was used in problematic executions in Ohio, Oklahoma, and Arizona in 2014.
Correll's lawyers had argued that there was a high risk of him having a "paradoxical reaction" to midazolam because of his alleged brain damage and history of alcohol and substance abuse. That would increase the risk of him being conscious while being injected with the second and third drugs, thereby violating his constitutional rights, according to his appeals.
Executions are on hold in Ohio and Oklahoma, both of which use midazolam in their execution protocols. Ohio has delayed all executions until 2017 because of difficulties finding drugs, while executions in Oklahoma are postponed indefinitely over concerns of its execution protocols.
Besides the courts, Florida law does allow for executive clemency, although Correll's clemency request has already been denied. The last clemency granted to a death row inmate was more than 30 years ago.