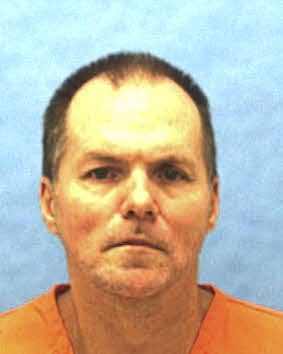 Florida executed an alleged white supremacist on Thursday for two 1987 murders that prosecutors said were racially motivated.

Mark Asay, 53, fatally shot Robert Lee Booker, a 34-year-old black man, and Robert McDowell, a 26-year-old man who was white and Hispanic.

Asay was the first white man to be executed in Florida for killing a black man, the Associated Press reported. His lawyers appealed to the US Supreme Court after the race of his second victim was disputed, but the stay of execution request was denied on Wednesday afternoon.
He was pronounced dead at 6:22 p.m. A Florida Department of Corrections official told reporters there were no complications and Asay did not show any signs of being in pain.

At his trial, Asay's friend, James Laton O'Quinn Jr., testified that Asay said, "Fuck you, nigger" and shot Booker, according to court documents. O'Quinn also testified that when he asked Asay why he shot Booker, Asay replied "because you got to show a nigger who is boss."

Asay's brother, who was also an eyewitness to Booker's murder, testified that Asay said, "You know you ain't got to take no shit from these fucking niggers," before shooting Booker.

A fellow inmate testified that Asay had several racist tattoos, including a swastika, "white pride" tattoos, and the initials "SWP," which stand for "supreme white power," according to court documents.

After shooting Booker, Asay — who was looking to have sex with prostitutes — approached McDowell, who was dressed as a woman. When Asay realized that McDowell was a man, he grabbed McDowell and fatally shot him six times, court documents said.

However, the testimony at trial regarding McDowell's race was contradictory.

In an August ruling denying Asay's request to stay his execution, the Supreme Court of Florida acknowledged that the court had misidentified McDowell's race for more than two decades.

"We have previously described the victim born Robert McDowell as 'a black man dressed as a woman,'" the court wrote. "Renee Torres née Robert McDowell may have been either white or mixed-race, Hispanic but was not a black man. We regret our previous error."
Asay then filed a petition with the court stating that he had been denied due process and an opportunity to be meaningfully heard after the court acknowledged its factual error in its 1991 direct appeal opinion.

The Florida Supreme Court rejected his motion, stating that while they "have mislabeled the racial identity of the victim in its prior opinions, this fact does not negatively affect the Court's final determination."

Asay's lawyers asked the US Supreme Court to stay his execution. The appeal argued that the Florida Supreme Court's mistake in identifying McDowell's race for 26 years impacted all his subsequent legal proceedings in a case in which the prosecution secured his murder convictions and death sentence "on a theory that the murders were motivated by racial hatred."

The appeal argued that Asay "will suffer irreparable prejudice if his execution is not stayed to permit this Court to give these issues presented full and deliberate consideration."

Florida asked the US Supreme Court to deny the stay, stating that there was no dispute about the race of the first victim, or the "racially charged statements" Asay made during Booker's murder.

"Regardless of his motivation, Asay murdered two different persons in separate incidents that night," the state responded to Asay's argument.

This was Florida's first execution since the US Supreme Court halted its executions following a ruling last year that the state's death sentencing law was unconstitutional.

Florida used a new drug — etomidate — in its three-drug lethal injection protocol, the Associated Press reported. Etomidate is an anesthetic which will be used to replace midazolam — a controversial sedative which was at the center of several botched executions in 2014.

In an earlier appeal to the Florida Supreme Court, Asay argued that the adoption of etomidate as the first drug in the lethal injection protocol "places him at substantial risk of serious harm in violation of the Eighth Amendment." The court, however, rejected that challenge in August.

Florida also used another drug — potassium acetate — for the first time in its lethal injection protocol, the AP reported. Potassium acetate — which is used to stop the heart, was mistakenly used by Oklahoma to execute an inmate in 2015.