Two top US diplomats for the first time publicly detailed how President Donald Trump and his associates allegedly withheld long-standing American military aid to Ukraine — unless the country's new presidential administration agreed to investigate Joe Biden, his family, and the 2016 election.

That alleged quid pro quo is at the heart of the impeachment inquiry, which held televised hearings for the first time Wednesday, giving Americans their first glimpse of the high-stakes investigation. The question is whether Trump placed his own personal, political needs above US national security.

Testifying before the House Intelligence Committee are two key figures: Bill Taylor, the top US diplomat to Ukraine, and George Kent, a career State Department official. Their closed-door depositions before congressional committees last month provided a damning account of Trump's alleged quid pro quo request.
"The matter is as simple and as terrible as that. Our answer to these questions will affect not only the future of this presidency, but the future of the presidency itself. And what kind of conduct or misconduct the American people may come to expect from their commander in chief," Rep. Adam Schiff, the chair of the House Intelligence Committee who is presiding over the hearings, said in his opening statement.

The big takeaways are:
Taylor revealed that a member of his staff overheard Trump on the phone to Gordon Sondland, the US ambassador to the European Union, asking about "the investigations" — referring to his political requests.
There was a lot of discussion about a debunked 4chan conspiracy theory involving cyber security firm CrowdStrike, which in part landed Trump in this situation in the first place.
Republicans argued over the identity of the whistleblower who sparked the proceedings, and rolled out their latest talking point: the impeachment hearings are "boring."
[Subscribe to BuzzFeed News's daily podcast, Impeachment Today, or check it out on on Apple Podcasts, the iHeartRadio app, Spotify, or wherever you listen to your favorite shows.]
Both Kent and Taylor argued in dire terms that developing the US relationship with Ukraine helps protect American interests against Russia — which annexed part of Ukraine in 2014 — in the region. "It affects the world we live in, that our children and grandchildren will grow up in. This affects the kind of world we want to see. That affects our national interests very directly. Ukraine is on the frontline of that conflict," Taylor said.
Dan Goldman, the lawyer for the Democrats on the committee asked Kent during the hearings if "pressuring Ukraine to conduct what I believe you've called political investigations, a part of US foreign policy to promote the rule of law in Ukraine and around the world?"




Kent: It is not.

Goldman: It is in the national interests of the United States?

Kent: In my opinion, it is not.

...

Goldman: So in other words, it is a purpose of our foreign policy to encourage foreign nations to refrain from conducting political investigations, is that right?

Kent: Correct.
Kent also testified that he wrote a memo on Aug. 16 outlining his concerns that the administration was pressuring Ukraine to open investigations to benefit Trump.

This is how we got here:
In September, the whistleblower's complaint — filed on Aug. 12 and detailing his and other US officials concerns about Trump's interactions with Ukrainian President Volodymyr Zelensky — was made public.
According to the complaint, White House officials said Trump abused his "office for personal gain" by asking Zelensky to investigate Biden, his family, and the 2016 election. The complaint also alleged that White House officials sought to cover up the call.
The complaint was released publicly a day after the White House put out a summary of Trump's July 25 call with Zelensky in which he asked Zelensky to do him a "favor" and investigate Biden as well as an unfounded right-wing conspiracy theory about the 2016 election involving CrowdStrike. During the call, Trump asked Zelensky to investigate CrowdStrike, which was hired to investigate the hack of the Democratic National Committee during the 2016 election.
Trump also wanted Zelensky to investigate unsubstantiated allegations that Biden used his position as vice president to quash a corruption investigation of a Ukrainian gas company — Burisma — which had hired Biden's son, Hunter, in 2014.
Hunter's role on the board of Burisma — which was embroiled in a corruption scandal at the time — had raised some concerns in the Obama administration. However, there has been no evidence of wrongdoing. Biden was one of many Western officials calling for the ouster of the Ukrainian prosecutor investigating Burisma — there is no evidence to suggest that his son benefited from his efforts.
Trump's obsession with Ukraine was influenced primarily by Rudy Giuliani, a lawyer working for Trump, who created a shadow foreign policy in Ukraine rife with conspiracy theories about Crowdstrike sourced from Reddit and 4chan.
In October, a lawyer representing the whistleblower said that he was representing a second whistleblower who had first-hand knowledge that corroborated some allegations made in the original complaint.
The New Phone Call
In his opening statement, Taylor disclosed a new, previously unknown phone call that he learned about from a member of his staff only last week. It was not included in his closed-door deposition last October.
Taylor testified that Sondland told Taylor's staff member that Trump cared more about the investigations into Biden and Burisma than he did about Ukraine.
A day after Trump's July 25 phone call with Zelensky, Taylor's staff member was present at a meeting between Sondland and a top Zelensky aide at a restaurant, Taylor testified.
After the meeting, Sondland called Trump and told him about it. Taylor testified that his staff member overheard Trump's voice on the phone asking Sondland about "the investigations."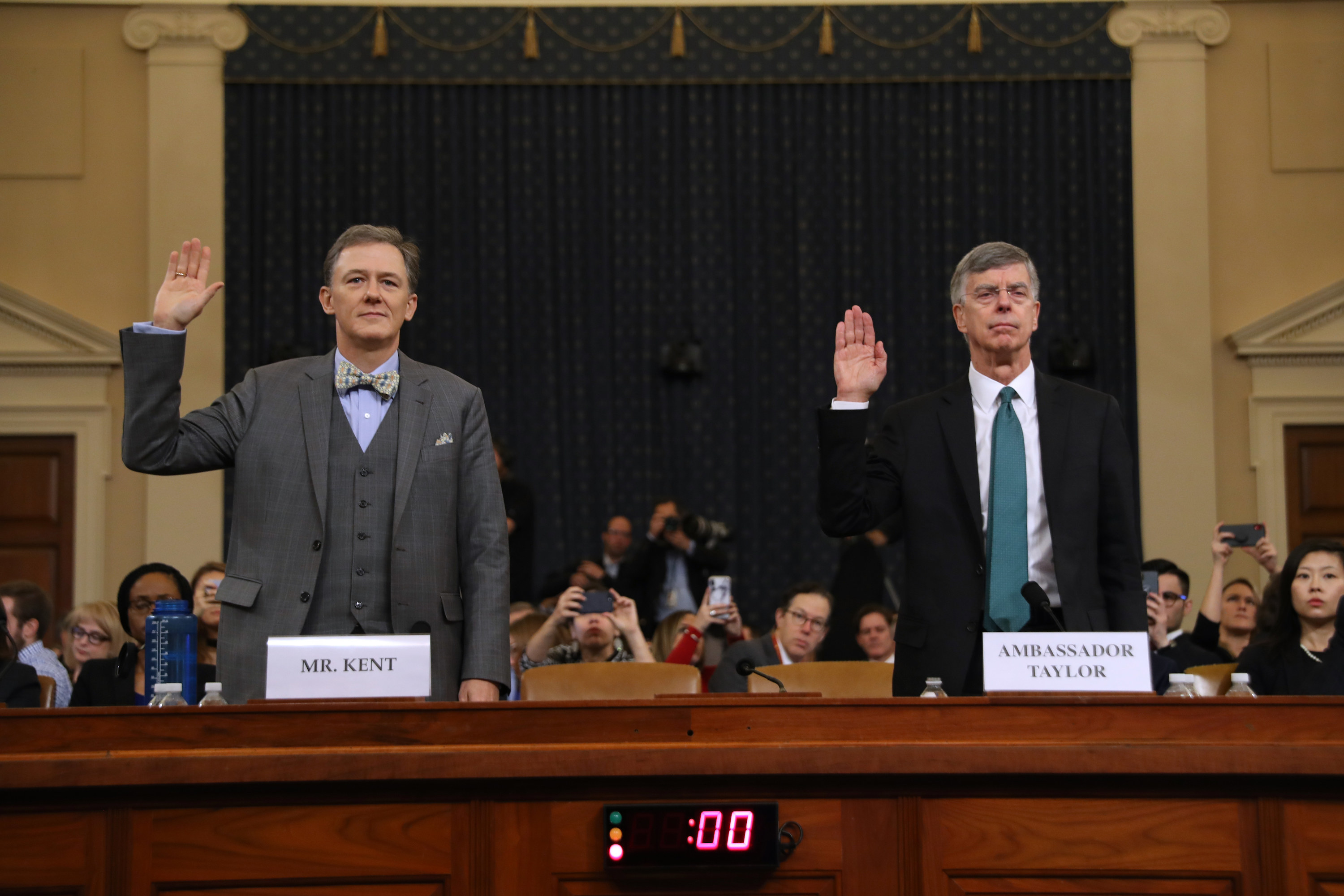 Taylor said that Trump meant the investigations into Biden, Burisma, and the 2016 election that he wanted Zelensky to announce.
"The member of my staff could hear President Trump on the phone, asking Ambassador Sondland about 'the investigations,'" Taylor said. "Ambassador Sondland told President Trump that the Ukrainians were ready to move forward."
After the call, Taylor's staff member asked Sondland what Trump thought about Ukraine.
"Ambassador Sondland responded that President Trump cares more about the investigations of Biden, which Giuliani was pressing for," Taylor testified, referring to Rudy Guliani, a lawyer who has worked with the president and who Taylor said was running an "irregular" diplomatic channel to Ukraine.
Schiff then asked Taylor if Sondland's response meant that Trump cared more about the investigations into Biden and Burisma than he did about Ukraine.
"Yes, sir," Taylor said.

Here's video of the exchange:
The CrowdStrike Conspiracy Theory
Early in the hearing, Schiff and Rep. Devin Nunes, the top Republican on the committee, brought up the elements of the prominent but baseless right-wing conspiracy theory about CrowdStrike. Questions and statements about this nonsense continued throughout the hearing.

According to prominent Republicans, right-wing media, and radicalized internet communities like Reddit and 4chan, in the summer of 2016, the Democratic National Committee colluded with Ukraine to frame the Trump campaign for collusion with Russia. The conspiracy theory implicates Ukrainian American DNC contractor Alexandra Chalupa and California cybersecurity firm CrowdStrike.
In the staff-written memorandum of the conversation between President Trump and Zelensky, Trump specifically asks Zelensky to investigate CrowdStrike.
"Trump requested Zelensky investigate the discredited 2016 CrowdStrike conspiracy theory and, even more ominously, look into the Bidens," Schiff said. "Neither of these investigations was in the US national interest."
Nunes named Chalupa in his opening statement, accused the Democrats of collusion with Ukraine, and outlined point by point every element of the conspiracy theory.
"This is a carefully orchestrated media smear campaign," Nunes said. "Now they accuse Trump of malfeasance in Ukraine, when they themselves are culpable."
During the hearing, Dan Goldman, the lawyer for the Democrats on the committee, asked Kent about Trump referencing CrowdStrike during his phone call with Zelensky:
Kent: To be honest, I had not heard of CrowdStrike until I read this transcript on September 25th.

Goldman: Do you now understand what it relates to?

Kent: I understand it has to do with the story that there's a server with missing emails. I also understood that one of the owners of Crowdstrike is a Russian-American. I'm not aware of any Ukrainian connection to the company.

Goldman: Are you aware this is all part of a larger allegation that Ukraine interfered in the 2016 election?

Kent: Yes, that is my understanding.

Goldman: To your knowledge, is there any factual basis to support the allegation that Ukraine interfered in the 2016 election?

Kent: To my knowledge, there's no factual basis, no.

Goldman: In fact, who did interfere in the 2016 election?

Kent: I think it's amply clear that Russian interference was at the heart of the interference in the 2016 election cycle.
The Whistleblower's Identity
Schiff also pushed back against efforts by Republicans on the committee seeking to out the whistleblower's identity at the outset of the hearing. Schiff also denied Republicans' claims that he was the only member of Congress who knew the whistleblower's identity.

Schiff made it clear that he would not entertain any Republicans' questions that would publicize the whistleblower's identity.
"We'll do everything necessary to protect the whistleblower's identity, and I'm disturbed to hear members of the committee who have in the past voiced strong support for whistleblower protections seek to undermine those protections by outing the whistleblower," Schiff said. He said the staff lawyers would inform the witnesses not to respond to questions that deal with the identity.
Ohio Rep. Jim Jordan — a fierce Trump supporter — claimed that Schiff was the only member of Congress who knows the whistleblower's identity and whose staff had talked with the whistleblower.
Schiff responded, "That's a false statement. I do not know the identity of the whistleblower and I'm determined to make sure the identity is protected."
Texas Rep. Mike Conaway also asked for a motion to subpoena the whistleblower for a closed-door deposition, to which Schiff said he would entertain any motions to subpoena witnesses after Taylor and Kent had testified.
President Trump responds
At a news conference Wednesday afternoon, President Trump said he doesn't recall a phone conversation with Gordon Sondland, the US ambassador to the European Union, in which he had reportedly asked about "the investigations."
"I know nothing about it," Trump said at a press conference with Turkey's President Recep Tayyip Erdogan. "First time I heard it."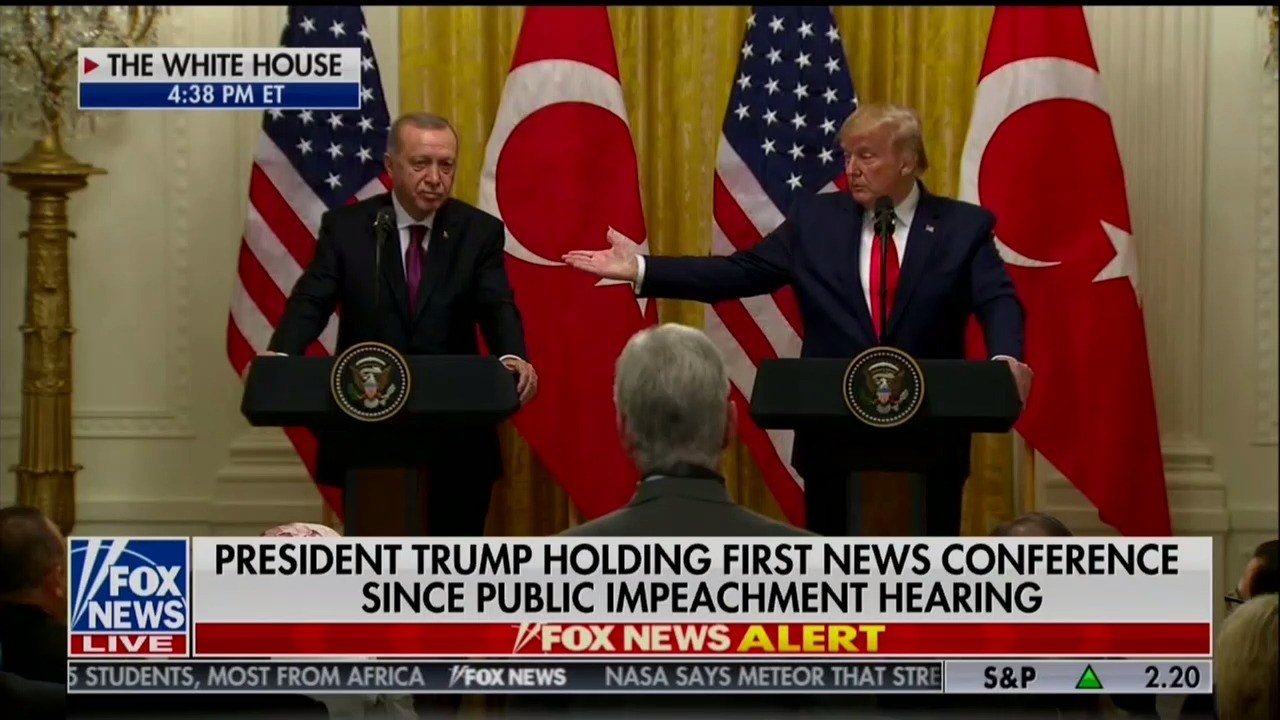 During his testimony, US diplomat Bill Taylor said one of his aides overheard a phone conversation between Sondland and Trump, which was made shortly after Sondland had spoken to a top aide to Ukraine's president.
In that phone call, the aide told Taylor he could hear Trump asking about "the investigations," including Trump's request that Ukraine investigate Hunter Biden and Burisma.
After that call, Sondland told the aide that, "President Trump cares more about the investigations of Biden," according to Taylor.
Trump avoided speaking about the impeachment hearings during the short press conference Wednesday, taking only two questions from One America News and Fox News.
When asked about the hearing, he responded:
"I hear that it's a joke," Trump said. "I have not watched it for one minute because I've been with the [Turkish] president, which is more important as far as I'm concerned."
Here Are Taylor and Kent's opening statements: