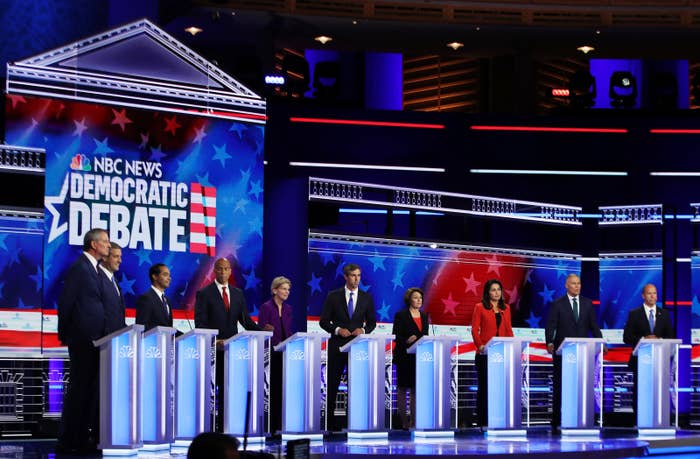 Former US housing secretary Julián Castro had a breakout evening in the first — well, the first of two nights — Democratic debate. He spoke forcefully about immigrants dying at the border, saying the image of a drowned father and daughter after being turned away was "heartbreaking" and "should also piss us all off."

Sen. Amy Klobuchar also staked out moderate ground, getting into the details of gun policy and speaking up about the work she and other women on the stage that evening have done for reproductive rights. Sen. Cory Booker got attention for promising to protect transgender people.

Sen. Elizabeth Warren, easily the highest-profile candidate of the night and who has released a slate of thorough policy proposals, mostly stayed out of some of the more contentious moments and got her points across.

New York City Mayor Bill de Blasio also sort of had a big night, mostly because he wasn't afraid to interrupt his way into the scrum and keep on his message about addressing income inequality.


Some of the most memorable moments included 3 candidates speaking Spanish — former Texas Rep. Beto O'Rourke did so like 3 minutes in — and NBC having to cut to commercial break to fix sound issues that interrupted Sen. Elizabeth Warren's speech.

Ten of the 20 candidates were on the stage tonight — here's our guide to who they all are.


The next 10 candidates will debate Thursday night.

Castro said Americans should be "pissed off" at the photo of an immigrant family drowned at the border.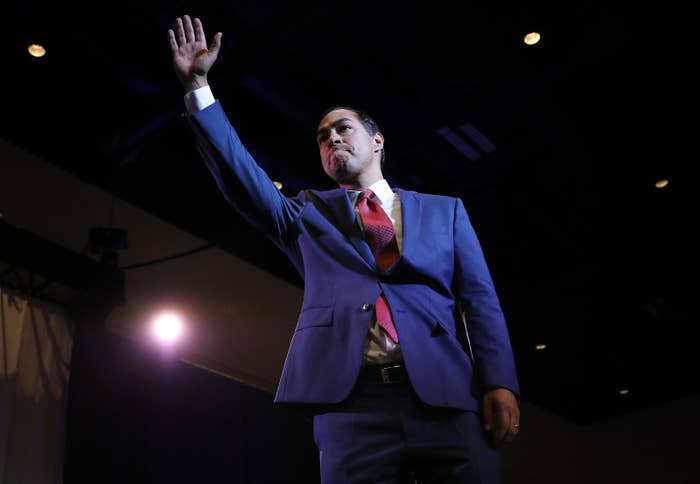 In response to a shocking photo showing a father and daughter who died as they attempted to cross the US–Mexico border, former secretary of US Housing and Urban Development Julián Castro challenged his fellow candidates to end the federal law that makes illegally crossing the border a crime.
"The image of Óscar and Valeria is heartbreaking," he said. "It should also piss us all off. And it should spur us to action."
Castro vowed that on day one as president, he would sign an executive order ending the Trump administration's "Remain in Mexico" and metering policies that prompted Óscar Alberto Martínez Ramírez to attempt crossing the Rio Grande with his family instead of through a port of entry. He also called for a plan to invest economically in Honduras, Guatemala, and El Salvador that would offer residents alternatives to immigrating.
Sen. Cory Booker said he agreed.
"We have the power to better deal with this problem through the civil process than with the criminal process," he said. "Our country has made so many mistakes by criminalizing things, whether it's immigration or mental illness or addiction. This is not the way to deal with problems."
But O'Rourke and Klobuchar have stopped short of endorsing decriminalization, voicing concerns about prosecuting human traffickers and drug dealers. Klobuchar said she'd review Castro's proposal.
"I think you want to make sure that you have provisions in place that allows you to go after traffickers and allow you to go after people who are violating the law," she said.
O'Rourke said from day one, he would ensure that asylum-seekers do not face criminal charges, and that he'd release those who are currently being held in detention at the border. And he added he supported comprehensive immigration reform.
But Castro called out his fellow Texan's record in particular for maintaining criminalization for people crossing the border at large.
"I think it's a mistake, Beto. I think it's a mistake," he said. "If you truly want to change the system, then we've got to repeal that section. If not, it might as well be the same."
Question: Who here would abolish their private health insurance in favor of a government-run plan?
Answer:
That's New York City Mayor Bill de Blasio and Sen. Elizabeth Warren.
That moment, and the tense, interruption-filled exchange that followed, exposed the clear and increasingly fraught fault line among Democrats over health care — an issue that is likely to be central to the 2020 elections. It was a sign, too, of an increasing wariness among some Democrats over how endorsing single-payer health care might play out among voters, BuzzFeed News reporter Molly Hensley-Clancy wrote.

Klobuchar had to remind Inslee there were women onstage.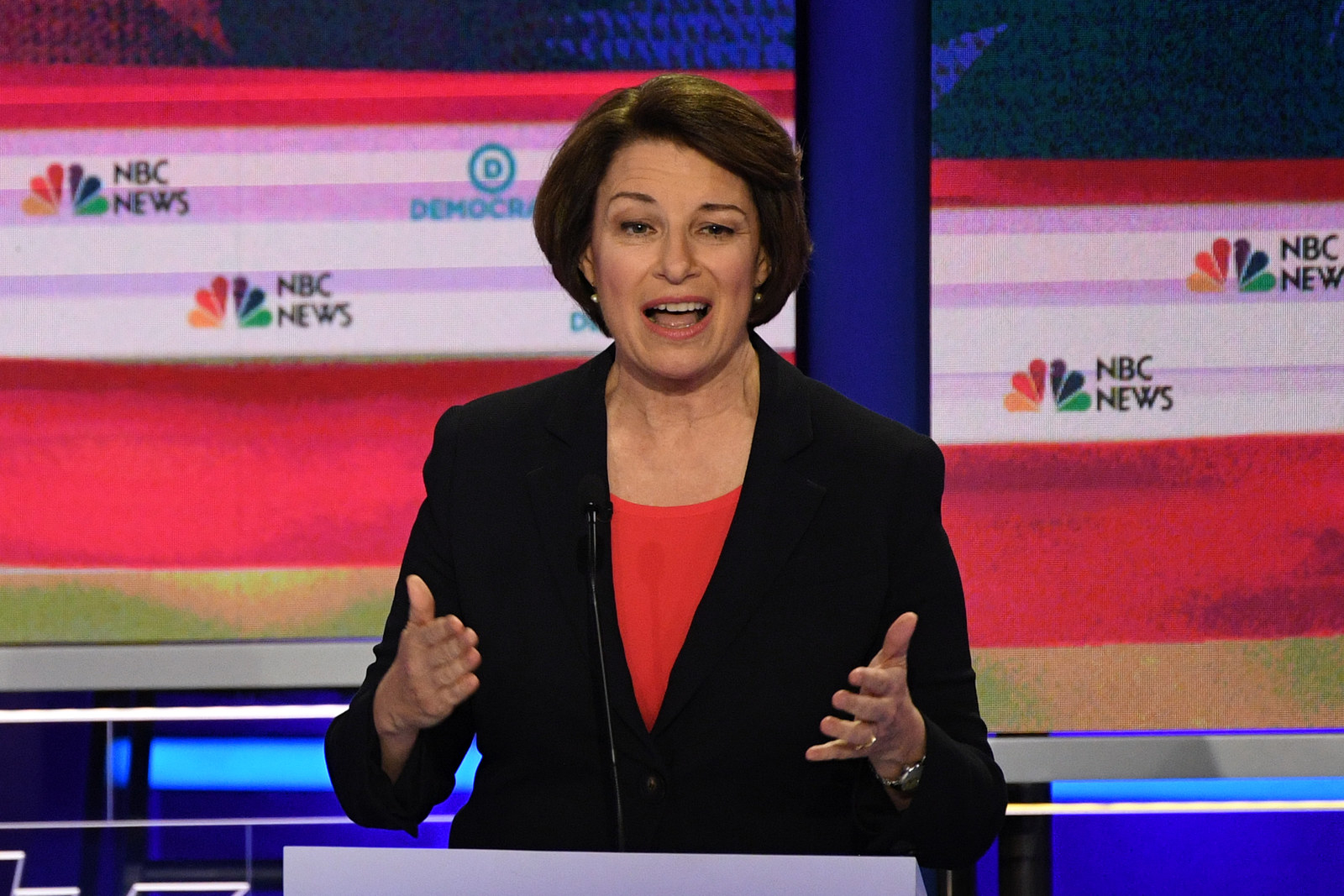 Topic: The health care system

Washington Gov. Jay Inslee: "It should not be an option in the United States of America for any insurance company to deny a woman coverage for their exercise of their right of choice. I am the only candidate here who has passed a law protecting a woman's right of reproductive rights in health insurance and the only candidate who passed a public option. I respect everyone's goals and plans here, but we have one candidate who advanced the ball."
Minnesota Sen. Klobuchar: "I want to say there are three women up here who fought pretty hard for a woman's right to choose."
Here are some significant responses about gun control in light of the student activism in nearby Parkland:
Question: What are you going to do about guns on the street?
Warren: "Gun violence is a national health emergency in this country. We need to treat it like that."
"Do the things that are sensible and do the universal background checks and ban the weapons of war."
Booker: "I think I'm the only one, I hope I am, that had seven people shot in their neighborhood just last week."
"This is not about policy. This is personal."
Question: What are you going to do about the prevalence of school shootings?
Castro: "On Jan. 20, 2021, at 12:01 p.m. we will have a Democratic president and a Democratic House and Democratic Senate."
Ryan: "We need to deal with the trauma our kids have."
Question: What do you tell gun owners who fear that Democrats will take their guns away?
O'Rourke: "Those students from Marjory Stoneman Douglas led the charge here in Florida and they've been able to change the laws, making our democracy work ensuring that our values and our interests and our priorities are reflected in the laws that we pass."
Question: How do you have the conversation about gun confiscation?
Klobuchar: "These Parkland kids from Florida, they started literally a national shift … if we get bested by a bunch of 17-year-olds, it's the best thing that ever happened."
Booker said more needs to be done to protect the black trans community.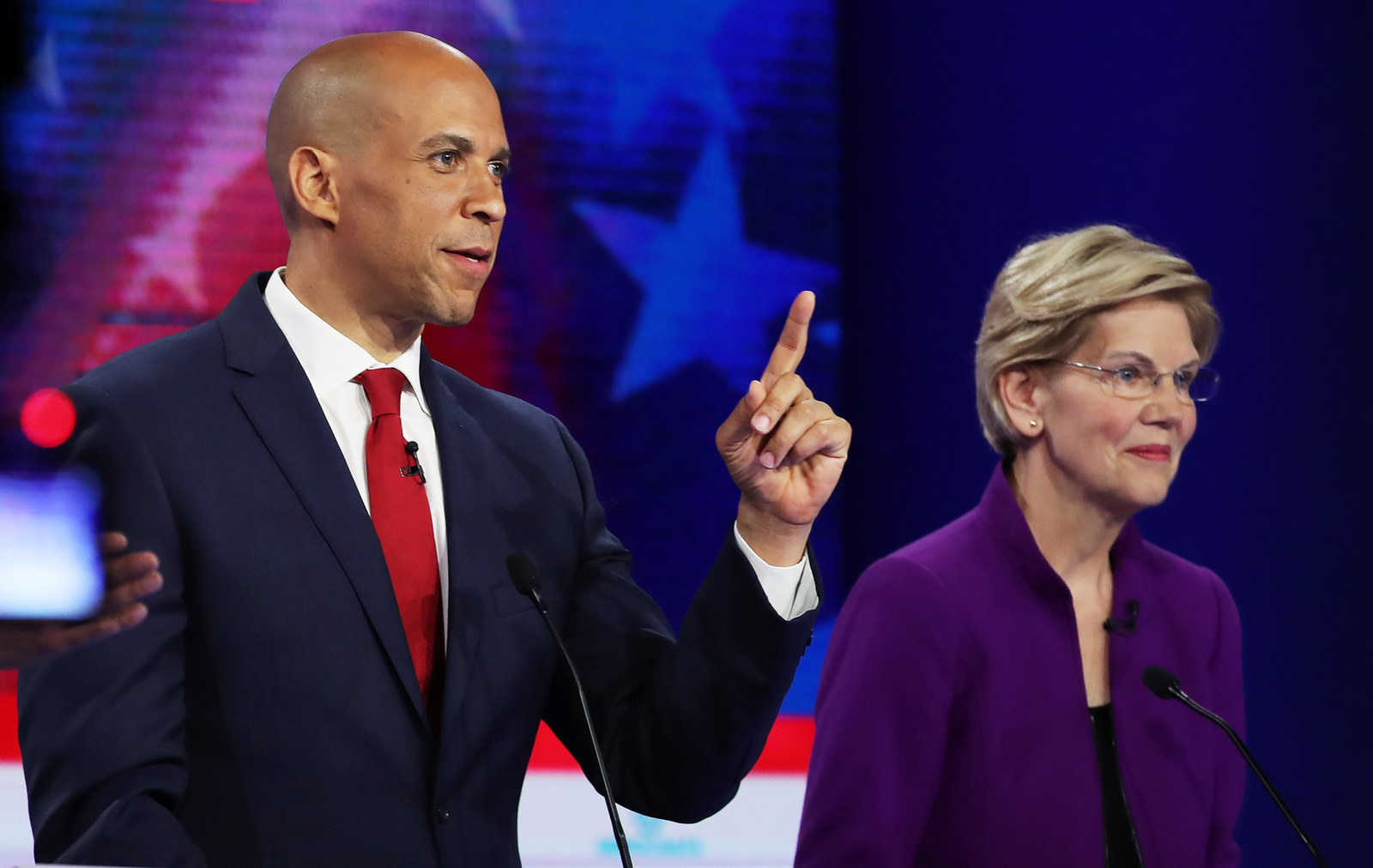 Sen. Cory Booker said not enough was being done to address violence against the LGBTQ community, particularly black trans people.

"We do not talk enough about trans Americans, especially African American trans Americans, and the incredibly high rate of murder right now," he said.
A recent series of homicides involving black trans women in Texas has brought the dangers facing the community into the national spotlight.
Booker added that 30% of LGBTQ children avoid school out of fear for their safety.
"We need to have a president who will fight to protect LGBTQ Americans every single day from violence," he said.
Booker's comments came in response to Rep. Tulsi Gabbard's answer to a question regarding her own history with the LGBTQ community.
Having once worked for her father's anti-gay organization, she was asked why voters should trust her current positions in favor of LGBTQ rights. Gabbard pointed to her record in Congress, which included voting for the Equality Act.
"Maybe many people in this country can relate to the fact that I grew up in a socially conservative home, held views when I was very young I no longer hold today," she said.
De Blasio reminded an irritated New York media how he got himself elected mayor of the nation's largest city, and why he is likely to be a more formidable figure than they expected in the Democratic primary, BuzzFeed News reporters Addy Baird and Kadia Goba wrote.
De Blasio set the tone of Wednesday night's Democratic presidential debate: combative — he was the first to interrupt — and unabashedly ideological, electrifying what had been a sleepy round of introductions and repeatedly pulling the conversation to the left.
He also invoked his son, Dante, who is black. Dante filmed a political ad for his father during his first run for mayor that pretty much launched de Blasio into that race.
Lightning round question: What is the biggest geopolitical threat to the US?
Delaney: China and nuclear weapons
Gabbard: Nuclear war
Klobuchar: China and Iran
O'Rourke: Climate change
Warren: Climate change
Booker: Nuclear proliferation and climate change
Castro: China and climate change
Ryan: China
De Blasio: Russia
Tulsi Gabbard was asked about equal pay. She talked about 9/11.
When Castro was asked about how he would ensure women were going to be paid fairly, he described his experience of being raised by a single mom, passing the Equal Rights Amendment, and "pursuing legislation so that women are paid equal pay for equal work in this country."

When Hawaii Rep. Tulsi Gabbard was asked about equal pay, she replied, "I know the importance of national security as well as the high cost of war." 🧐
O'Rourke started speaking Spanish like 3 minutes into the debate and it became a meme.
Some background: Democrats have been pouring time and resources into courting Latino voters. O'Rourke has repeatedly given interviews in Spanish and Sen. Kamala Harris and former Housing and Urban Development secretary Julián Castro recently appeared on Univision shows to introduce themselves to a critical voting bloc that could sway the election.
But the other candidates still seemed a tad surprised to hear O'Rourke bust out his Spanish so quickly on the debate stage — and their awkwardness showed, BuzzFeed News reporter Bri Sacks wrote.
And finally, it looks like the DNC was afraid of a few climate activists.
The Democratic National Committee was worried that Inslee — who has based his campaign on fighting climate change — would bring climate activists to the debate, sources told BuzzFeed News reporter Ruby Cramer. The DNC actually emailed all campaigns warning them against any "disruptions."
The Inslee folks said they never had any such plans to begin with. Their response: