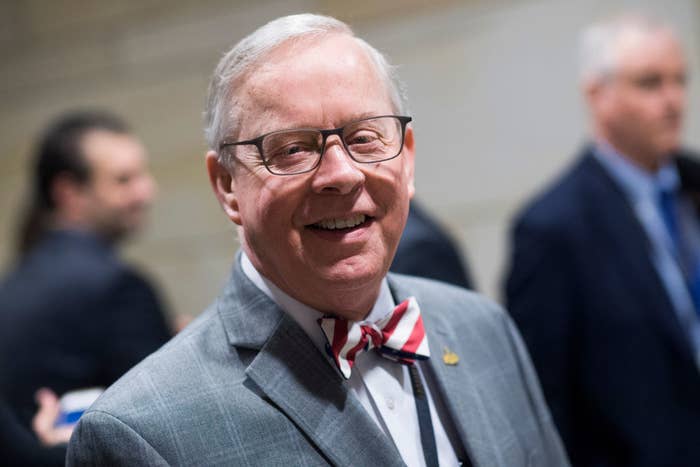 Texas Rep. Ron Wright died Sunday after contracting COVID-19 while he had cancer, his family said Monday. He was 67.
The Republican lawmaker is the first sitting member of Congress to die after getting COVID-19.
Two weeks ago, Wright and his wife, Susan, were admitted to Baylor Hospital in Dallas after contracting the virus. In a statement to media outlets, Wright's office said that he died peacefully with Susan by his side.
"Congressman Wright will be remembered as a constitutional conservative. He was a statesman, not an ideologue," the statement said. "He was a statesman, not an ideologue. Ron and Susan dedicated their lives to fighting for individual freedom, Texas values, and above all, the lives of the unborn. As friends, family, and many of his constituents will know, Ron maintained his quick wit and optimism until the very end. Despite years of painful, sometimes debilitating treatment for cancer, Ron never lacked the desire to get up and go to work, to motivate those around him, or to offer fatherly advice."
Texas Rep. Chip Roy said in a statement Monday that he had visited Wright at his home over the past few months while he was sick with cancer.

In his last text to Roy just over a week ago, Wright told him, "Still in hospital, but definitely improving." He told Roy that he was praying for his family after a relative tested positive for COVID.
"He was constantly asking how we were doing, even as his cancer-ravaged body was in a weakened state to battle the virus," Roy said. "That is who he was: caring for others to the very last."
"We'll all miss his signature bowtie and warm personality in the halls of the Capitol, a presence that cannot soon be replaced," Rep. Roger Williams said in a statement.
"For Ron, public service was more than a job, it was a calling," House Minority Leader Kevin McCarthy said in a statement. "The difference he was able to make over the past two decades will continue to live on in every life he impacted. Throughout his time in Congress, he worked to save small businesses, honor our veterans, and protect our most vulnerable citizens."
Wright's last vote in Congress was against impeaching Donald Trump on the charge of inciting a riot at the Capitol on Jan. 6, CNBC reported. He was also one of 147 Republicans who voted to overturn the election results by objecting to certify the Electoral College votes for Joe Biden after the riot.
In a statement after the deadly insurrection, Wright said, "Although what we saw yesterday was inexcusable and reprehensible, it doesn't change the fact that election laws were broken, and evidence of voter fraud has been presented. Both deserve to be investigated."
Dozens of members of Congress have quarantined in recent months after contracting or being exposed to the virus. Republican Rep. Mario Díaz-Balart of Florida and Democratic Rep. Ben McAdams of Utah were the first to test positive in early March. At least 64 members of Congress, including 44 Republicans, have tested or been presumed positive since the pandemic began, the New York Times reported.
The House and Senate have continued to meet in person despite the pandemic, and members have traveled frequently to and from Washington, DC. Many Republicans on Capitol Hill have refused to wear masks.
House Speaker Nancy Pelosi first instituted a mask mandate in the House in July, after Texas Republican Rep. Louie Gohmert, who refused to wear a mask, tested positive. Democratic Rep. Raúl Grijalva of Arizona tested positive after coming into contact with Gohmert.
Unlike at the White House, there has been no standard COVID testing at the Capitol. McCarthy said in July he was looking into setting up a rapid testing site at the Capitol for lawmakers, staff, and journalists to get tested, but Pelosi said the decision was up to the Capitol physician.
According to the CDC, people over the age of 65 are at a higher risk should they contract the virus. Many members of Congress fall into that category: At the start of the 116th Congress, the average age of members of the House was 57.6 years, and the average age of the Senate was 62.9 years.