Arrest Made In Arson Fire At Mosque Attended By Orlando Shooter
A 32-year-old man who made multiple anti-Islamic comments online has been arrested in connection to an arson fire at a Florida mosque.
A 32-year-old man who made multiple anti-Islamic comments online has been arrested in connection to an arson fire at a mosque in Florida that was attended by the Orlando nightclub shooter.
Joseph Michael Schreiber was taken into custody Wednesday in a traffic stop, after local and federal investigators received a tip from someone in the community, St. Lucie Sheriff Major David Thompson said at a press conference.
Based on evidence collected by investigators, as well as multiple social media postings reviewed, officials said Schreiber faces arson charges and a hate crime enhancement on his sentence if convicted.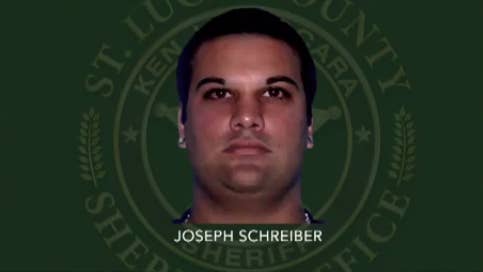 Early Monday, authorities responded to a fire at the Fort Pierce Islamic Center which was frequented by Omar Mateen, the gunman who killed 49 people at the Pulse nightclub in June. Fire crews quickly extinguished the fire that broke out around 12:31 a.m. in the unoccupied mosque.

"Evidence has revealed that this fire was set intentionally," St. Lucie County Sheriff Maj. David Thompson said, adding that there was "substantial damage" to the mosque.
A surveillance video showed a man, either white or Latino, arrive at the mosque on a "Harley Davidson-style motorcycle" at around 11:30 pm local time, police said.

In the video, the suspect appeared to be carrying paper and a bottle of some type of liquid. Police said the suspect was wearing jeans "with some sort of embroidery on the back pockets, a button-down shirt and a booney-style hat."

The suspect approached the north-east side of the building moments before a
"bright flash" was seen and the fire started. He was seen "waving his arm immediately after the flash possibly indicating a burn," police said.
He was then seen running from the building.
During the press conference Wednesday, Thompson said investigators served a search warrant at Schreiber's Fort Pierce home, where they found a motorcycle similar to the one on the surveillance footage.
Officials would not release anything that Schreiber had said to investigators since being taken into custody.
FBI Assistant Special Agent Michael D'Alonzo said federal officials were also looking into possible civil rights violations in the case.
"We all know the implications of the date and time of year that this is; the 9/11 anniversary," Thompson said at a briefing Monday. "Is that related? I would not want to speculate, but certainly that is in the back of our minds."
"Folks here are peaceful," Thompson said. "This is a horrible tragedy not only for the Islamic Center but for our community."
A Facebook profile that appeared to belong to Schreiber contained several links to anti-Islamic articles and posts.
In one July 12 post, Schreiber wrote post call, "ALL ISLAM IS RADICAL."
"All hoo participate in such activity should be found guilty of WAR CRIM until law and order is restored in this beautiful free country," he wrote.
St. Lucie Sheriff Chief Deputy Garry Wilson said investigators were still speaking with Schreiber as of Wednesday afternoon, and he was to be booked in county jail later in the day.
The sheriff said he has requested the FBI and the Bureau of Alcohol, Tobacco, Firearms and Explosives (ATF), as well as district officials to assist in the investigation.