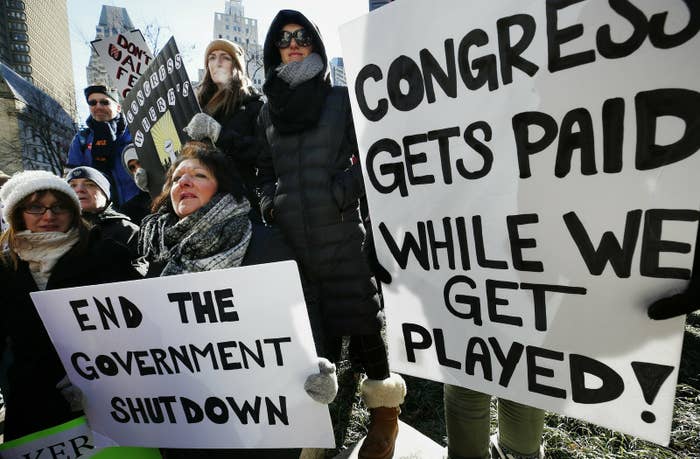 FBI agents across the US say the partial government shutdown is affecting their ability to do their jobs, and, as a result, posing a threat to national security.
The FBI Agents Association — which represents the interests of more than 14,000 active and former FBI special agents — released a 72-page report on Tuesday detailing the impact of the shutdown on its members.
As the longest government shutdown in US history moves into its fifth week, FBI agents continue to work without pay due to their essential role in protecting national security.
"If the FBI and Department of Justice ... are not funded, the agents will
continue to face challenges in carrying out our mission to protect the nation," the FBIAA's report said. "One overriding fact is clear when you listen to FBI agents:
Financial security is national security."
In confidential accounts submitted for the report, several FBI agents detailed how the shutdown was undermining their ability to protect the country and hurting funding for crucial operations and crime and terrorism investigations.
Some agents expressed concern about the challenges they faced in protecting children in sexual assault and trafficking cases, while others described difficulties in getting dangerous gangs and drugs off the streets.

Those working in counterintelligence said the shutdown was affecting their ability to collect national security intelligence provided to policymakers, including the president. Others working in counterterrorism said they had lost invaluable confidential sources due to the inability to pay them during the shutdown.

Here are some of the agents' stories from the report.
"I have had to put pervs on standby. ... This just puts children in jeopardy."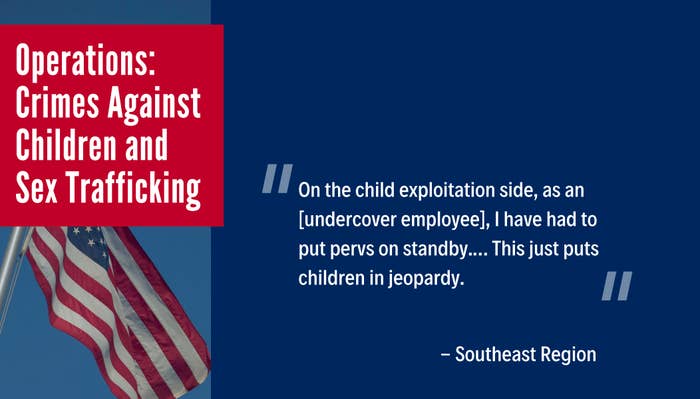 Investigations into "violent homicides and crimes against children," including child sexual assault, are being "stalled."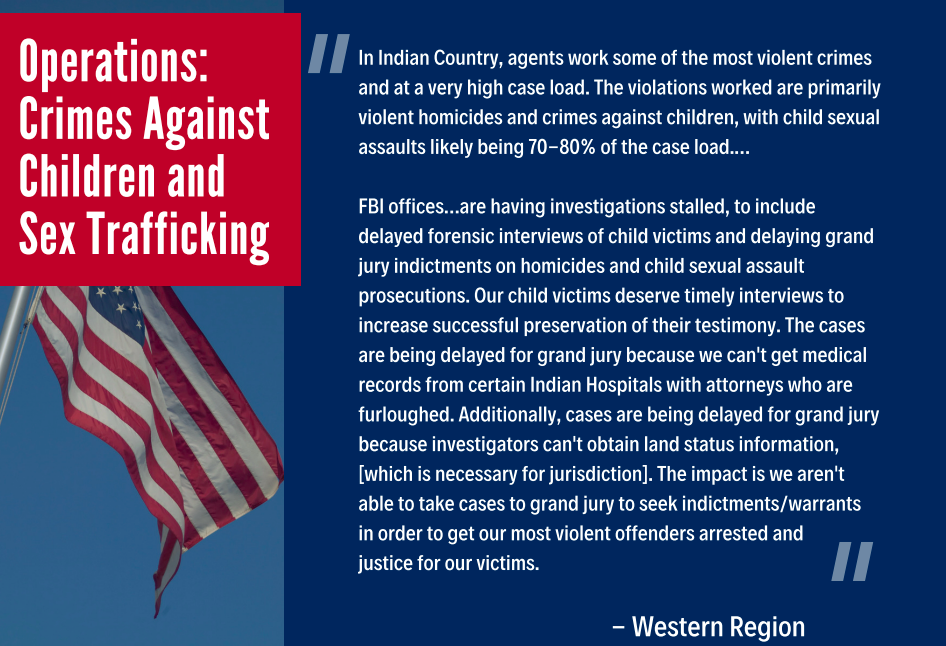 There are no Spanish speakers to communicate with Spanish-speaking informants for "a long-term MS-13 investigation."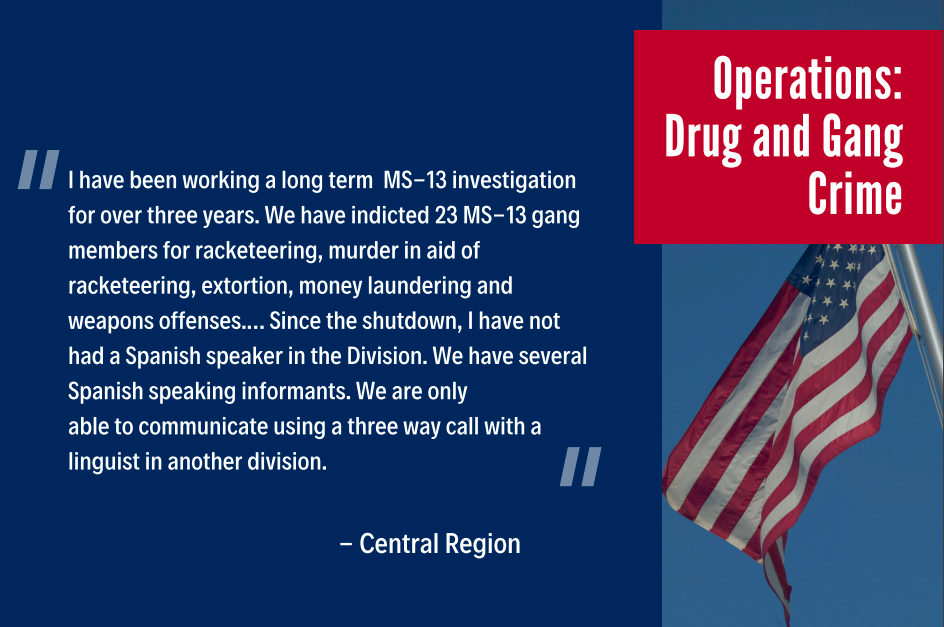 "We don't have funds [to get] drugs and guns off the streets and to prosecute the violent gang and drug traffickers."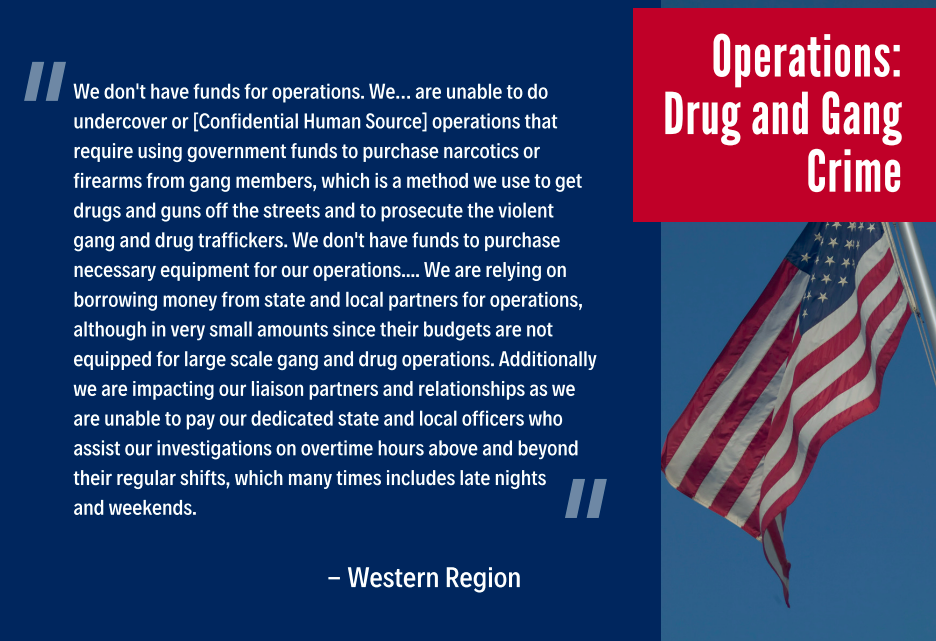 "Multiple subjects [in an ongoing narcotics investigation] could potentially not be identified or arrested based on the lack of funding."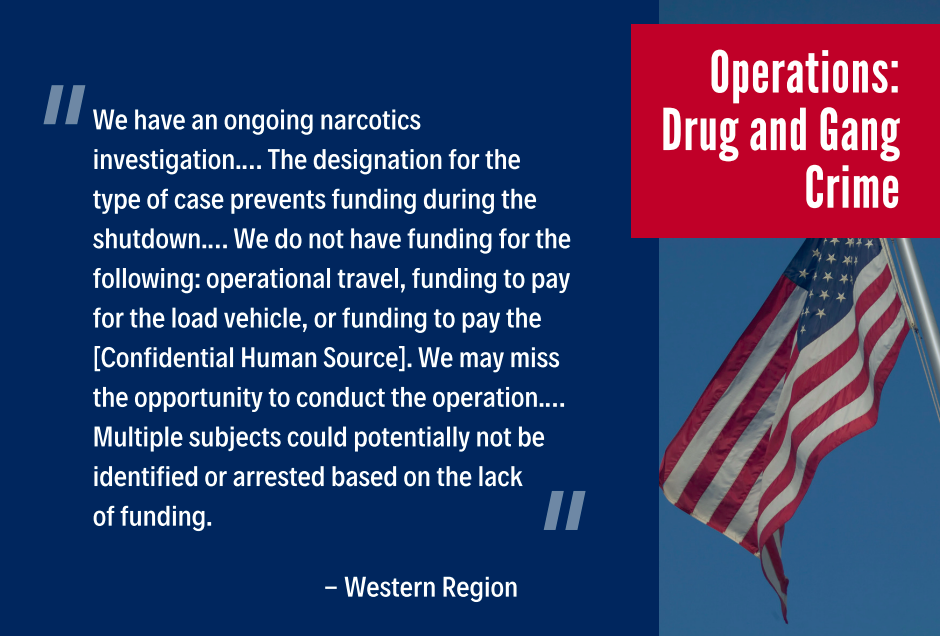 The FBI cannot pay confidential sources "that provide real-time perishable information" for the intelligence community and policymakers, including the president.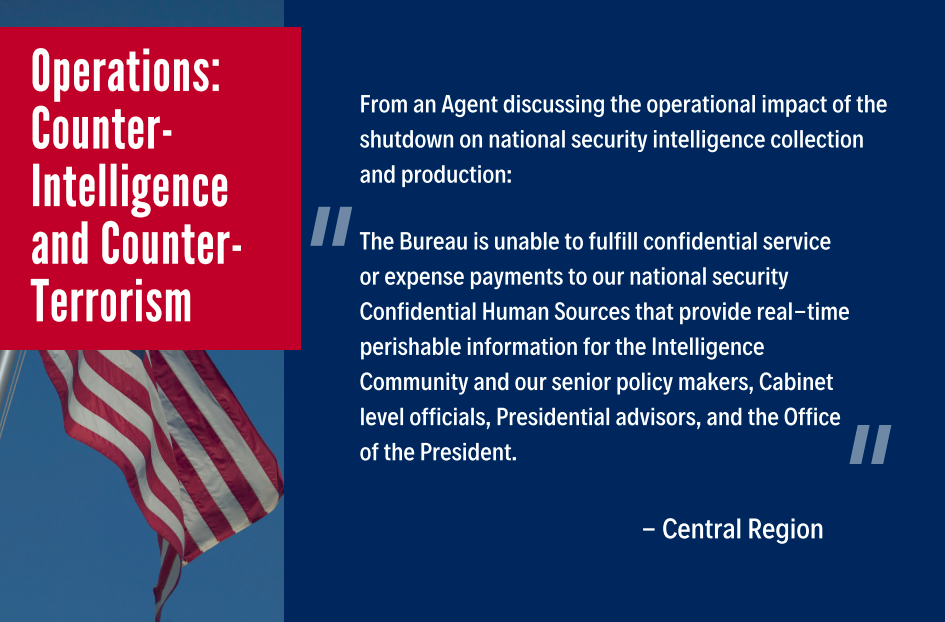 "The fear is our enemies know they can run freely."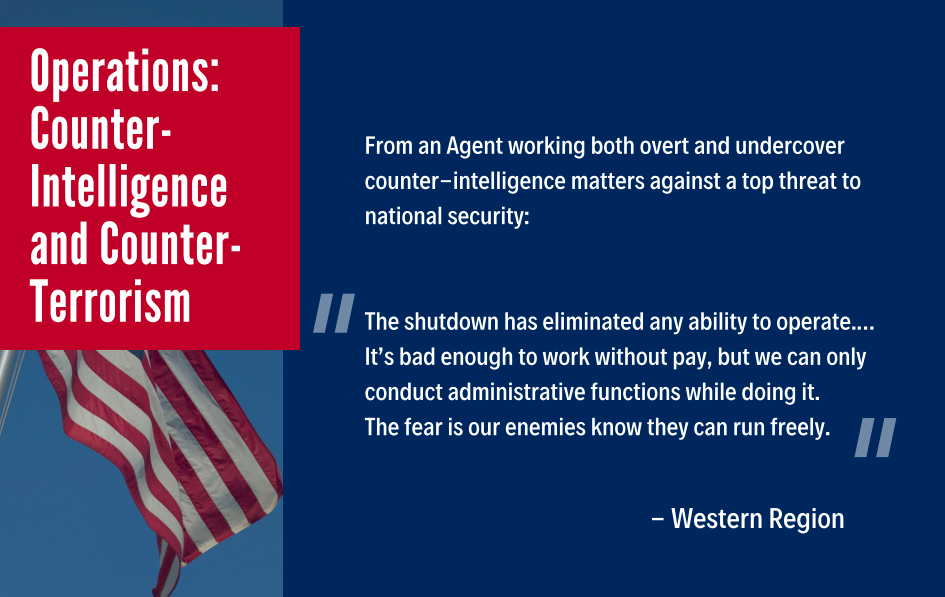 "Serving my country has always been a privilege, but it has never been so hard or thankless."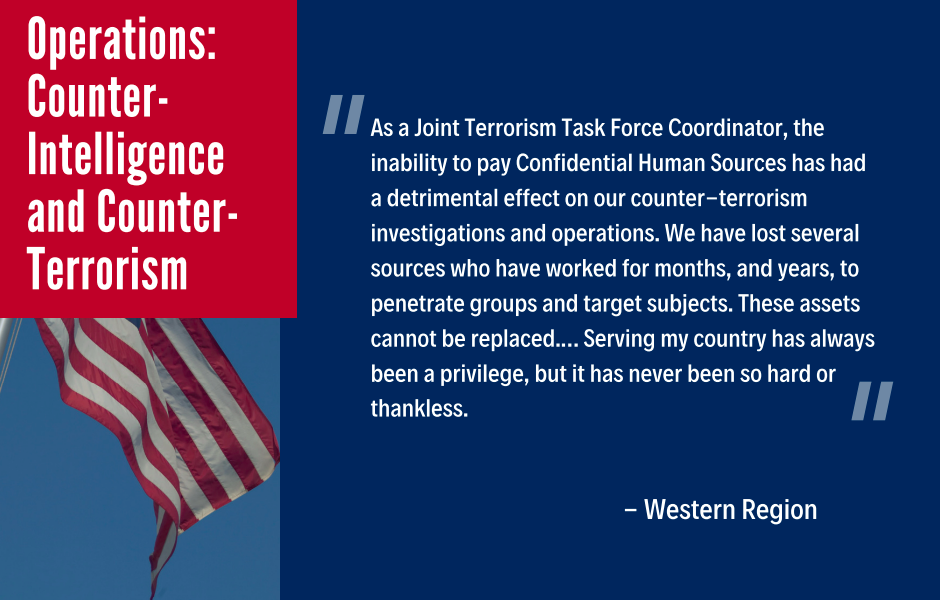 "I am unable to buy the phone card ... to talk to a very valuable [Confidential Human Source who] reports on domestic and international terrorism."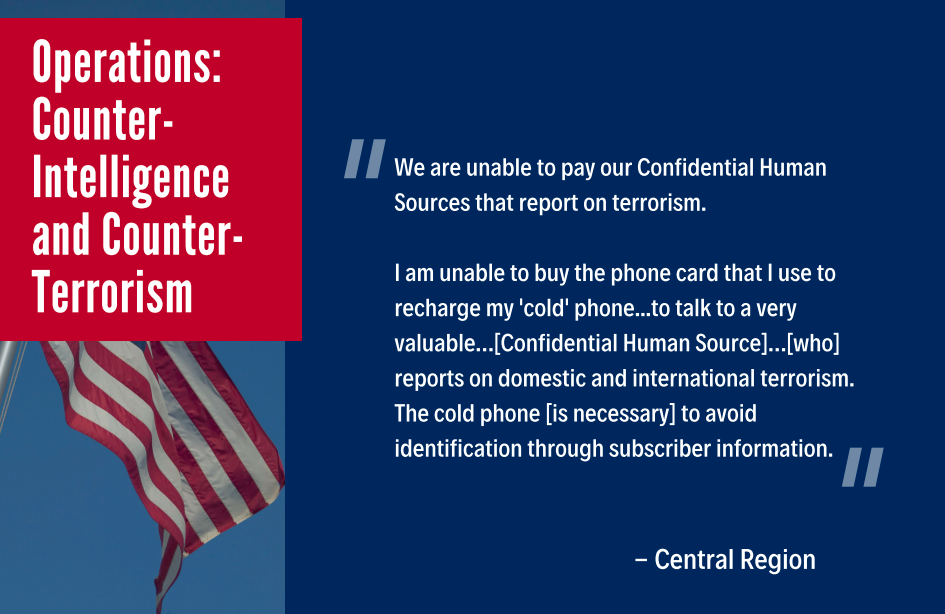 "We have no funds" to pay sources that provide cyber security intelligence to protect the country "against our foreign adversaries."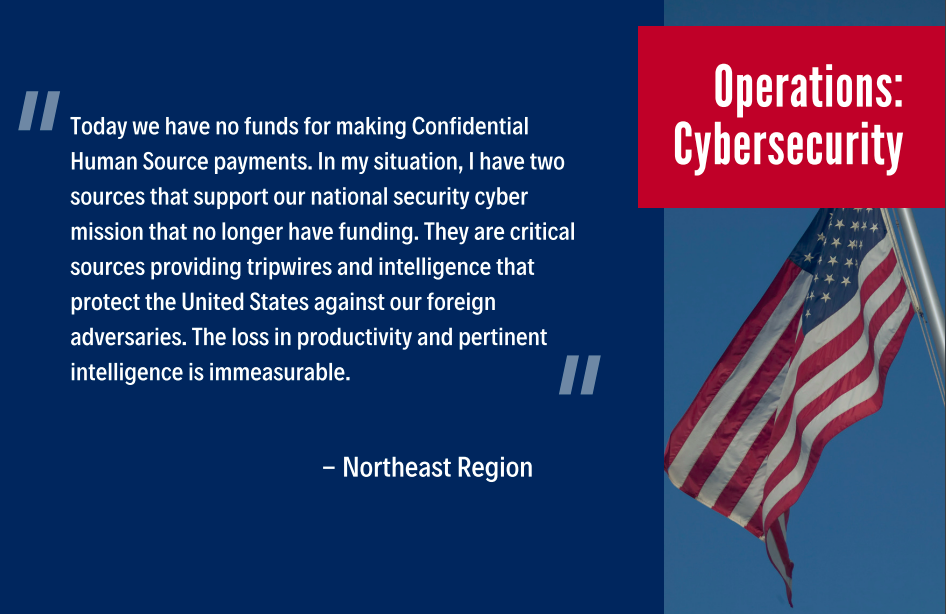 "These delays slow down our work to combat criminal activity on the [internet] and protect the American people."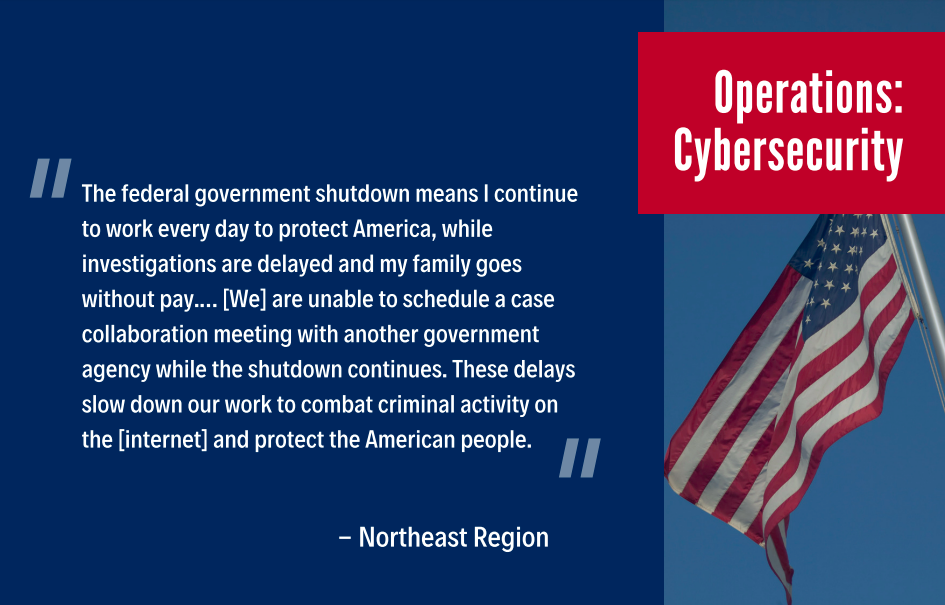 "We have postponed the indictment of subjects due to the shutdown."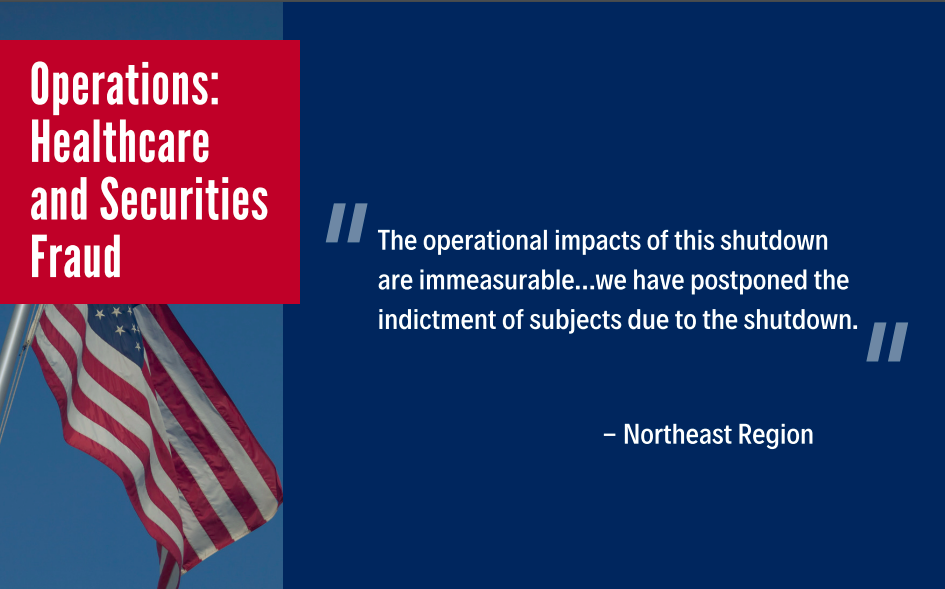 "There are no funds allocated to pay for grand jury subpoenas."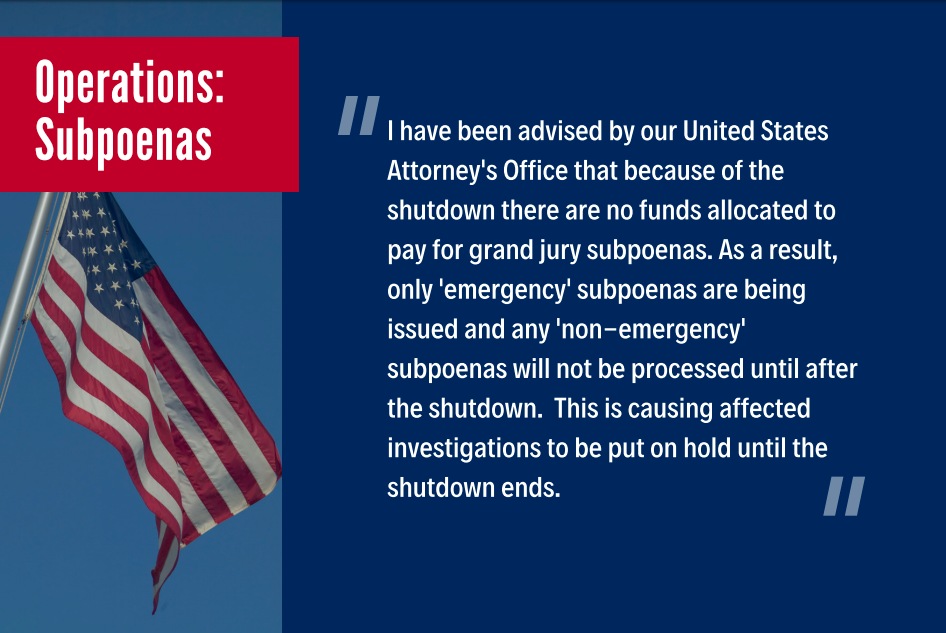 Younger employees said if the shutdown continues, "they will find work elsewhere."
"We are out of tires."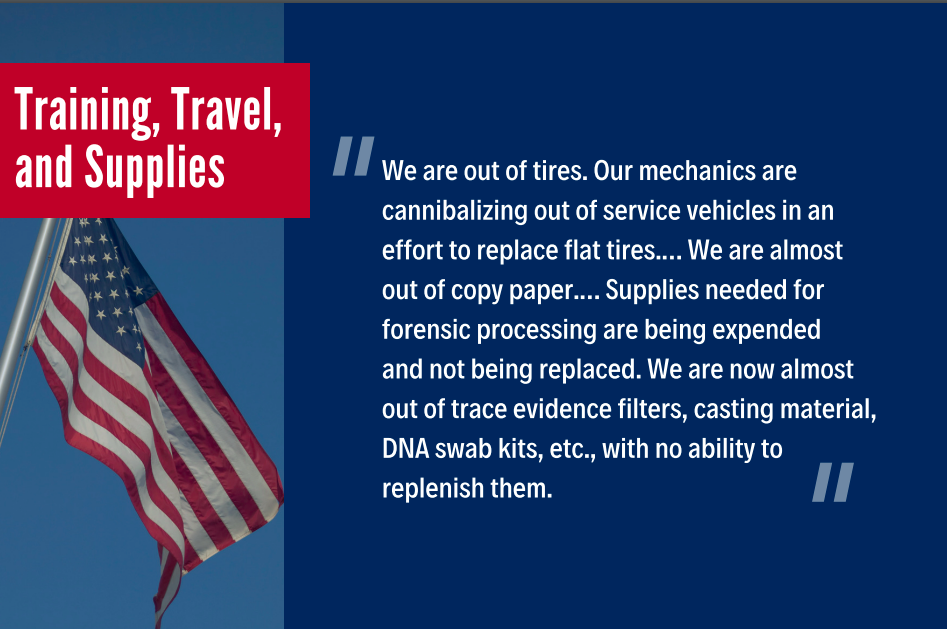 "I am also very angry at the unnecessary stress this shutdown is putting on my wife who just survived cancer and my 9-year-old son."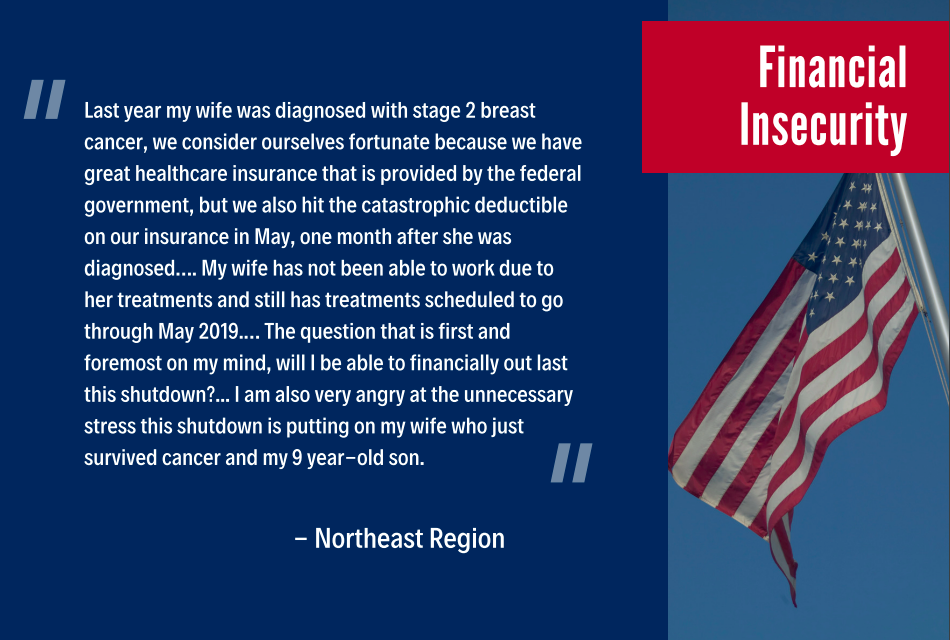 "For the first time in my career we have had to ask for assistance from friends and family to make ends meet."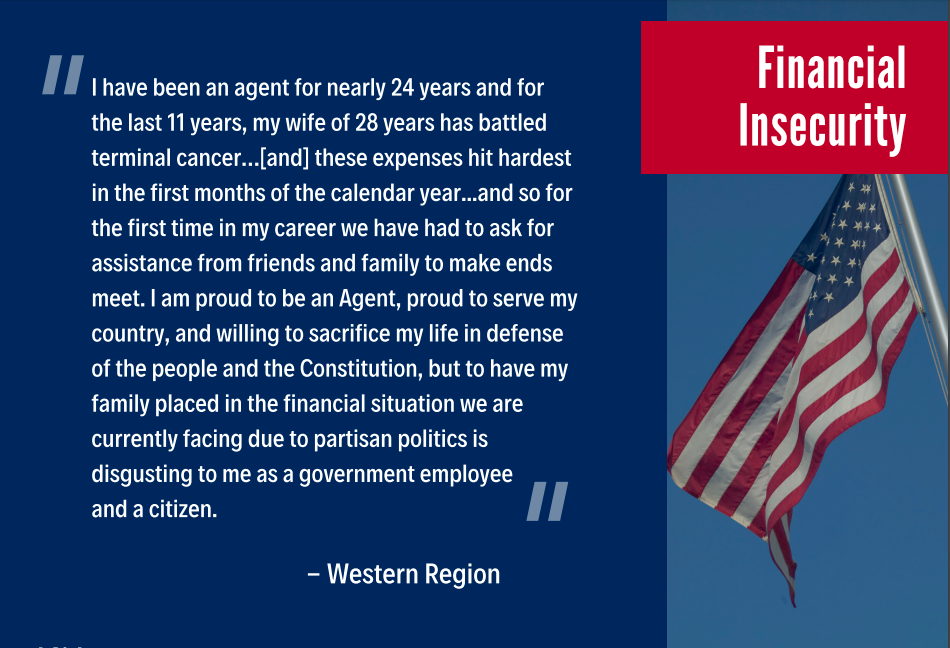 "My wife and I are both FBI employees ... and finally bought our first home. Now we can't pay the mortgage for it."