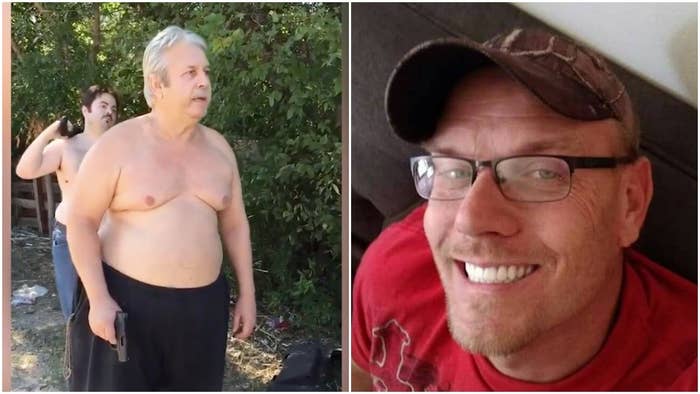 A father and son from Abilene, Texas, were charged with murder after they were caught on video fatally shooting their neighbor during a dispute over trash.
John Miller, 67, and his son, Michael Miller, 31, were charged with first-degree murder in the death of Aaron Howard, 37.
They were arrested Sept. 1, but were released a day later on a surety bond of $25,000, jail records showed.
However, the two men were taken into custody on Friday after a district court reviewed the initial bonds and raised them to $250,000 each, police said Friday.
The deadly encounter between the neighbors was recorded on video by Howard's common-law wife Kara Box.
WARNING: VIDEO IS DISTURBING.
The video, published by the Star-Telegram, showed the Millers — armed with guns — arguing with Howard over a mattress that Howard had dumped in the shared alleyway behind their homes on Don Juan Street.
The video captured the Millers firing multiple rounds at Howard who was shot at least twice, police said. He died after being transported to the hospital, police said.

Both the Millers admitted to shooting Howard, police said.
Abilene Police Chief Stan Standridge said that the neighbors began arguing over trash in the alleyway a "couple of days" before the Sept. 1 shooting.
Box told the Star-Telegram that she and Howard had thrown out a twin mattress in a dumpster in the alley a few days before the shooting.
On the morning of Sept. 1, the couple saw that the mattress was on their property so they tossed it back in the dumpster, Box said. This prompted their next-door neighbor John Miller to throw the mattress back on their property, Box said.
An argument ensued between Howard and John Miller who refused to put the mattress back in the dumpster and then pulled a handgun out of his pocket, Box said.
This enraged Howard, who accused his neighbor of pulling a gun while his nieces and nephews were in the backyard with him, according to Box.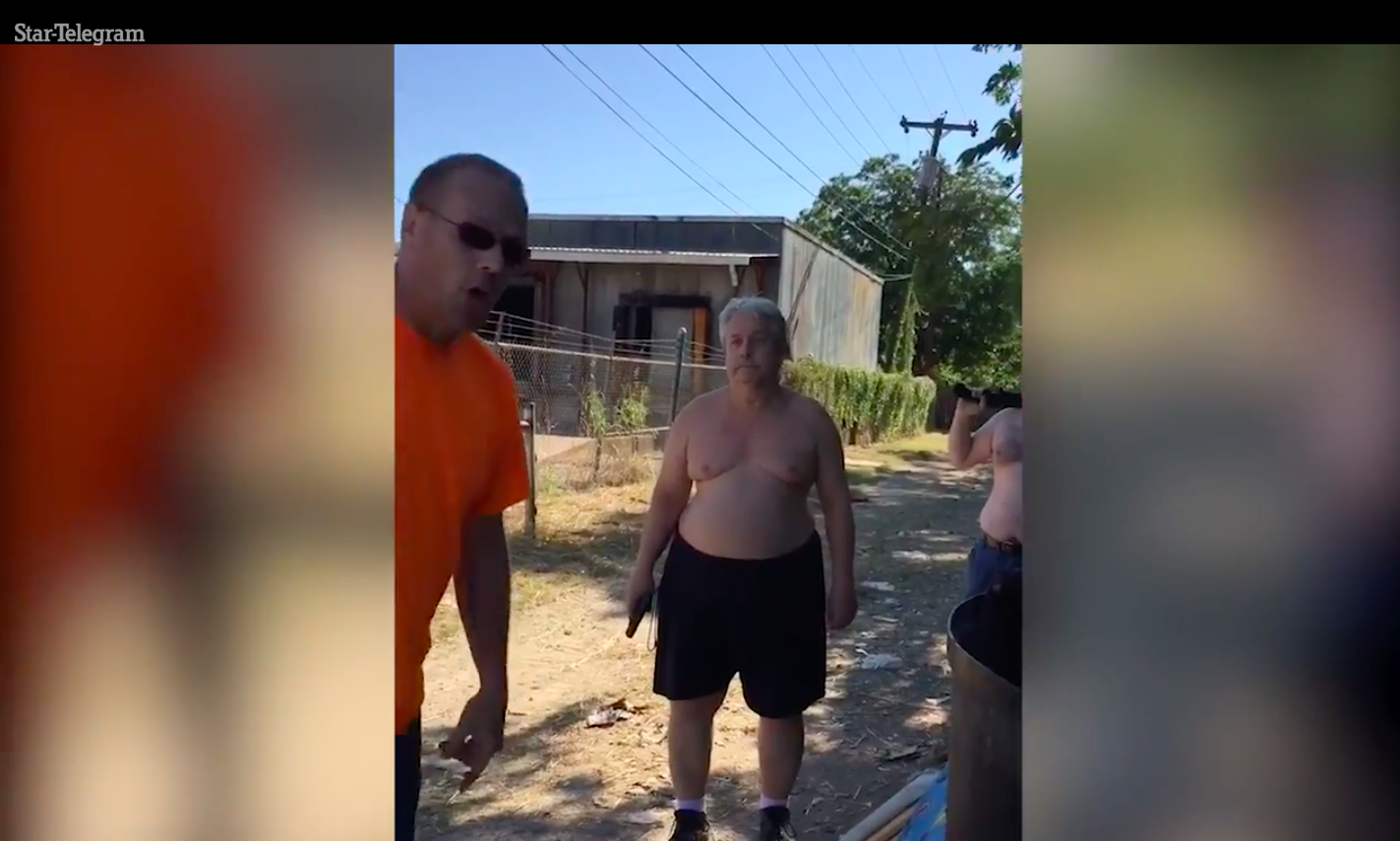 The fight escalated when John's son, Michael Miller, retrieved a shotgun from his residence, police said.
There were a total of five people in the alley, including the Millers, Howard, Box, and an unidentified member of Howard's family, police said.
In the video, both Box and Howard can be heard shouting at John Miller for pulling a gun in front of children.
"If you come closer to me, I'll kill you," John Miller is heard telling Howard.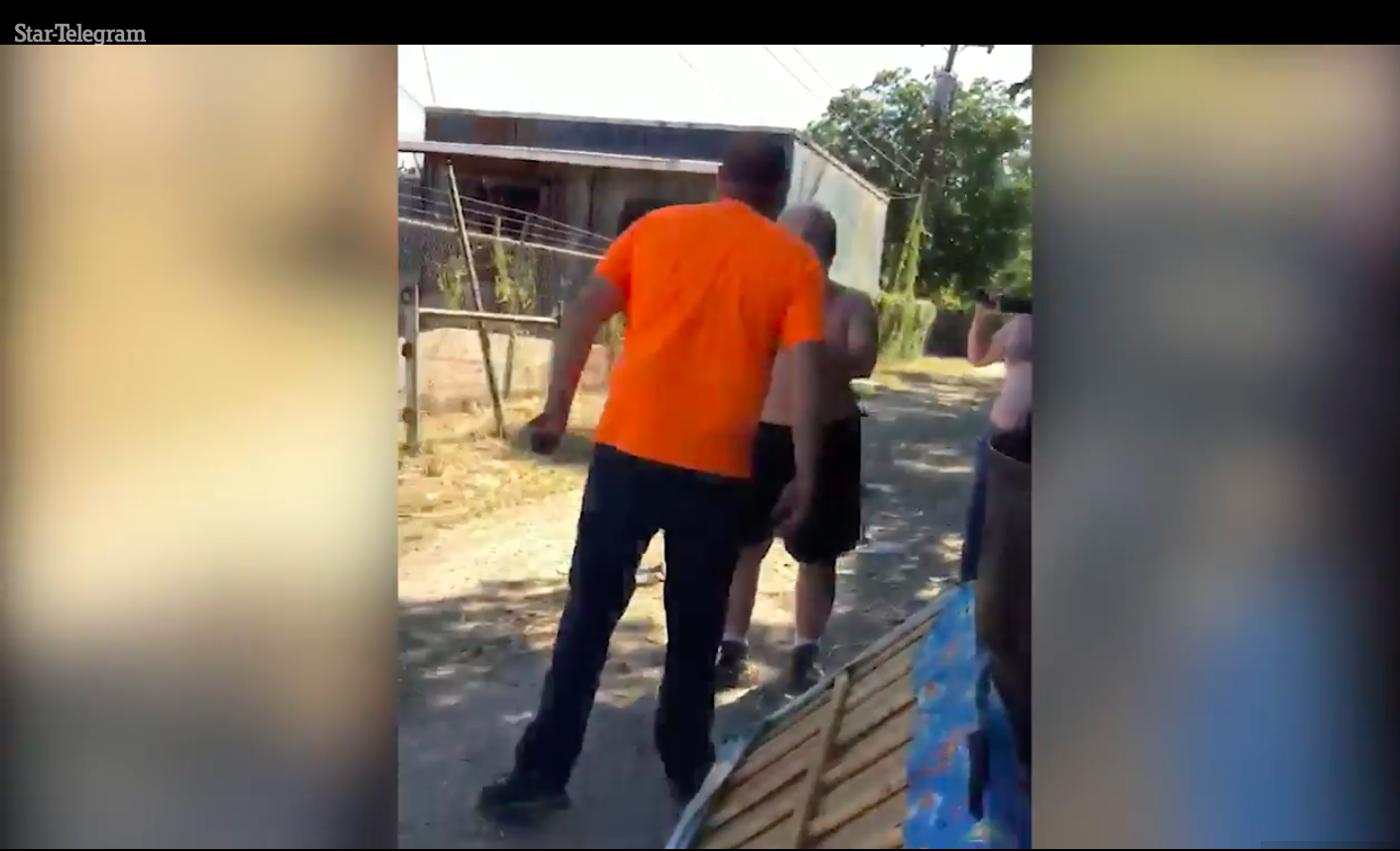 Howard — who did not have a gun — is heard repeatedly telling John Miller that he was going to kill him.
"You're in an alley with a shotgun, you piece of shit," Howard is heard saying. "I'm going to kill you."

"I doubt it," the older Miller responds.
Michael Miller, who is seen standing behind his father holding a shotgun over his shoulder, then tells Howard, "First of all, if you're going to show this video to the cops you might as well stop yelling that you're going to kill us."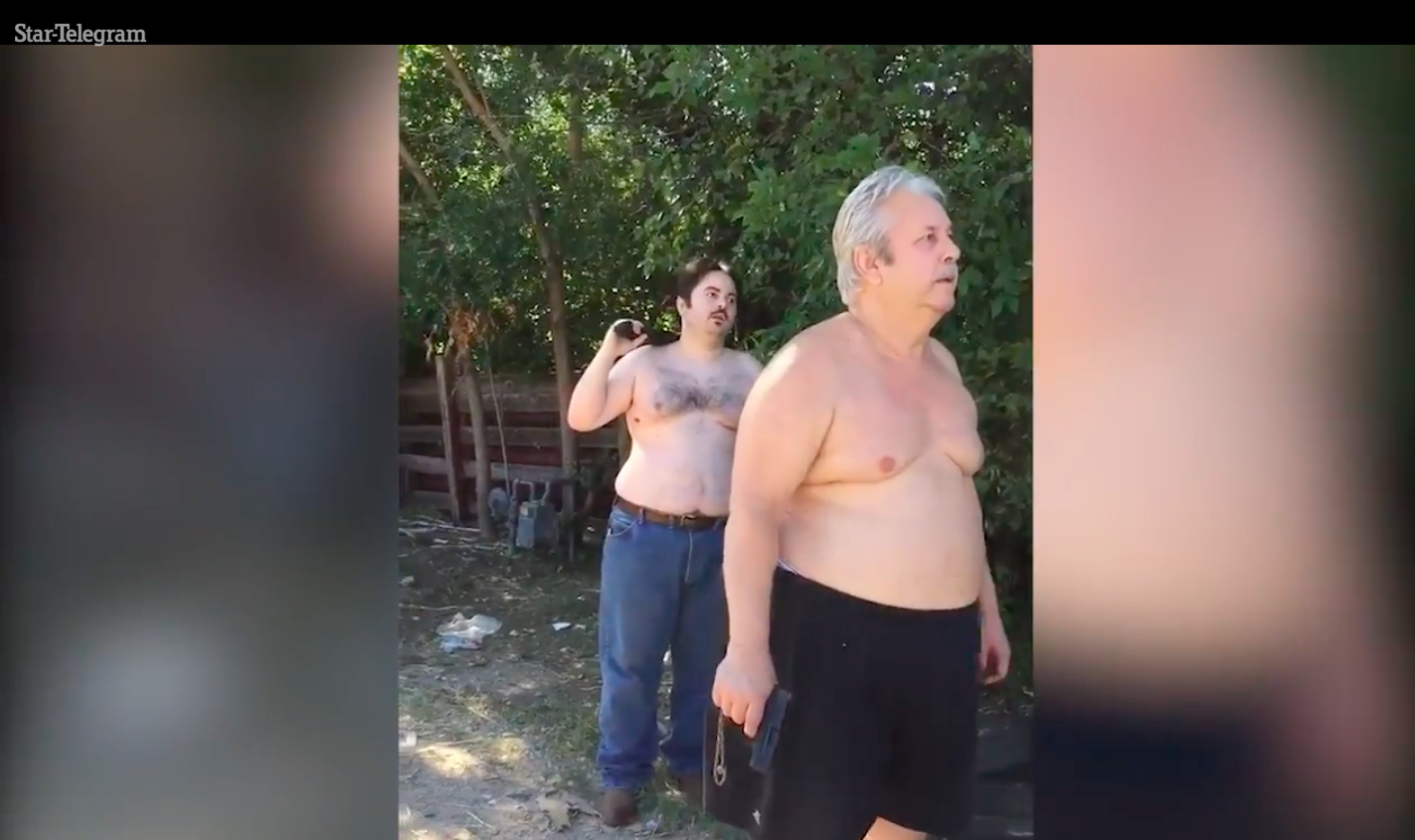 Howard is then heard yelling, "I don't give a fuck. I will fucking kill you. You pulled a gun on my kids."

John Miller is heard telling Howard to "back up" several times.
At some point during the confrontation, Howard's family member reportedly retrieved a baseball bat from their residence, according to police.
John Miller is then heard egging Howard on to "take a swing" at him, while Howard repeatedly provokes him to point the gun at him.
Howard then tells the younger Miller, "You're a bitch, I'm going to kill you too," to which the son responds, "Fuck off, cocksucker."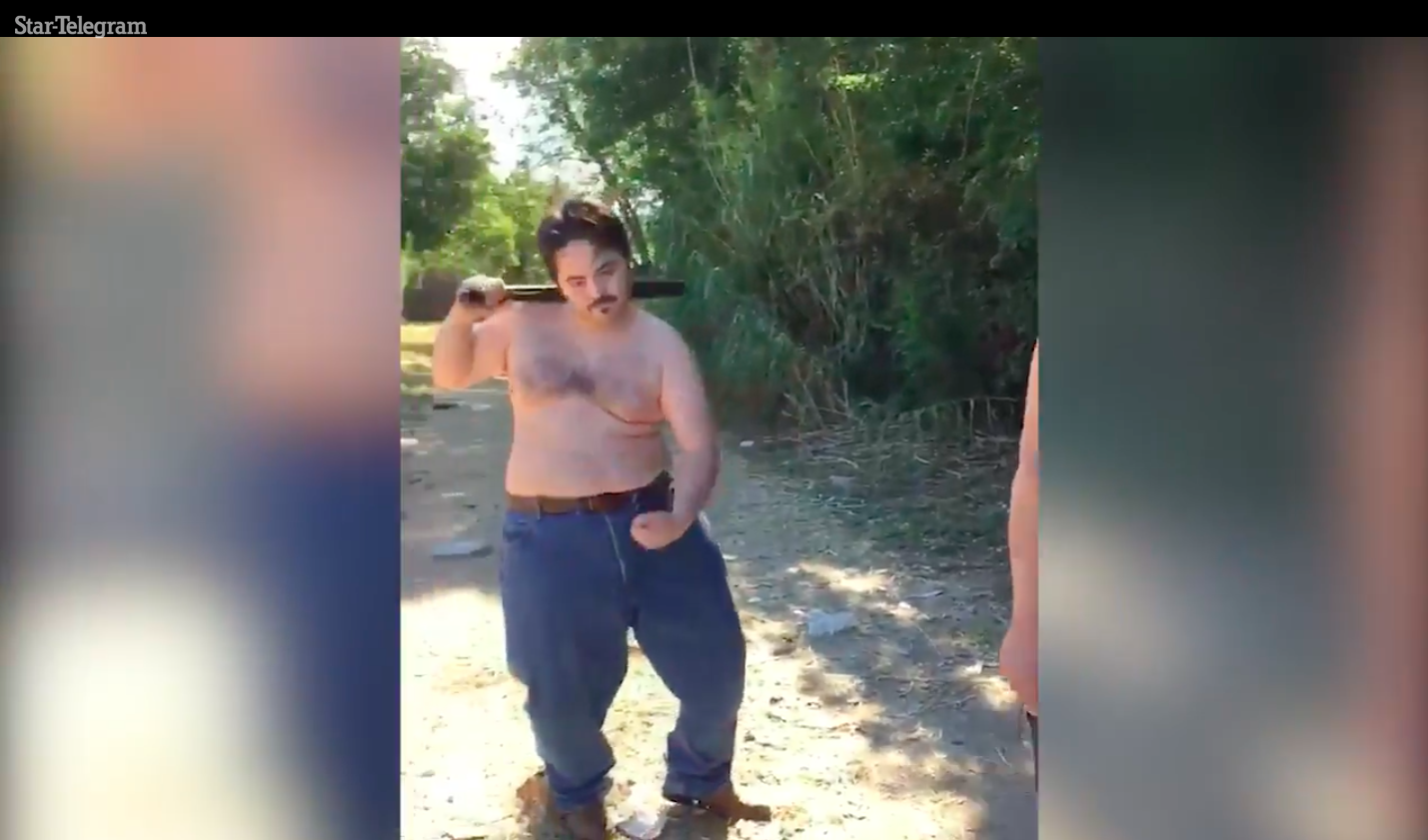 "If you come within three feet of me, I'm going to kill you," the older Miller is heard telling Howard.
Box interjects, saying, "You're not going to shoot my husband."
Howard repeatedly shouts, "shoot me" and "point it."
At least two gunshots are then heard on the video, after which Michael Miller can be seen firing his shotgun.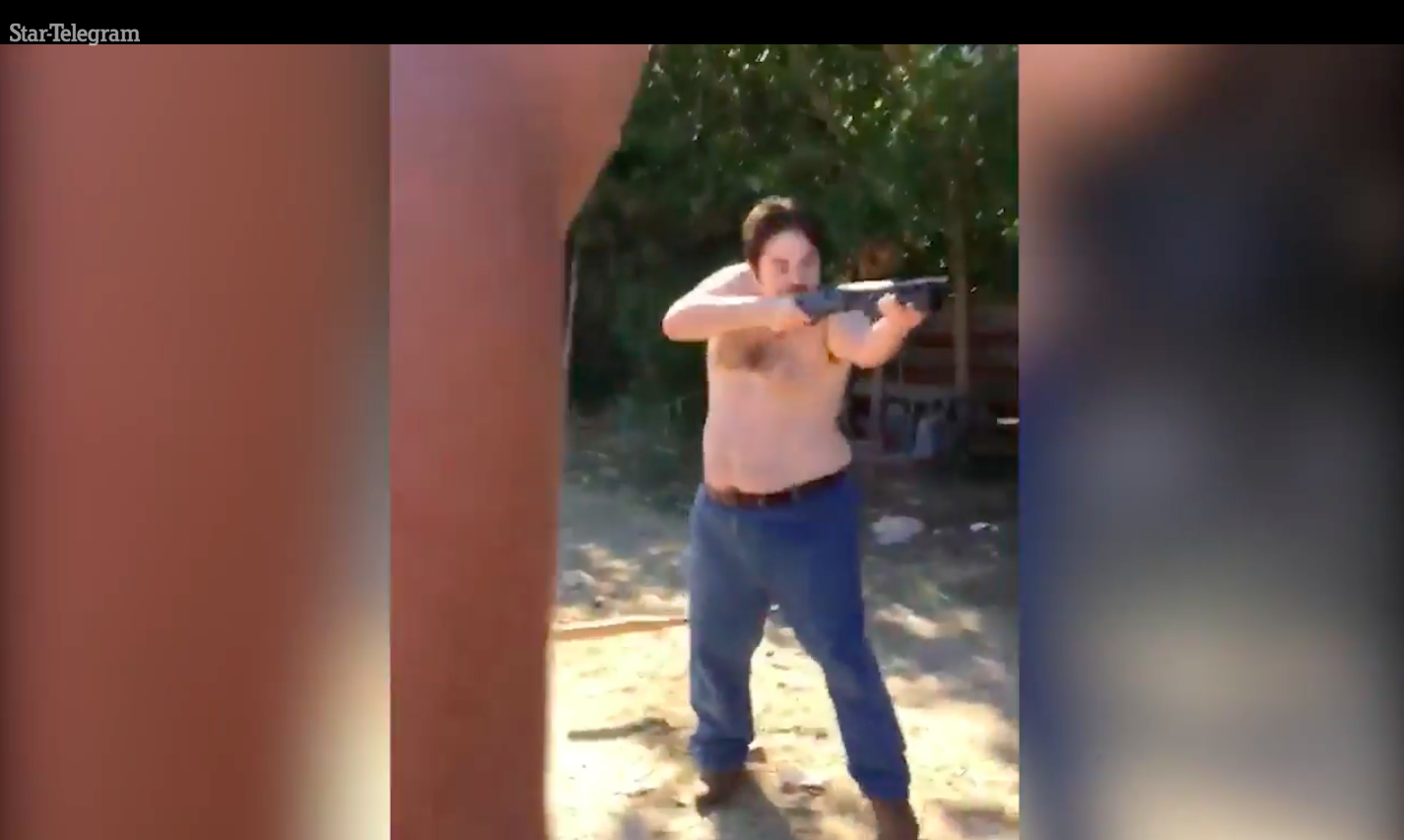 At least another four shots can be heard in the video, and police said that callers reported as many as five shots being fired.
Box is then heard screaming, "Aaron, no, no," as she rushed toward her husband.

Box told the Star-Telegram that John Miller then put the handgun to her head and yelled at her to get on the ground, while his son went to Howard's brother and placed the shotgun to his head. Police responded to the scene shortly after.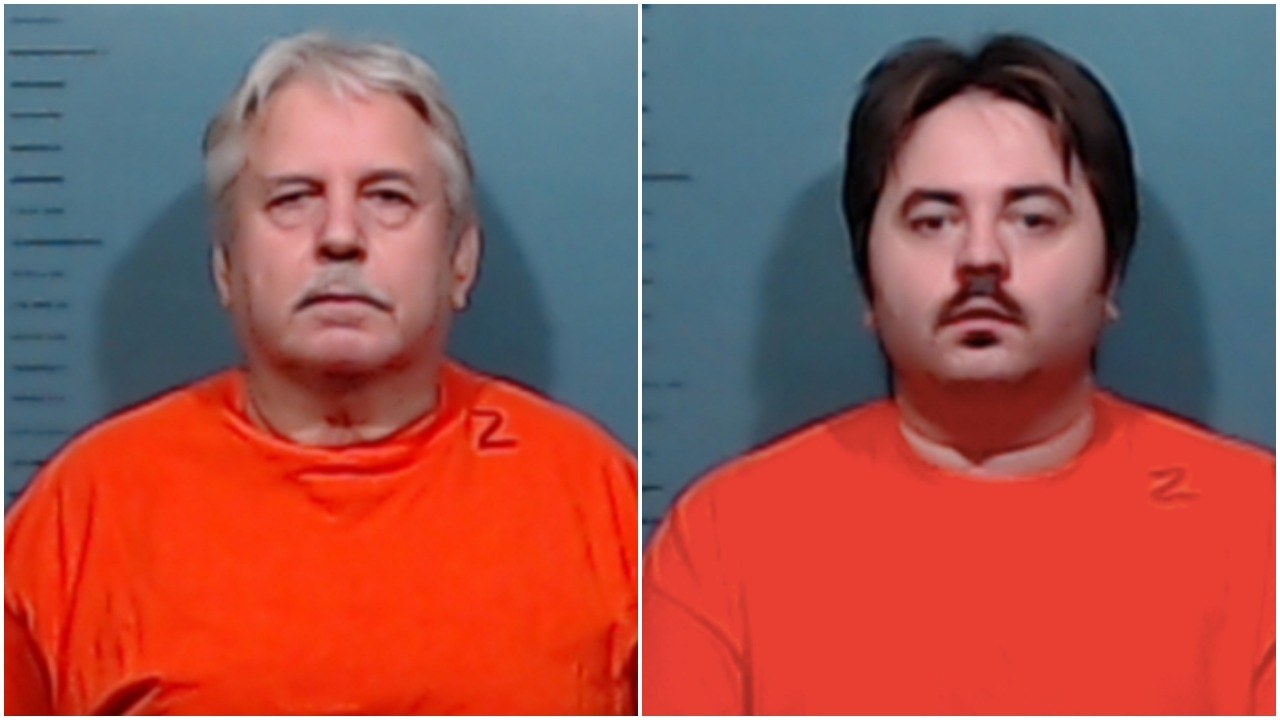 A detective who reviewed the footage believed that it was apparent from the video and interviews with the Millers that "they were tired of their neighbor, Aaron Howard, acting out and yelling and threatening them verbally," according to a statement released by Abilene police on Friday.
The statement said that Howard "got more and more upset" during the argument as the Millers stood in the alley with their firearms.
Police said that John Miller fired the first rounds as soon as Howard raised his baseball bat while standing approximately seven feet away from John. At the time when Michael Miller discharged his shotgun, and his father fired the final two rounds, Howard was unarmed, police said.

"I really don't have a comment one way or the other," John Miller told the Washington Post on Thursday. "This is something that I consider a private matter between me and the state of Texas."
The Millers could not be reached for comment Friday.
"[The Millers] deserve to spend your lives in prison," Box told KTXS.
She did not respond to BuzzFeed News' request for comment.