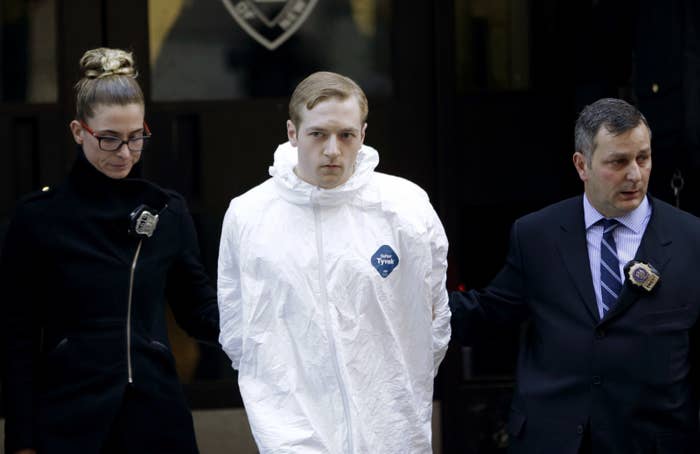 James Jackson, a 28-year-old white supremacist, pleaded not guilty Wednesday on charges of murder as an act of terrorism and a hate crime for the March 20 fatal stabbing of a black man in New York City.

Jackson was indicted last week on two counts each of murder in the first and second degrees as an act of terrorism, murder in the second degree as a hate crime and three counts of criminal possession.

He pleaded not guilty at his indictment despite surrendering himself to police and leading them to the murder weapon.

Jackson had been earlier charged with murder in the second degree as a hate crime. Prosecutors had indicated they would upgrade the charge after calling the stabbing "most likely an act of terrorism" that was "motivated by hatred."

"James Jackson prowled the streets of New York for three days in search of a black person to assassinate in order to launch a campaign of terrorism against our Manhattan community and the values we celebrate," Manhattan District Attorney Cyrus Vance said in a statement.

Jackson appeared in court Wednesday with a new attorney after his retained counsel, Sam Talkin, told the court that Jackson's family refused to continue paying for his defense.

Jackson allegedly took a Bolt Bus from Baltimore to New York with the express purpose of killing black men because they were "mixing" with white women.

The criminal complaint against Jackson is chilling. Prosecutors said that fatally stabbing his 66-year-old victim, Timothy Caughman, with a 26-inch sword was practice for killing more black men.
"Mr. Jackson targeted the man on 9th Avenue because the man was black and Mr. Jackson regarded the killing as practice prior to going to Times Square to kill additional black men," the complaint read. "Mr. Jackson had come to New York from Maryland several days earlier for the purpose of killing black men and had stalked numerous potential victims."
The complaint added he was "angered by black men mixing with white women, had brought weapons to New York City, to wit, a sword and two knives."

Caughman — who described himself as a "can and bottle recycler, autograph collecter" on his Twitter account — was stabbed multiple times with a 26-inch blade on Monday night. He walked into a Midtown police precinct in critical condition and later died of his injuries.

Prosecutor Joan Illuzzi-Orbon argued Thursday that Jackson attacked Caughman from behind while he was collecting bottles, calling it a "vicious and cold-blooded murder." She said the charges may be upped to first-degree murder.
Jackson's lawyer, Sam Talkin, previewed a potential line of defense to reporters, saying, "If the facts are anything near what the allegations are, then we're going to address the obvious psychological issues present in this case."

The defense didn't forward bail application, and Jackson was returned to jail. The case was adjourned until March 27.

On Monday evening, around 11:15 p.m. near W. 36th Street and Ninth Avenue, a person saw a black man on the ground with a white man on top of him, the complaint said. The black man could be heard saying, "What are you doing?" to the white man. When the black man got up, he was covered in blood, and the white man walked away.
Nine minutes later, Caughman walked into the NYPD's Midtown South Precinct bleeding from his hands, face, and back. A medical examiner later said the blade has pierced his "spleen, bowels, pancreas, diaphragm, and lung," according to the complaint. He died at Bellevue Hospital.
News reports the next day ran surveillance photos of Jackson — still unidentified by that time — after the killing while still holding the blade.
On Wednesday morning, Jackson approached a police officer outside the Midtown South Precinct — the same one Caughman had sought help at — and said, "You need to arrest me, I have knives in my pocket," according to the complaint.
During an interview with police, Jackson allegedly said he tossed the sword into a trash bin in Washington Square Park — where police later found it, the complaint said.
In a news conference on Wednesday, Assistant Chief William Aubry, who runs the detectives squad in Manhattan, said Jackson is a member of a hate group in Maryland, but didn't specify which one.

"[Jackson] picked New York because it's the media capital of the world. ... He knew what he was doing coming up here," Aubrey said, adding that his goal was to "target male blacks."
"He was specifically intending to target male blacks for assault," Aubry said. "He has been harboring these types of feelings for quite some time, for well over 10 years." The New York Times reported, citing anonymous sources, that Jackson wrote a manifesto that he wanted to deliver to the paper.

Responding to reports of Jackson's ties to a hate group in Maryland, a police spokesperson told BuzzFeed News, "We are looking into his background."
Jackson's record shows he was a military intelligence analyst in the Army and served from March 2009 to August 2012. He's been based at Fort Leonard Wood, Missouri; Fort Huachuca, Arizona; and in Baumholder, Germany. He was deployed to Afghanistan from December 2010 to November 2011.

New York City Mayor Bill de Blasio on Thursday released the following statement on Caughman's death:
On Monday evening an innocent man was stabbed to death in what appears to be an unprovoked attacked prompted by the victim's race. More than an unspeakable human tragedy, this is an assault on what makes this the greatest city in the world: our inclusiveness and our diversity. The NYPD has put the alleged perpetrator behind bars where he belongs. Now it's our collective responsibility to speak clearly and forcefully in the face of intolerance and violence — here or across the country. We are a safe city because we are inclusive. We are a nation of unrivaled strength because we are diverse. No act of violence can undermine who we are.
A Black Lives Matter activist, Hawk Newsome, told reporters outside the court that Jackson was a "racist, evil terrorist" and that if he were a Muslim he would be "called a terrorist right now."

"This is an act of domestic terrorism," Newsome said. "What Black Lives Matter New York wants to know is what's going to be done to protect black people from future attacks like this?"