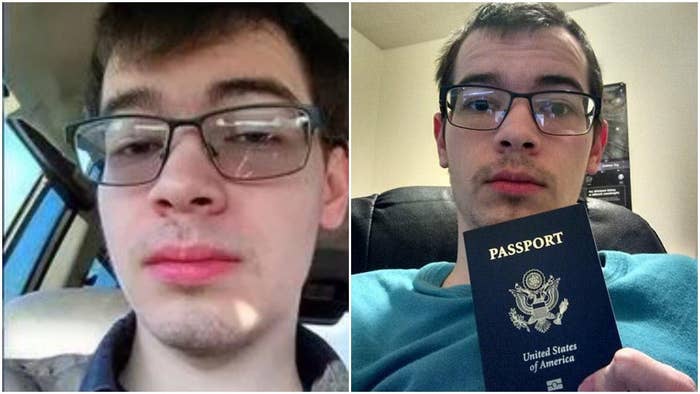 "I've spent a lot of time thinking about murder, wondering what it feels like. But I've barely felt anything," Casey James Lawhorn wrote Sunday in a Facebook post that contained chilling details about how he allegedly killed his mother and his close friend at a Tennessee house.

On Monday morning, the 23-year-old Chattanooga man was found dead of an apparent self-inflicted gunshot wound in Mississippi where he was believed to be on the run after being sought as a suspect in the double homicide in Tennessee, authorities said. His vehicle was found abandoned on the side of a highway in Jasper County, Mississippi, on Sunday.
Police in Mississippi had launched a manhunt for Lawhorn, who was considered "armed and very dangerous."
A man identifying himself as Lawhorn called 911 in Tennessee and confessed to committing the crimes on Sunday, East Ridge Police Assistant Police Chief Stan Allen told BuzzFeed News on Monday.
The suspect told the dispatcher that he was going to kill himself, Allen said.
He also directed officers to the general area of where the crimes had taken place, according to Allen.
Police who arrived at the house in East Ridge, Tennessee, found the bodies of Lawhorn's 54-year-old mother, Vi Lawhorn, and his 22-year-old friend Avery Gaines. Both had died from apparent gunshot wounds, Allen said.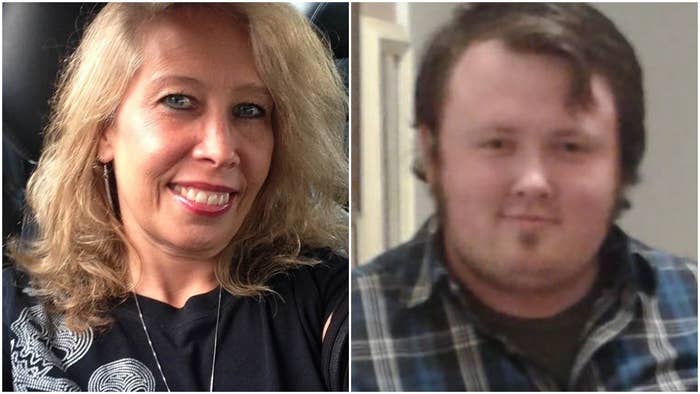 Police confirmed Lawhorn wrote the Facebook post that described in detail how he allegedly shot his mother and friend dead. According to the now-deleted post, Lawhorn said he wrote it while sitting on the side of the I-59 in Mississippi after his car broke down on Sunday.
"This morning, at around 01:30, I shot and killed my mother (Vi Lawhorn) and a close friend of mine (Avery Gaines) with a stolen .22 LR," the Facebook post said.
Gaines was staying the night at Lawhorn's house and had fallen asleep on his living room floor, according to the post.
"I walked up to Avery as he slept and shot him in the head once, he seemed to die instantly," Lawhorn wrote.
He wrote that he went to his mother's bedroom and attempted to shoot her in bed while she was "disoriented from alcohol," but his gun jammed.

After fixing the jam, he said that he went back to her room and "rapidly got off two shots" but that he "missed anything vital" because it was dark.
"She started screaming the worst scream I've ever heard," Lawhorn wrote. "Movies really don't do justice to how true terror sounds."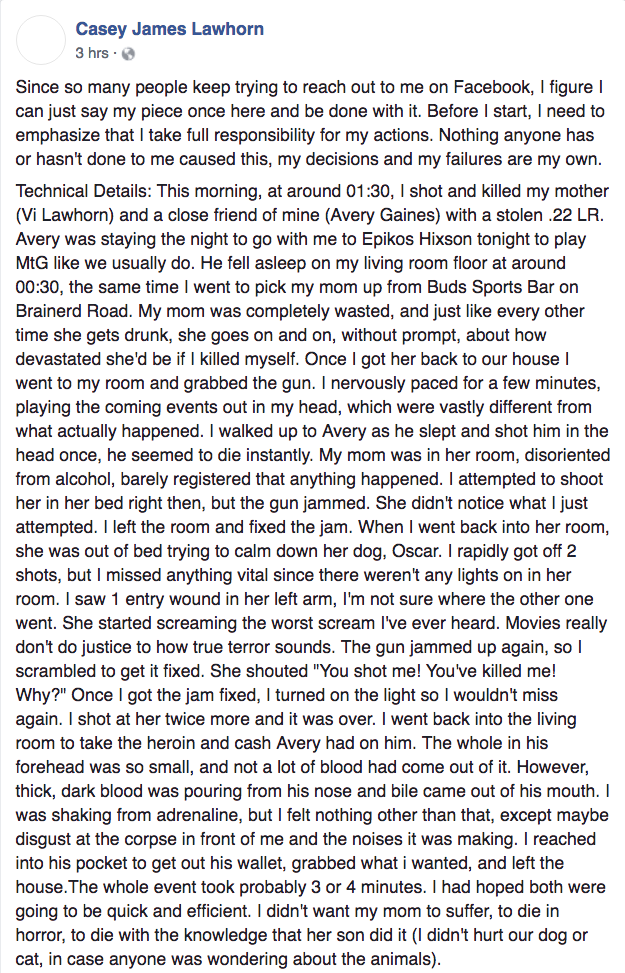 He said that while he was attempting to fix another jam in his gun, his mother shouted, "You shot me! You've killed me! Why?"
Lawhorn wrote that he shot his mother "twice more and it was over."
He said that he then grabbed heroin and cash from his dead friend.
"I was shaking from adrenaline, but I felt nothing other than that, except maybe disgust at the corpse in front of me and the noises it was making," the post said.
Lawhorn said that he did not hurt his mother's dog, Oscar, or the family's cat.

He wrote that "the whole event" took three or four minutes and that he had hoped "both were going to be quick and efficient."
"I didn't want my mom to suffer, to die in horror, to die with the knowledge that her son did it," he wrote.
The post then suggested that Lawhorn was thinking about killing himself and that he had been suicidal since high school.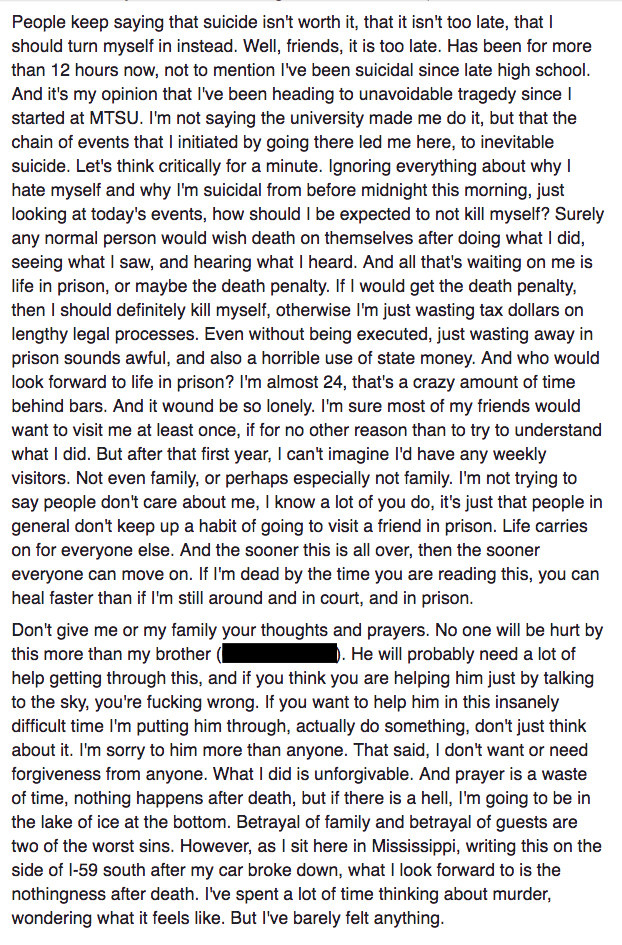 He wrote that he had been heading to "unavoidable tragedy" since he started attending Middle Tennessee State University.
A spokesperson for the university confirmed to BuzzFeed News that Lawhorn was a former student who last attended in the fall of 2016 and withdrew early in September 2016. Lawhorn was a junior political science major and a philosophy minor, the spokesperson said. Citing student privacy laws, he declined to say if Lawhorn faced any disciplinary issues or if he had mental health problems during his time at the university.
"Surely any normal person would wish death on themselves after doing what I did, seeing what I saw, and hearing what I heard," Lawhorn wrote in his post.
"If I'm dead by the time you are reading this, you can heal faster than if I'm still around and in court, and in prison," the post said. "I don't want or need forgiveness from anyone. What I did is unforgivable."