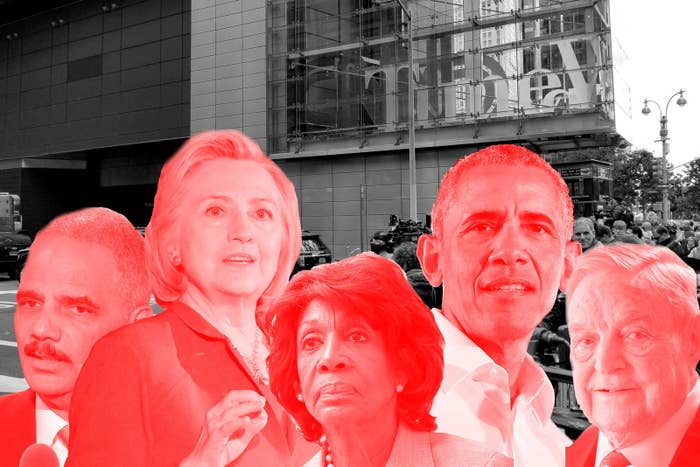 The FBI and other federal agencies are investigating after at least seven suspected pipe bombs were sent to the homes and office buildings of prominent Democrats, CNN, and a leading critic of President Donald Trump in a domestic terrorism incident that drew a massive law enforcement response across the US.

Now in the throes of an intense hunt for the serial mail bomber, authorities discovered the first suspicious package late Tuesday night. The Secret Service intercepted a manila envelope addressed to Hillary Clinton's home in Westchester County, New York. Officials found a similar bomb addressed to former President Obama in Washington, DC, early Wednesday.
Hours later, after 9 a.m., a suspicious package containing a "live explosive device" and white powder was sent to the New York City building that holds offices of CNN — a constant target of Trump's anger — which led to an evacuation, authorities said.
The packages are all similar in appearance and contain "potentially destructive devices," the FBI said in a statement Wednesday, noting that they are being sent to the agency's lab in Quantico, Virginia, for analysis. The FBI emphasized that there may have been additional packages mailed to other locations.
"This investigation is of the highest priority for the FBI. We have committed the full strength of the FBI's resources and, together with our partners on our Joint Terrorism Task Forces, we will continue to work to identify and arrest whoever is responsible for sending these packages," said FBI Director Christopher Wray.
CNN later reported that the package was addressed to former CIA director John Brennan, a leading critic of the president. Brennan is a contributor to MSNBC and NBC News, but not CNN. The package was delivered by courier, CNN reported.

The offices of US Rep. Debbie Wasserman Schultz, the former chair of the Democratic National Committee, were later evacuated after the building received a suspicious package.
That package was actually addressed to former attorney general Eric Holder, the FBI explained, but was sent back to Wasserman Schultz's office because it was listed as the return address — an obvious ruse that was also on the package addressed to Brennan. A spokesperson for Holder, who served under Obama, referred all questions to authorities.
At least five of the packages were mailed in manila envelopes with a bubble wrap interior, had computer-printed address labels, and six American flag "forever" stamps, the FBI said. Each had a return address of "DEBBIE WASSERMAN SHULTZ [sic]" in Florida.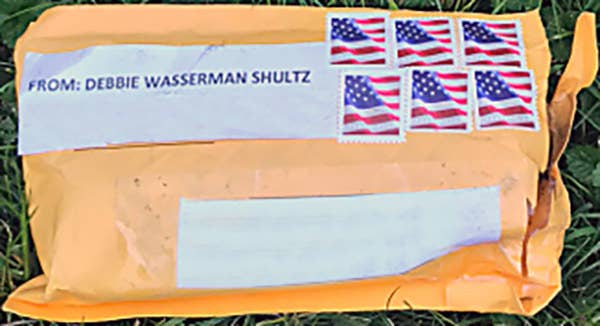 Later on Wednesday, a package addressed to Democratic US Rep. Maxine Waters, from California, was intercepted at a congressional mail facility in College Heights, Maryland, a Democratic aide confirmed to BuzzFeed News. Capitol Police said in a statement that it and the FBI were investigating a suspicious package reported at a congressional mailing facility and addressed to a member of Congress, though the statement did not specify which one.
The FBI confirmed late that night that another package was addressed to Waters' office in South Los Angeles. According to the Los Angeles Police Department, the package was discovered at a USPS mail facility, spurring authorities to evacuate the building.
The Department of Homeland Security, which condemned the threats in a statement, said it was working with the FBI and Secret Service, and that it heightened security at federal facilities around the country.

The series of incidents came after billionaire philanthropist and liberal megadonor George Soros received an explosive device in the mailbox of his New York home earlier in the week.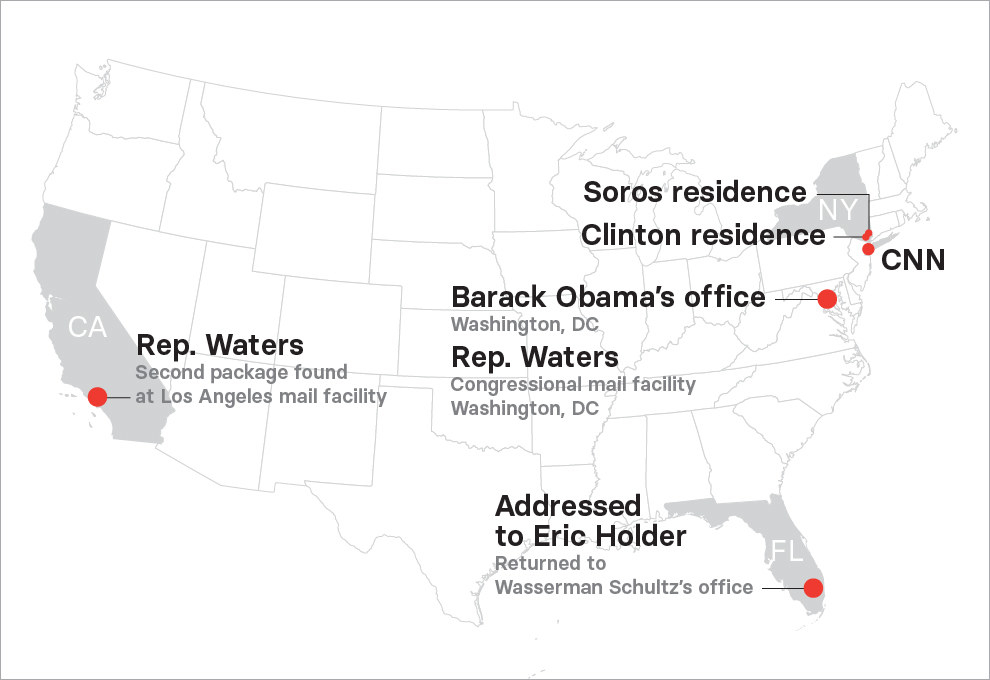 The acts of terrorism prompted a sprawling law enforcement investigation from Florida to upstate New York. Authorities have so far indicated that there are similarities among the packages and devices.

"It appears that an individual or individuals sent out multiple similar packages," Bryan Paarmann, special agent in charge of the Counterterrorism Division for the FBI New York field office, said Wednesday. So far, the devices appear to be pipe bombs.
"This clearly is an act of terror, attempting to undermine our free press and leaders of this country through acts of violence," New York City Mayor Bill de Blasio said.

He and New York Gov. Andrew Cuomo blasted the current polarized political rhetoric, with thinly veiled references to Trump.
"To all public officials of all partisan affiliations, don't encourage violence," de Blasio said. "Don't encourage hatred. Don't encourage attacks on media. You can disagree but you have to show respect for people and air your disagreements peacefully. Unfortunately, this atmosphere of hatred is contributing to the choices people are making to turn to violence."

For his part, Cuomo criticized "overheated rhetoric" and "extremism that pushes people to violence."
"And at the end of the day, we may have political differences, but this is one country," he added.
He also announced that he was deploying National Guard troops and directing state authorities to double security at major assets across the state, including airports, mass transit systems, bridges, and tunnels.
CNN President Jeff Zucker directly blamed Trump's rhetoric against the media, saying in a statement, "There is a total and complete lack of understanding at the White House about the seriousness of their continued attacks on the media."
Zucker called out Trump and White House press secretary Sarah Huckabee Sanders for having shown "no comprehension" that "their words matter."
Late Wednesday afternoon, Trump called on the country to "unify," and condemned whoever sent the devices to the very people and outlets that he often rails against in front of adoring crowds who adopt his rhetoric.

"I just want to tell you that in these times we have to unify. We have to come together and send one very clear, strong, unmistakable message that acts or threats of political violence of any kind have no place in the United States of America," Trump said. "We're extremely angry, upset, unhappy about what witnessed this morning, and we will get to the bottom of it."
He added that the "full weight of the government" was being deployed to find those responsible for the "despicable acts."
Meanwhile, Cuomo said authorities "wouldn't be at all surprised if more devices show up."
CNN's Shimon Prokupecz reported that the device at his office was similar to the other potential explosive devices that were addressed to Soros, Clinton, and Obama. He said that he was told the device looked "sort of like a pipe bomb" similar to the others intercepted by the Secret Service.
The incident prompted CNN's anchors to rush off the air.

The packages addressed to Clinton and Obama were identified as potential explosive devices during routine mail screening procedures, the Secret Service said.

Both packages were intercepted by authorities before being delivered to Clinton's and Obama's residences. They did not receive the packages, nor were at any risk of receiving them, according to the Secret Service.
"Thanks to the men and women of the Secret Service who intercepted the package addressed to us long before it made its way to our home. Every day we are grateful for their service and commitment and obviously never more than today," Hillary Clinton said. "But it is a troubling time, isn't it? And it's a time of deep divisions, and we have to do everything we can to bring our country together."

Chelsea Clinton thanked the Secret Service in a tweet, saying, "Every day, I am grateful to the women and men of the United States Secret Service."
The New York Times reported that the explosive device addressed to Clinton was similar to the one found in Soros's mailbox on Monday night.

The spate of suspicious packages sparked a wave of precautionary measures and reactions from police departments, newsrooms, and government centers across the US.
After evacuating Wasserman Schultz's office in Sunrise, Florida, police in nearby Aventura said they evacuated city hall, where the Democrat also has an office. About an hour later, however, police deemed the package safe and stated that it "has no nexus to any of the other national incidents that occurred today."
The Los Angeles Times called in the El Segundo Fire Department's hazmat team to examine four suspicious envelopes that were placed in a box outside their building, hours after a package forced the San Diego Union-Tribune, a sister publication of the Times, to evacuate. Authorities found that package to be harmless.