Donald Trump parted ways with Corey Lewandowski, his controversial campaign manager, the New York Times reported.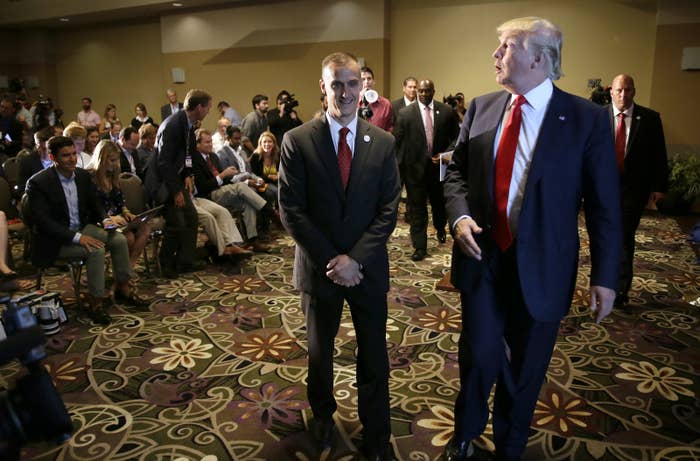 Lewandowski was charged with simple battery after he allegedly manhandled then-Breitbart News reporter Michelle Fields in April. Florida prosecutors decided not to prosecute Lewandowski on the basis of insufficient evidence to support a conviction.
Trump had defended Lewandowski at the time, calling him a "decent man."
"The Donald J. Trump Campaign for President, which has set a historic record in the Republican primary having received almost 14 million votes, has today announced that Corey Lewandowski will no longer be working with the campaign," spokeswoman Hope Hicks said in a statement to the Times. "The campaign is grateful to Corey for his hard work and dedication and we wish him the best in the future."
In an interview with CNN Monday, Lewandowski said he didn't know why he had been fired. "I don't know the answer to that," he said, adding, that he was "proud to have been a small part" of the campaign's success so far.
He had earlier told MSNBC that he didn't know if his ouster was "so much of a surprise."
"I had a nice conversation with Mr. Trump and I said to him, 'It's been an honor and a privilege to be a part of this, and I mean that from the bottom of my heart,'" Lewandowski told CNN.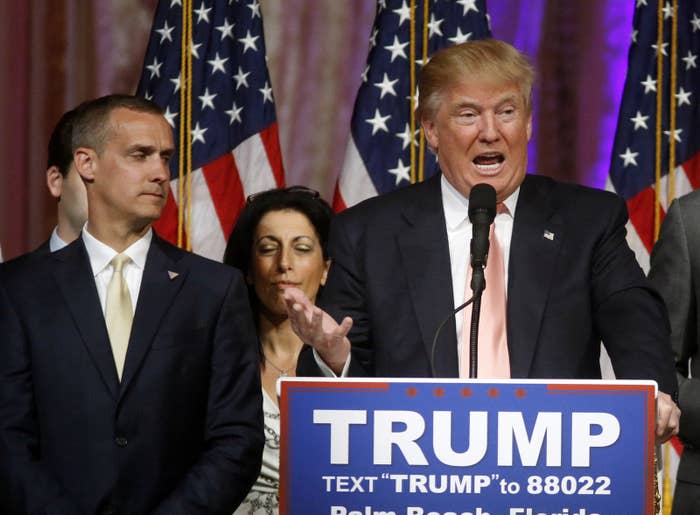 He continued to remain loyal to Trump even as reports emerged that he had been escorted out of the building by security after a swift morning meeting with Trump's family. Lewandowski dismissed those reports saying he wasn't escorted out but that "there are protocols in place."
He said that he would do everything to make sure Trump was elected president. "If I can do that from inside the campaign that's a privilege," he said. "If I can do that from outside the campaign that's also a privilege."
The Trump campaign had stood firmly by Lewandowski when he faced allegations of pushing a reporter and making sexual suggestive comments about female journalists.
His ouster came amidst reports that Trump's family members and his top advisers, including Paul Manafort, were increasingly unhappy with Lewandowski's role in the campaign. Donald Trump Jr. told MSNBC that he and his siblings were involved in the decision, which he described as a natural transition as the campaign moves toward the convention.
"The campaign has to evolve with that," Trump Jr. said.
Manafort and Lewandowski were said to have had disagreements on hiring of staff members on Trump's campaign.
Lewandowski dismissed the reports, telling CNN that he and Manafort have gotten along "amazingly well" and he blamed the media for not reporting on that.
He also said that he got along well with Trump's family, including Ivanka Trump, who according to reports was instrumental in Lewandowski's departure. "Ivanka Trump has been an asset to the campaign," he said.
Responding to allegations that he was known as a "hothead," he told CNN, "I am a very intense person," adding, "My expectation is perfection because that's what Mr. Trump deserves."
Trump was reportedly forced to choose between Lewandowski and Manafort, a campaign source told Bloomberg.
Lewandowski called the Trump senior adviser — who celebrated his exit, tweeting, "Ding dong the witch is dead!" — a "volunteer" who had "no formal role in the campaign."
Later in the day, CNN reported Caputo had resigned his position, adding he regretted sending out the "too exuberant" tweet.
And here's the response from Fields: