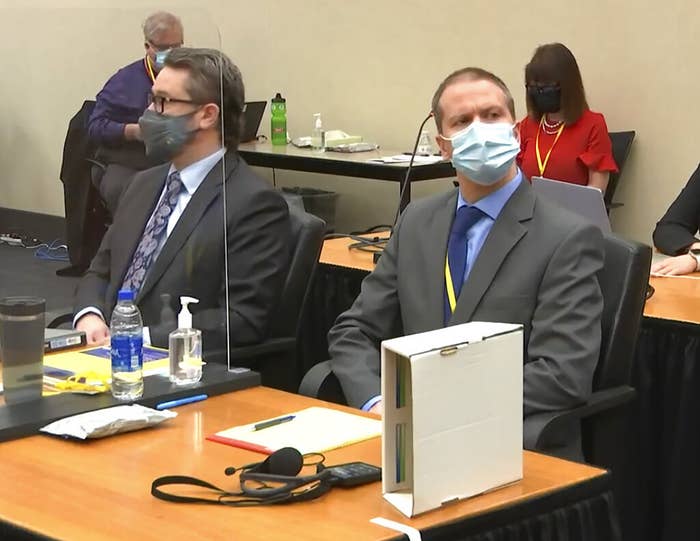 In the 9 minutes and 29 seconds that former Minneapolis police officer Derek Chauvin had his knee on George Floyd's neck and back, the unarmed Black man cried out "I can't breathe" 27 times.
This crucial period of time, captured on a bystander's video that sparked a national reckoning over racial justice and police brutality, was the focus of the prosecution's opening statements in Chauvin's murder trial, which began on Monday in Minneapolis.
In his opening statement, Chauvin's defense attorney, Eric Nelson, countered, "This case is clearly about more than 9 minutes and 29 seconds."
Outside the courtroom, the case is being viewed as a watershed moment for police prosecutions in a country where cops are rarely convicted of killing civilians.
"This is a landmark moment in American history," said Benjamin Crump, an attorney for Floyd's family, at a press conference on Monday. "The whole world is watching."
The high-profile trial, which is being livestreamed, is expected to last at least four weeks. Chauvin is charged with second-degree murder, third-degree murder, and second-degree manslaughter.
Fourteen jurors — eight white people and six people of color — were chosen during a selection process fraught with concerns about how the excessive publicity in the case would prejudice them.
Inside the courtroom at the heavily fortified Hennepin County Government Center, both the prosecution and the defense tried to make clear what the case was — and was not — about.

"It's about the evidence in this case," said Nelson, the defense attorney. "There is no political or social cause in this courtroom."
Nelson said this case was about the "totality" of what happened on May 25, 2020, and what the "actual cause" of Floyd's death was, focusing on his underlying medical conditions and the "ingestion" of the drugs that were found in his system after his death.
Jerry Blackwell, a lawyer for the prosecution and the founder of the Minnesota Association of Black Lawyers, said the case was about "what happened in those 9 minutes and 29 seconds when Mr. Derek Chauvin was applying excessive force to the body of George Floyd."
Prosecutors have revised the amount of time that Chauvin had his knee on Floyd's neck from the previous time of 8 minutes and 46 seconds, which became an enduring symbol for last summer's police brutality protests.
Blackwell emphasized that the case wasn't about "all police officers and all policing" but only about how Chauvin's actions contributed to Floyd's death.
In his opening statement, Blackwell laid out the prosecution's plans to prove that Chauvin's restraint on Floyd's neck was an "imminently dangerous activity" and that the former officer did it "without regard" for the impact it would have on his life.
Blackwell said Chauvin "betrayed" his police badge when he put his knee on Floyd's neck and back, "grinding and crushing him, until ... the very life was squeezed out of him."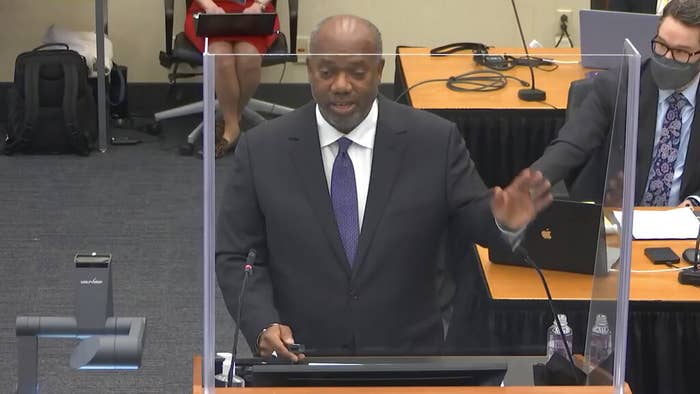 He said the state will call several use-of-force experts and law enforcement officials, including the Minneapolis Police Chief Medaria Arradondo, to testify that Chauvin's conduct was "not consistent" with police training and policy and that his actions constituted an excessive and unreasonable use of force that contributed to Floyd's death.
For much of his opening statement, Blackwell focused on the emotional details of the viral bystander video of Floyd's arrest. He described how Floyd, 46, repeatedly said he couldn't breathe, cried out for his mother, and asked people to tell his kids he loved them while he lay facedown, handcuffed on the street.
"I need to tell you the video is graphic and can be difficult to watch," Blackwell said before playing a part of it in the courtroom. "It's simply the nature of what we're dealing with in this trial."
The jurors, nearly all of whom had already seen clips of the video last year, once again saw distressing images of the arrest from the time Chauvin had his knee on Floyd's neck and back to when his still and silent body was carried away on a gurney amid bystanders' screams of concern and anger.
Even after Chauvin was told that Floyd had no pulse, Blackwell said, the former officer "did not let up and did not get up."
Several of those onlookers, including a young girl in a T-shirt that read "love," will be called to testify about how they were compelled to document what was unfolding before them and how some of them tried to intervene to stop it, Blackwell said.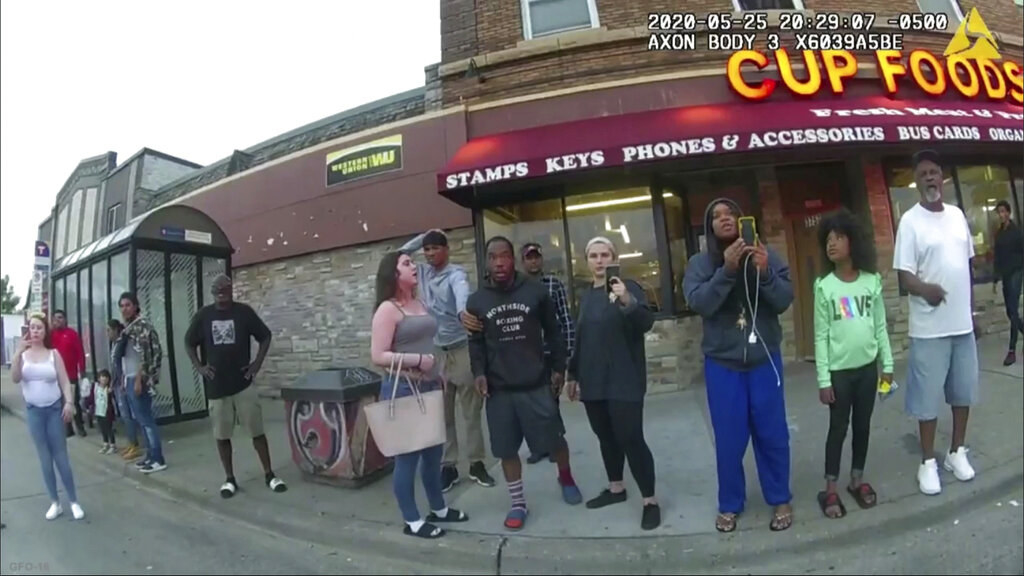 Blackwell said Chauvin didn't follow the "core principle" of policing, which was to care for the subject in custody.
Even when Floyd was distressed, Blackwell said, Chauvin didn't help him and had stopped others from helping him, including a first responder who happened to witness the incident and wanted to intervene to check Floyd's pulse. Chauvin reached for his mace and pointed it in her direction, Blackwell said.
In contrast, defense attorney Nelson characterized the bystanders as a distraction to the officers while they struggled to restrain Floyd.
He described the crowd as growing bigger and angrier, saying they were "screaming" at the four cops and calling them names, "causing the officers to divert their attention from the care of Mr. Floyd to the threat that was growing in front of them."
Nelson pointed out to the jury that Chauvin was 5 feet 9 inches tall and weighed 140 pounds, while Floyd was 6 foot 3 and weighed 223 pounds.
"It was not an easy struggle," Nelson said.
He said that the evidence would show that Floyd had ingested two pills that were a mix of methamphetamine and fentanyl when he was approached by police. The drugs, Nelson added, along with Floyd's underlying heart conditions, history of hypertension, and the adrenaline flowing through his body, caused his death.
To counter the defense's focus on Floyd's heart condition and drug addiction, Blackwell said he had "lived for years, day in and day out, with all of these conditions" until May 25, 2020, when, after 9 minutes and 29 seconds, "he didn't come out alive."
After opening statements, the prosecution called its first witness on Monday, a 911 dispatcher who testified that she saw footage of Floyd's arrest on a police security camera and was so concerned that "something was wrong" that she went beyond the scope of her duties to call a sergeant to voice her concerns about the possible use of force.
The most compelling witness testimony on the first day of the trial came from Donald Williams II, a bystander whose voice was one of the loudest and clearest in the video of Floyd's arrest.

Williams, who worked alongside Minneapolis police officers through his yearslong career in private security, drew on his experience in wrestling and mixed martial arts to testify that Chauvin had used a "blood choke" on Floyd, a maneuver that cuts off the oxygen supply.
Citing his training in chokeholds, Williams told the court that he observed Chauvin "shimmying" while his knee was on Floyd's neck — a tactic to tighten the choke and apply more pressure on the neck.

Williams, who had gone fishing with his son earlier that day, described seeing one of the fish he had caught slowly losing air and dying.
He said he was on his way to Cup Foods when he saw the officers restraining Floyd.

"When I first arrived, Floyd was vocalizing his pain and distress," Williams said.
But the longer Chauvin's knee remained on Floyd's neck, he said, "the more you see Floyd slowly fade away like the fish in the bag."