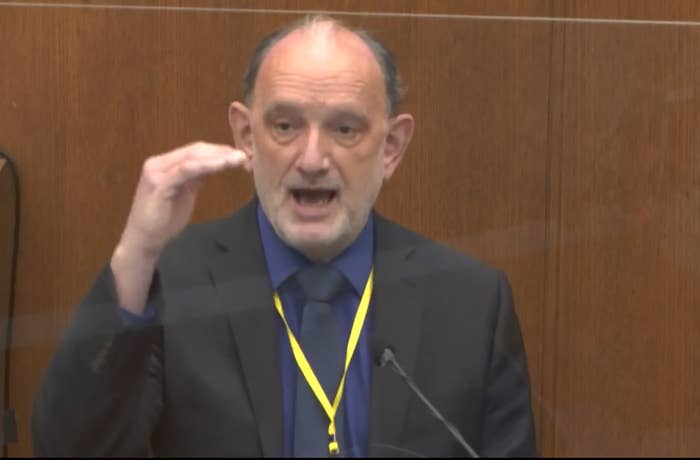 Conceding that he had no evidence, a retired medical examiner who testified as a witness for Derek Chauvin's defense blamed carbon monoxide from the tailpipe of a police car as one of the factors contributing to George Floyd's death. His claims contradicted Floyd's official autopsy report and testimonies of several medical experts.

David Fowler, the former chief medical examiner of Maryland, also testified that Floyd died of a sudden cardiac arrhythmia due to his heart disease while being restrained by Chauvin and two other police officers, adding that the ingestion of drugs and a tumor were contributing factors.
His testimony contradicted the Hennepin County medical examiner, Andrew Baker, who conducted Floyd's autopsy and testified last week that the actions by the Minneapolis police officers — including Chauvin pressing his knee into Floyd's neck for more than 9 minutes — were the main cause of death. Drugs and heart disease also played a role, he added.
There were no findings of carbon monoxide poisoning either in Baker's autopsy report or in his testimony as a witness for the state.
On cross-examination, Fowler conceded that the air Floyd was breathing at the time was never tested and that he had not seen any data or test results that showed the 46-year-old had any carbon monoxide–related injuries.
Fowler also said he was not provided evidence that the squad car was running, but he believed it was based on his observation of water dripping out of the tailpipe in the videos.
Even though Fowler said that Floyd did not "exclusively die" from carbon monoxide poisoning, he spent a significant amount of time testifying about the potential effects of the gas on his ability to breathe, adding that people with heart disease, like Floyd, are "adversely affected" by carbon monoxide.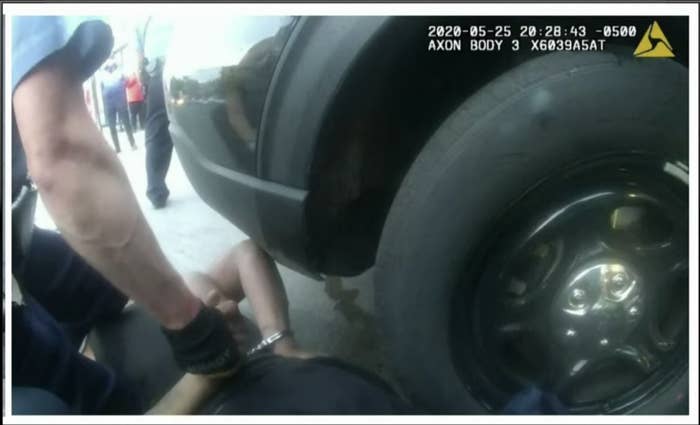 The testimony about Floyd's cause of death contradicted those of several medical experts for the prosecution, who have said he died of low oxygen or positional asphyxia because of the officers pressing down on him while he was handcuffed facedown on the street. The experts, including a cardiologist, a pulmonologist, and a forensic pathologist, also ruled out Floyd's tumor or the presence of methamphetamine as significant factors in his death.

Fowler's involvement in Chauvin's case was deemed troubling by some criminal justice advocates; he is one of several parties being sued by the family of Anton Black, a Black teenager whose 2018 death in police custody in Maryland was "chillingly similar" to Floyd's case, the Intercept reported.
Black, a 19-year-old high school athlete with bipolar disorder, struggled to breathe while handcuffed under the weight of three white police officers and cried out for his mother in the last moments of his life.
"Anton Black died because police employed excessive force, laying him out prone on his stomach, lying on top of him for approximately six minutes and approximately five minutes after he was handcuffed, and folding his legs towards the sky in a manner that further compromised his ability to breathe," the lawsuit states.

Floyd, who was handcuffed in a prone position on the street, repeatedly said he couldn't breathe and cried out "mama" several times while Chauvin's knee was on his neck and back for 9 minutes and 29 seconds.
The autopsy report, signed by Fowler, concluded that Black's death was an accident and there was no evidence that the restraint by law enforcement "directly caused or significantly contributed" to Black's death.

"In particular no evidence was found that restraint led to the decedent being asphyxiated," Black's autopsy report said.
In the federal lawsuit filed last year, Black's family alleged that Fowler, then the chief medical examiner, and the assistant medical examiner "intentionally concealed police responsibility in causing Anton Black's painful death."
The lawsuit states that the medical examiner's autopsy report "falsely" attributed the cause of death "to a heart condition, bipolar disorder and/or other natural causes, thereby 'blaming the victim' for his own death."
During his testimony on Wednesday, Fowler categorized Floyd's manner of death as "undetermined" despite Baker's conclusion in the official autopsy report that it was a homicide.
Fowler said there were many "conflicting mechanisms," including carbon monoxide, Floyd's ingestion of drugs, his heart disease, and the "stressful situation" he was in that would make it "very difficult to say" which manner of death was the most accurate.
He said that while death from carbon monoxide is usually classified as an accident, in Floyd's case "somebody was holding him there," which would "elevate it to a homicide."
"I would fall back to 'undetermined,'" Fowler told the jury.