On Sunday, 32-year-old Kanwar Anit Singh Saini posted on his Facebook page, "Sikh Knowledge," this photo of him kissing a man during a Global Day of Rage protest in Toronto against India's ruling criminalizing homosexuality.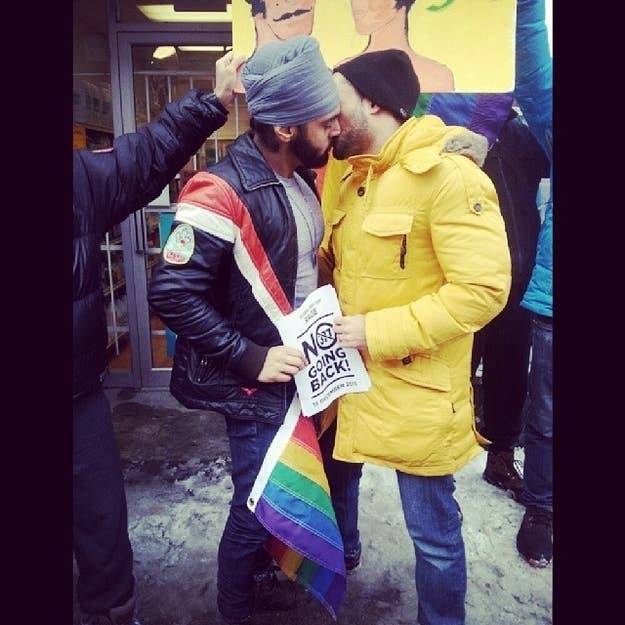 He posted the picture with this caption: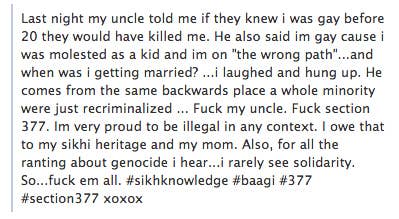 By Monday, the photo had received more than 1,000 likes and 80 shares on Saini's fan page. It also sparked a heated debate on LGBT rights and Sikhism. Some posted vitriolic comments about Saini's picture.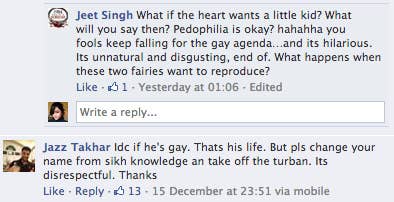 However, many others defended Saini and spoke about how Sikhism believes in love and equality for all.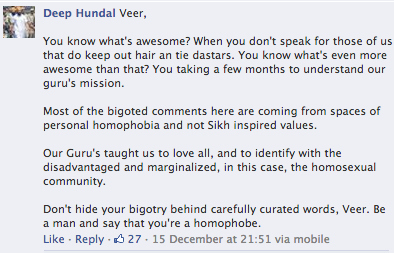 At around 10 a.m. ET on Monday, Saini received a message from Facebook saying the photo had been removed because it "violates our terms and policies." His Facebook account had also been suspended for 12 hours.

Saini told BuzzFeed the post was important: "I got fans I want to reach out to 'cause of this whole 377 thing, and not to mention all the 'phobes spewing crap at me."

"The thread under the image was full of love and hate speech. It was SO important to see that banter and to have that visible," said Saini, a speech-language pathologist and a producer-DJ-artist in Toronto.

Others started sharing the picture on Twitter, Tumblr, and Instagram.
Others on Twitter criticized Facebook's policies on deleting content.



Matt Steinfeld, a communications manager at Facebook, told BuzzFeed in an email that the photo was "mistakenly removed and has been reinstated."
"The photo was mistakenly removed and has been reinstated. We apologize for the inconvenience."
While Facebook did not reach out to Saini, the photo was reposted and Saini updated his status with this message:
Saini told BuzzFeed that as a gay Sikh man, he has a lot of supporters but also receives threats to his life and is a victim of hate speech regularly.
Saini said that people who don't know him resent how "openly queer" he is with the word "Sikh" in his artist name. "The small community I come from is a challenging one, but on the other hand, normative society is also a toughie for a queer person of color, so I'm screwed and not in the good way," he said.
"I have supporters who see the art and person behind what I do. I get threats to my life and hate speech regularly."
Saini said he was angry about the photo with the thread being deleted because his posts tend to "tease out important questions I want people to ask. So, the thread was people going back and forth with hate/rebuttals/logical rebuttals/dumb rebuttals...so important to our time in history."
Saini said he tries not to interact with trolls who hate on his page. He says he likes to make statements to "neutralize" all the "disdain" he gets from homophobes.
"How often do you see a guy in a turban not flinching to make out with another dude? Uhh never. So... bun down the system," he said.