Presumptive Republican nominee for president Donald Trump tweeted his reaction to President Obama's endorsement of Hillary Clinton on Thursday.
Presumptive Democratic nominee for president Hillary Clinton then clapped back at Trump because ELECTIONS IN 2016.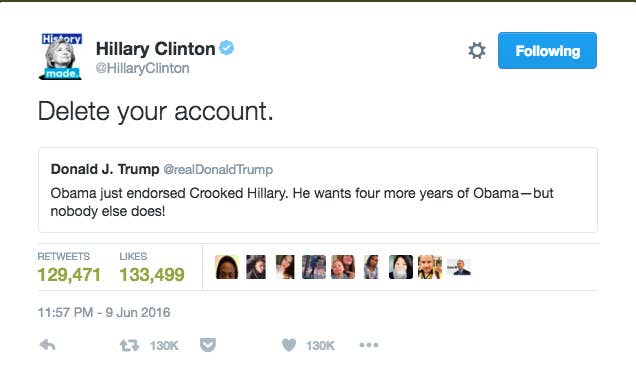 It quickly became the most retweeted tweet of Clinton's campaign.
And obviously everyone lost their minds.
BREAKING: Tweet makes news!!!
There was a GIF party on Twitter.
There were some email and Benghazi references thrown in.
There were clapbacks to Clinton's clapback.
And more clapbacks to those clapbacks.
Of course, Trump had to respond to Clinton, referencing the investigation into her emails.
But the fact that he didn't respond for about two hours didn't go unnoticed.
This is basically what our Founding Fathers fought for.
151 days to the election.