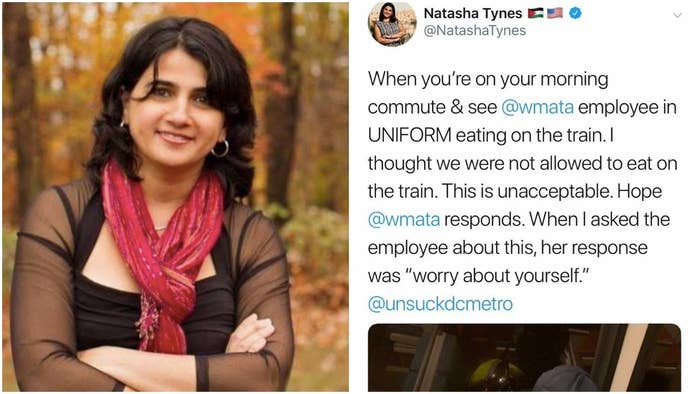 Before May 10, Natasha Tynes, a Jordanian American writer, a mother of three, the sole breadwinner of her family of five, and a communications officer for World Bank Group, was looking forward to the June release of her new book, They Called Me Wyatt. She'd worked on it for four years.
Then, on May 10, Tynes — a self-described "social media maven" — tweeted a photo of a black DC Metro employee eating on a train, calling her out for breaking the transit authority's rules.
The tweet went viral, inviting fierce backlash from people accusing Tynes of being "anti-black," "entitled," and a "terrible person."
The subsequent uproar over her tweet cost Tynes her original book deal and pushed her to the "brink of suicide," according to a new lawsuit Tynes filed against Rare Bird Books, the publisher for her book about the murder of a Jordanian student in Maryland.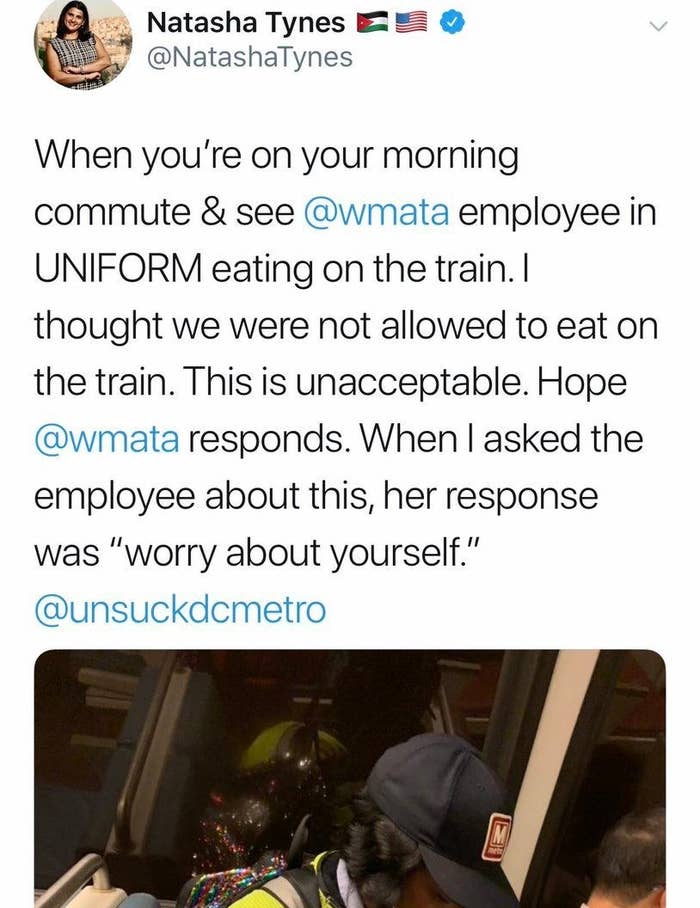 Tynes is suing Rare Bird Books for $13 million, alleging, among other things, that the California-based company breached its contract and defamed her with false public statements that caused her "extreme emotional distress."
According to the lawsuit, filed in the Superior Court of California, Tynes was hospitalized with chest pains and anxiety and was forced to temporarily leave the US after her family was subjected to death threats and racial slurs in the tweet's aftermath.
The lawsuit said that the issue of race did not occur to Tynes, an immigrant woman of color with a "prominent accent," when she sent her tweet.
In a statement Sunday, David Eisen, an attorney for Rare Bird Books, called Tynes' lawsuit "baseless."
Referring to the $13 million Tynes was seeking in damages, Eisen said that fewer than 50 copies of her book had been preordered and "only a few hundred scheduled to be printed."
"It is ironic that, having taken advantage of her First Amendment rights with an ill-advised tweet, Ms. Tynes now seeks to stifle and punish use of those very same rights of a respected book publisher who legitimately expressed its opinions of her conduct, rather than take responsibility for her own actions," Eisen's statement said. "Ms. Tynes would have been better served to have simply let this episode disappear into the annals of history," he said.
The union for Metro workers at the time said riders like Tynes are often unaware that bus operators have an average of 20 minutes to eat and get to their next access point to ensure buses and trains run on time. The unidentified Metro worker did not face any disciplinary action for eating on the train, but was "hurt and embarrassed" for being blasted on social media, according to her union representative.
Tynes said her schedule, as a novelist and mother of three young children with a day job, meant that she often did not get a chance to eat before work and commuted on an empty stomach for fear of being ticketed by a Metro employee for eating on the train, according to the lawsuit.
After the furor over her tweet, Tynes deleted it and issued an apology. She later deactivated her Twitter account and took down her personal website.
Soon after her tweet started getting attention, Tynes informed her publishers that she had contacted WMATA to ensure that they would not discipline the Metro worker, the lawsuit said.
She explained to her publishers that "having not grown up in the United States, the issue of race had not even occurred to her when she made the tweet."
But in the midst of the Twitter outrage, Rare Bird Books issued a statement announcing that it had canceled her book's distribution because Tynes "did something truly horrible today."

"Black women face a constant barrage of this kind of inappropriate behavior directed toward them and a constant policing of their bodies," the statement added. "We think this is unacceptable and have no desire to be involved with anyone who thinks it's acceptable to jeopardize a person's safety and employment in this way."
And California Coldblood Books — the science fiction division of Rare Bird Books — also announced that it had stopped shipments of Tynes' novel from the warehouse and had postponed its publication date "while we further discuss appropriate next steps to officially cancel the book's publication."
The company later said it would "be moving forward" with the book's publication due to contractual obligations — but only on Kindle's online self-publishing platform.
The company said it would donate the proceeds from the book — after recovering its own legal and production costs — to a Black Lives Matter organization.
After the publishers' initial statements and the continuing uproar, Tynes was hospitalized with an "acute anxiety reaction," consisting of high blood pressure, chest pain, and hyperventilation, as well as suicidal ideations, the lawsuit said, adding that she was prescribed several medications to "stabilize" her.
Tynes' employer also placed her on administrative leave.
She and her family were subjected to weeks of online harassment, racial slurs, and threats, the lawsuit said.
"You ugly ass racist bitch, Now Ur book is cancelled LOL, and ur husband is a pussy, I'll smack the shit out of him," one message said.
"We all know where you work. Stupid, racist, cousin lover, Trump supporting bitch," one person called Tynes, who is a Democrat and an immigrant, the lawsuit noted.
"You fucking pathetic cunt, I feel sorry for your kids because mommy's trash," another message said.
People flooded the Goodreads website with hundreds of negative reviews and ratings for her book apparently without reading it.
Tynes was also called a "terrorist," "a plane bomber," and "a radical Muslim," while some called for her deportation.
On May 21, Tynes temporarily left the US for Jordan, "fearing that her one-year-old baby, her seven year-old twins, and her husband would be the subject of violence, reprisals and harassment at the hands of a mob incited by Rare Bird if she remained in the United States," according to the lawsuit.
The company subjected "an immigrant woman of color to this racial torment for their own personal profit," and forced her "to flee to the Middle East to escape persecution" in the US, the lawsuit said.