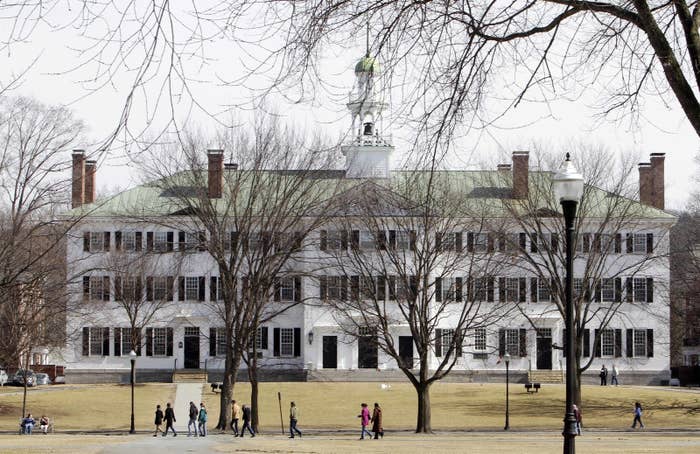 Three Dartmouth College professors are on paid leave while facing a criminal investigation into allegations of sexual misconduct, authorities said.

The New Hampshire attorney general's office announced a joint investigation into the allegations on Tuesday, with the Grafton County attorney, New Hampshire State Police, the Grafton County sheriff's office, and Hanover police.

Last week, a Dartmouth College official confirmed to the campus paper — the Dartmouth — that three professors were on paid leave "pending the conclusions of ongoing investigations into allegations of serious misconduct."

The Ivy League college identified the three Dartmouth Faculty of Arts and Sciences professors as Todd Heatherton, Bill Kelley, and Paul Whalen. According to their Dartmouth bios, all three work in the Department of Psychological and Brain Sciences.

In a press release, the attorney general's office said it "engaged in a dialogue" with Dartmouth College and learned that the college had received allegations of sexual misconduct.

Dartmouth said it was also conducting its own internal investigations into the allegations.

While those investigations are pending, the three faculty members will have restricted access to Dartmouth property, the college said.

"Dartmouth is cooperating with law enforcement," said college spokeswoman Diana Lawrence in a statement. "From the outset of our investigations, we have encouraged the reporting of possible crimes to law enforcement and have offered resources to support that reporting."

In a message to the Dartmouth community, President Philip J. Hanlon said, "It is important to remember that investigations are ongoing, with no official findings yet produced. However, we take these allegations very seriously and are pursuing our own independent investigations in coordination with law enforcement officials."

Hanlon said that sexual misconduct and harassment were "unacceptable" at Dartmouth. "

The attorney general's office said there was "no basis to conclude that there
is a threat to the general public."

An email to Heatherton generated an automated response from him, saying he was "on sabbatical and not monitoring this email account until September 2018."
BuzzFeed News has reached out to Kelley and Whalen.